This post may contain affiliate links. Read my disclosure policy here.
Anna here with the first post in a Money Saving Series here on 5 minutes for mom. Many thanks for reading and sharing. We so appreciate it.
Have you ever heard of a No Spend Challenge? What is your first thought? Is it something you think you could do? Is it something you'd even want to do? Maybe, it's a necessary thing, maybe, you feel like you need to go on a No Spend Challenge but aren't sure where to start.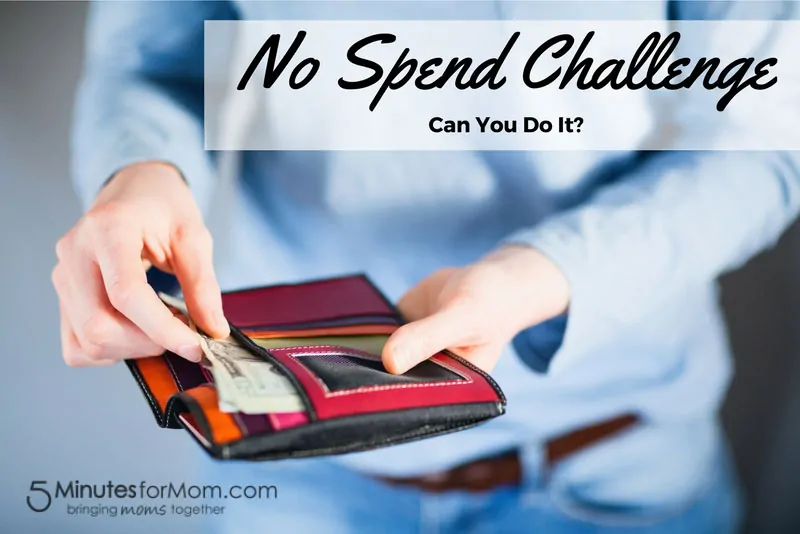 A No Spend Challenge might seem like any easy thing to do. Simply cut out all unnecessary spending. Right?
But really, there is much more to it than that.
What might seem frivolous to you might be a necessity for someone else. Or at least a higher priority. And after you've gotten into the habit of spending and constantly justifying the spending to yourself, it's quite hard to break that cycle.
You will find yourself purchasing things more out of habit than out of need.
Ask me how I know.

I was raised in a tightly budgeted household. And my husband is also very good at managing our money. But over the years I've gotten lax. I shop alot and my kids have softened me up and I spoil them. It's easy to spoil your kids with little indulgences when you are able too. But if you aren't careful these little indulgences turn into the norm. And honestly, that takes all the fun out of the indulgence. What used to be a special occasion or surprise for no reason is now so norm that we have to reach for more and bigger and better to feel that same excitement we used to feel over a small treat.
I have heard the term No Spend Challenge before and I definitely think it's a great way to reset any spending habits you might have created unintentionally. You can set any sort of time limit but I would advise against setting an ambitious amount of time the first time around. Once you've successfully completed a few shorter No Spend Challenges you will be more likely to successfully complete a longer No Spend Challenge.
Interested in doing a No Spend Challenge? Here's how…
Set Your Rules. The first thing you need to do in a No Spend Challenge is set your rules. Your rules will look different than someone else's because we are all in a different season of life, and what might be a necessity for you might be an extreme indulgence for someone else. (Below I give you an example of rules, but these are just guidelines to help you make your own rules.)

Take Inventory. Make a list of food, toiletries, medications, office or school supplies, anything that you NEED and purchase on a regular basis. Do you have enough of these items to last you for the length of your No Spend challenge?

Look Ahead. Do you have birthdays, weddings, or events coming up you will need to spend money for? Think gifts or gas to get there? Could you get away with NOT spending money for these things?

Determine Your Challenge Start and End Date. As I said earlier, if this is your first No Spend Challenge set a short time frame. You can always extend your first challenge if you make it to your end date and want to keep going.

Celebrate! Before your start your challenge, think of something to do to celebrate making it through the challenge. Don't go crazy and be extravagant, that would defeat the purpose of the challenge in the first place. Choose something like going out for dessert or seeing a dollar movie or something like that.

Bonus Tip: Unsubscribe from all your favorite email lists that have anything to do with shopping! This will help you stay strong and keep you from impulse buying just because it's a "great deal".
This is your challenge. You make the rules. You can be as tight or as loose with the rules as you want. Just remember, it needs to be challenging. It needs to hurt a little to break those frivolous spending habits. It needs to help you grow.
I've created three simple documents you can download to help you set your rules and succeed with your No Spend Challenge. Simply click the image below to download the pdf.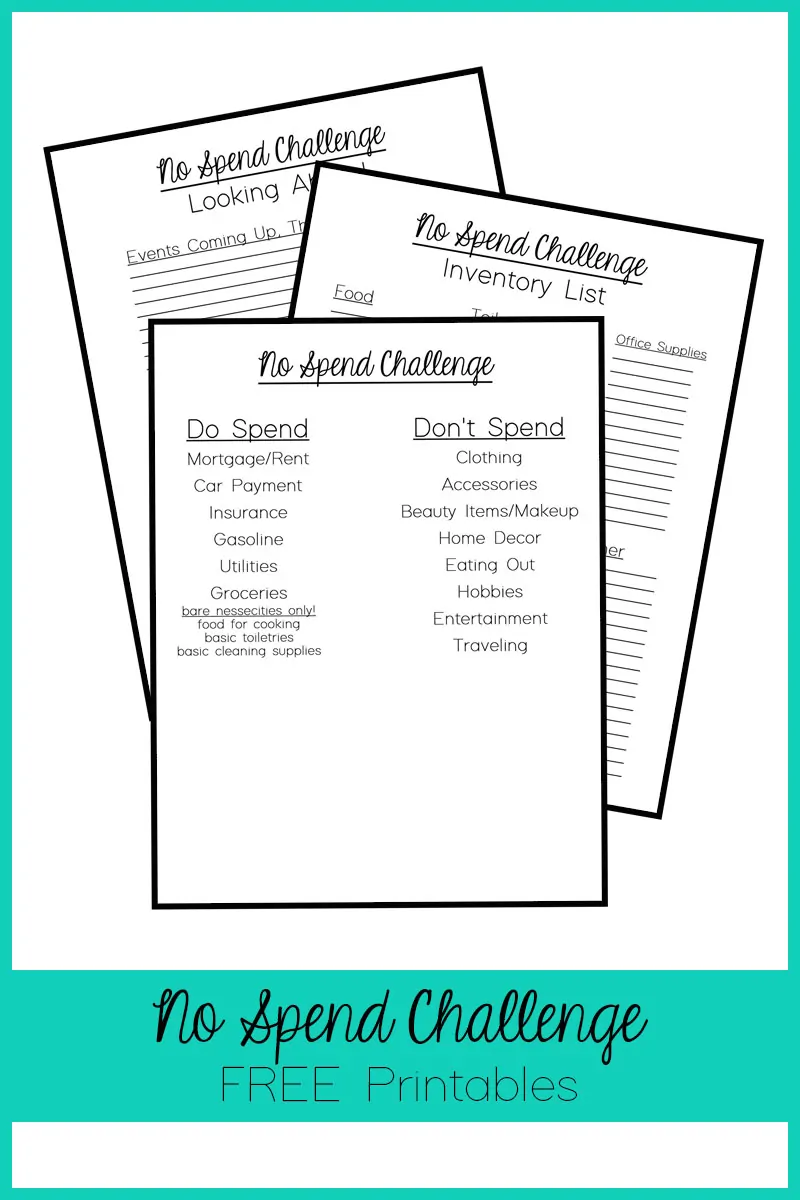 Tell us your thoughts! We'd love to know what you think of No Spend Challenges and if you've ever done one or have considered doing one.
Pin for Later!
Pinning and sharing is so appreciated!!