This post may contain affiliate links. Read my disclosure policy here.
Anna here with the second post in a Money Saving Series here on 5 minutes for mom. You can read the first post here. Many thanks for reading and sharing. We so appreciate it.
Are you looking for more ways to save money? Have you ever tried an Eat From the Pantry Challenge? Eating only from the pantry/fridge/freezer can be quite challenging. But it can also force you to dig deep and be creative.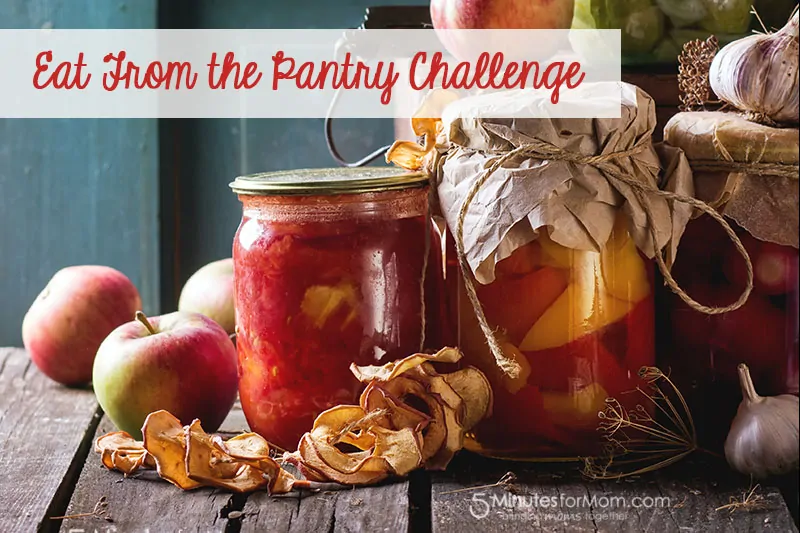 Did you read our first post No Spend Challenge – Can You Do It? This post is continuing our Money Saving Series.
Eat From The Pantry. Does this seem like an easy challenge to you? Or does is seem difficult? I'd imagine if you've just gone grocery shopping you might think it would be a breeze. LOL.
In the first money saving post I talked about how it's easy to fall into bad spending habits. This is especially true when it comes to grocery shopping.
It is so easy to impulse buy while grocery shopping. Did you know that most chain grocery stores are actually set up to encourage impulse purchases?
So, if you find yourself constantly purchasing things that are not on your grocery list and with a pantry that has lots of things on the shelves but you have "nothing to eat" then the Eat From The Pantry Challenge might be just for you.
How to do an Eat From the Pantry Challenge
Clean out. First, clean out your pantry, freezer, and frig. Get rid of anything spoiled, stale or freezer burnt.

Take inventory. While you are cleaning out, make a list of everything you have on hand, including spices.

Plan meals. Using your inventory list, plan meals. Try to stretch each meal, see if you can get even one more serving per meal. Be creative. Pair main and side dishes that you wouldn't normally pair to complete meals.

Make a list of very basic things you need to fill in any gaps. Fresh produce, dairy products, & bread are common needs each week. But be very disciplined when you go to shop for these items. Wait until you've been doing the Eat From the Pantry Challenge for a week or two if possible before shopping. See how long you can go before you have to shop to fill the gaps.

Inform your family. Let your spouse & kids know about this challenge. Often, an Eat From the Pantry Challenge means you will end up having some very creative meals. Make sure your spouse is on board and won't come home one day with impulse purchases.
I've included another set of printables in this post to help set you up for your Eat From the Pantry Challenge and succeed. Click the image below to download the printables.