This post may contain affiliate links. Read my disclosure policy here.
Picking out the perfect puppy for your family can be the most fun you've ever had. But it's also a serious decision with long term commitments that will have a huge impact on your life.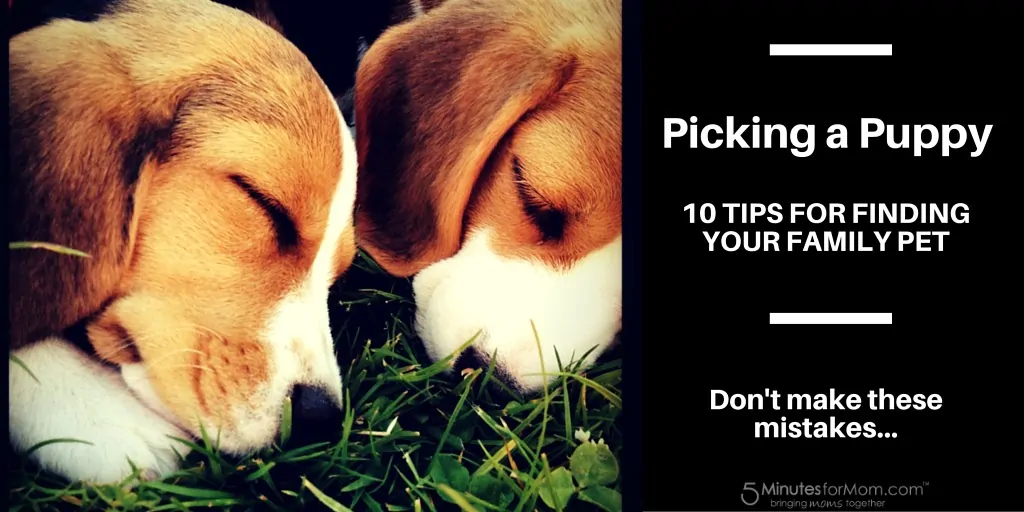 When Janice and I were growing up, our family twice bought a puppy for a family dog. And both times, the decision wasn't planned and had some flaws.
While our second puppy purchase did turn into a long term happy family dog, I learned a lot about what to do and what not to do when picking out a puppy.

10 Tips for Picking Out The Perfect Puppy
Research breeds and pick a puppy with the qualities for a family dog.
The first time my family got a puppy, I was 6 years old and we were visiting family friends on a farm. Their dog had unexpectedly had puppies and we all fell in love.

My mom especially loved the little runt of the litter. It didn't take much convincing for her to let us take him home.

But that was a huge mistake.

It turned out the puppy was a German Shepherd with a part WOLF. Also, the little boys who had owned the puppies had been really rough with them before we got them. (I remember seeing one of the little boys grabbing the puppies by the tails and spinning them around.)

As our little puppy grew, he turned out to have big personality problems and would attack little 6 year old Janice and me, while he would hide and cower when the mailman came.

My mom felt terrible that we'd brought home a puppy who turned out to be truly dangerous to kids and we had to have him put down. It was devastating.

Our second family dog was also unplanned purchase where we hadn't considered the breed. Friends at church were selling their purebred Border Collie puppies and again we fell in love.

While this puppy, who we named Sasha, did turn into a good family dog, his breed is a working dog and he would have been happier in a setting where he got to work or get serious, regular exercise.


Size matters! Decide whether your family should have a small, medium or large dog.

Large dogs are often the safest with kids and make fabulous family pets who are great for playing at the park, camping and doing basically anything.

But if you live in a small townhouse without a yard, like I do… a large dog might not be the best choice.

While many of my neighbors in the same size townhouses, do make it work having large dogs in this size of a house, I would find it difficult.

If you are getting a small or medium size dog, make sure the breed isn't too delicate or fearful of small children.

When I was 18, I got an adorable Sheltie puppy who turned out to be perfect for me in my twenties. But he could not have been around children as he was fearful and could have bit them out of fear. Of course, many — probably most — Shelties are great around kids, but mine was not.

When Janice adopted their puppy shown above, they thought he was going to be a small dog. But since they rescued him from a shelter, they weren't certain about the breed. He ended up being bigger than they expected. Fortunately, it isn't really a problem for their family that he's larger now than they planned.


Make sure everyone in the family is happy to get a dog and nobody is allergic.
Sometimes one person in the family needs a little convincing, and then turns out happy to have the dog. But if one family member REALLY doesn't want a dog or is allergic, you need to respect that.

When we were kids and got our Border Collie, Sasha, my dad didn't want to get a dog. But in the end, Sasha was his best fishing and jogging friend.


If perhaps picking a puppy isn't the perfect plan, consider adopting an older dog.
Puppies are a ton of work and you can't be sure what they'll turn out like as a dog. So adopting an older dog who is already house trained, can be a fantastic decision.

Also, when you adopt an older dog who needs a home, you can feel extra good about extending your family.


Chat with friends and neighbors who have dogs to learn from their experiences.
Talking to friends who have various breeds of dogs can really help you pick out the best breed.

When you can see full grown dogs, instead of just puppies, you can get a more accurate picture of what life will be like with your new dog.

It's also helpful talking to neighbors who have dogs in your neighborhood, so you can find out more about local dog parks.


Try to adopt a puppy or dog from a rescue shelter.

I recommend first checking local rescue shelters and perhaps online. Janice found their puppy AJ on petfinder.com

One thing to keep in mind when adopting an older dog from a shelter is the risk of not knowing about their past.

Try to find out as much as possible about the dog's breed and history, but keep in mind that it might not all be accurate.

With small children, it might be safer to have the dog and child grow up together.


Plan out the costs of owning a dog to make sure it fits your budget.
Getting a puppy or new dog can be really hard on your family budget. If you're buying a puppy from a breeder, you may have a big initial cost, but even adopting a dog has fees.


More importantly, you need to consider the ongoing costs of dog food, vet bills, dog training, and possibly pet insurance and doggy daycare.

Time getting a family dog when your kids are old enough to help out.

Timing is everything in life. What works for your family might be different than other families.

There are some advantages to getting your puppy when your kids are little. For instance, the bond can be stronger if your puppy and babies grow up together.

Also, since a new puppy can't be left alone for long, it's helpful if you're already home looking after kids.

But, for many people – me included – having a puppy or dog at the same time as babies and toddlers would be too overwhelming.

So it might be better to wait until your kids are old enough to beg for their own dog and old enough to help feed and walk that dog.


Decide how much shedding you can handle.
What kind of dog hair can you deal with? Large dogs like Labs and Golden Retrievers make fabulous family pets, but they shed tons of hair!

If you don't want much shedding or a family member is allergic to dog hair, try to find a breed – like a poodle – that doesn't shed much.


Prepare your family and your house.
Plan to take your puppy or new dog to training classes. Your family and your dog will be so much happier if your dog is well trained.

Assign realistic responsibilities and stick to the plan. If your kids have promised to help take care of the dog, try to give them realistic amount of work and ensure they don't give up when the fun wears off.
Having a family dog can be fabulous for many families… but not all.
While I loved having a family dog growing up, and another dog during my twenties, I couldn't handle having a dog at the same time as I have little kids. Fortunately, my girls don't really want a dog of their own and they're happy having a cat at their dad's house.
Janice's family adopted a dog a few years ago when her son was 8 years old. He's turned into a fun family member and they're all happy they have him.
Whether or not your family should get a puppy or dog is a very personal decision that requires a lot of thought and planning to create the best future for your family.
Share With Your Friends
We'd love, love, love a tweet or a pin… Thanks so much! 🙂
[Tweet "10 Tips for Picking Out The Perfect Puppy for Your Family"]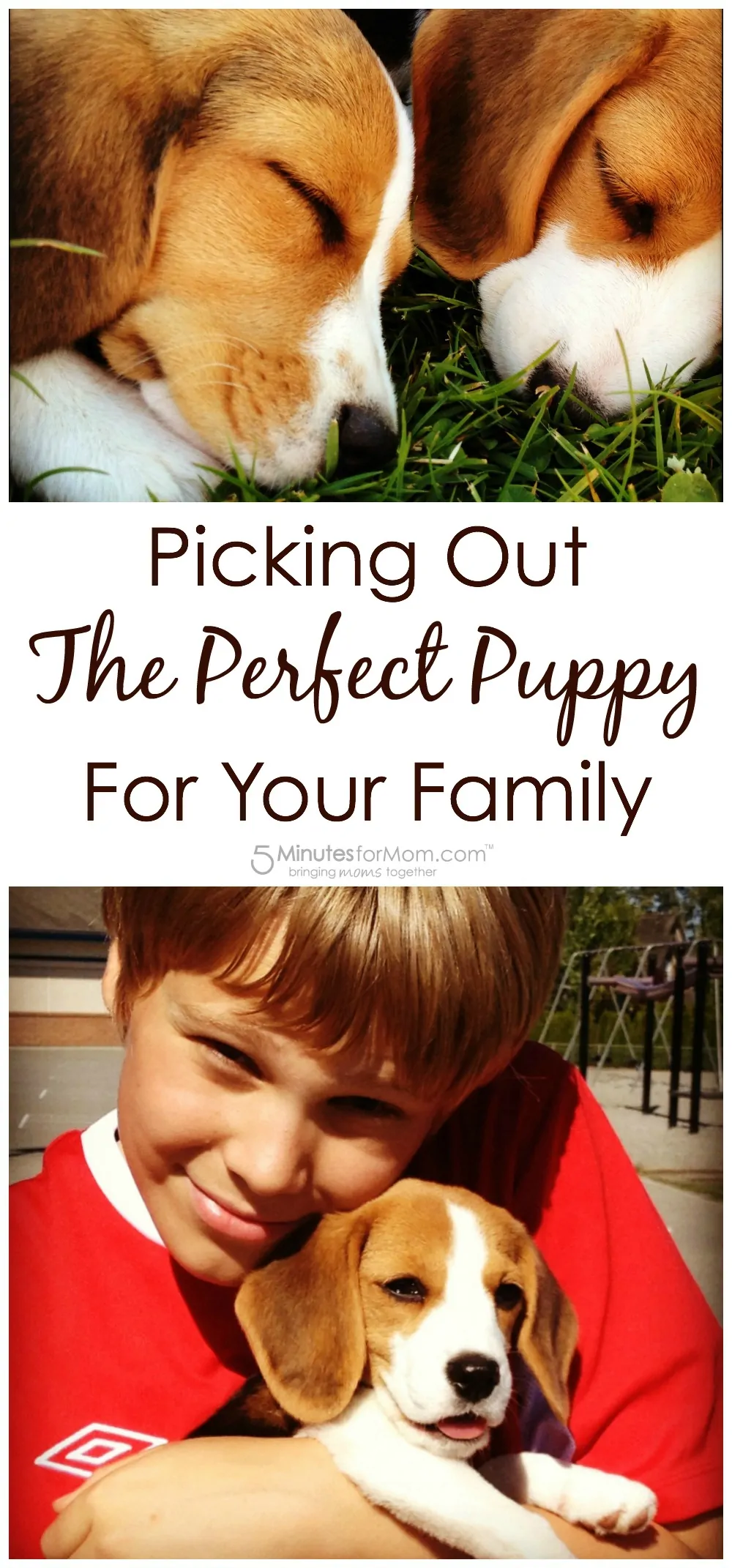 Written by Susan Carraretto, co-founder of 5 Minutes for Mom
Talk with me: @5minutesformom and Facebook.com/5minutesformom
Pin with me at pinterest.com/5minutesformom