This post may contain affiliate links. Read my disclosure policy here.
Planning and hosting a birthday party for your child can be loads of work and stress. Or it can be completely simple and stress-free like a birthday party at Chuck E. Cheese's. Personally, I like to give myself the gift of stress-free kids parties. This post is sponsored, so extra thanks for reading and sharing.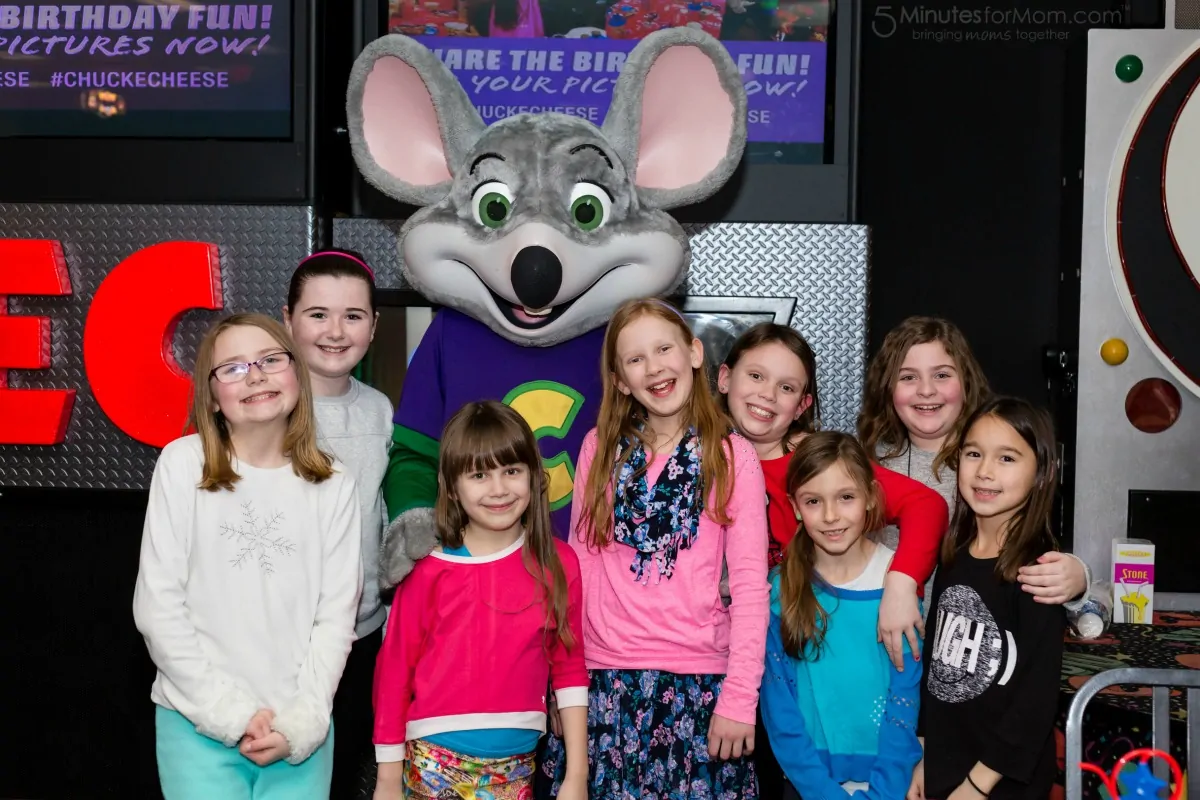 If you haven't yet held a birthday party for your child at Chuck E. Cheese's, you're in for a treat.
Throwing a kids birthday party at Chuck E. Cheese's is literally the easiest way to celebrate your child's birthday and ensure everyone has tons of fun.
Since we live in a small townhouse, I've always hosted my kids' birthday parties at outside "party places" so that the kids have room to run around and play. But, I had not yet experienced the EXTREME simplicity of planning and hosting a birthday party at Chuck E. Cheese's.
They do absolutely EVERYTHING for you!!!
Last week we tested out the Chuck E Cheese birthday party experience to share a review here with you. I could not get over how easy and relaxing the entire process was for me as a parent.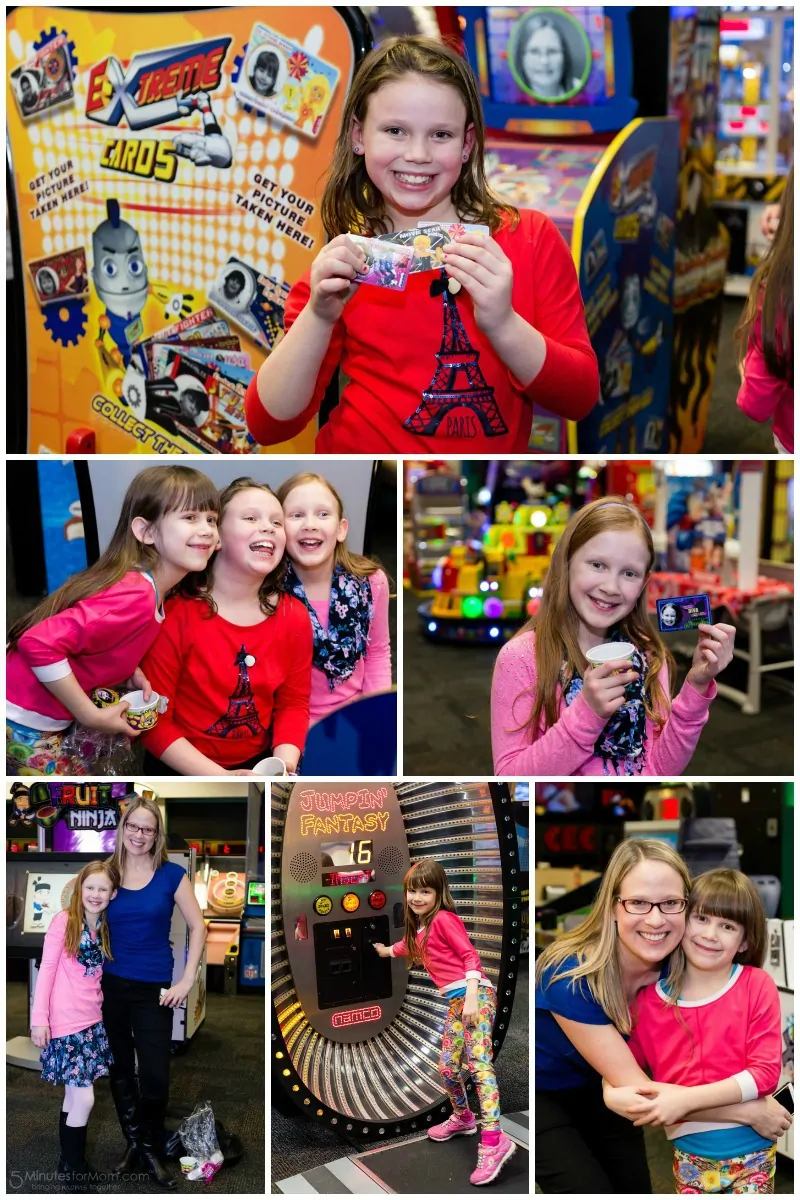 I simply went to their website and booked the party and within a few minutes, we were set.
On the day of the party, we didn't have to bring ANYTHING. They handle the cake, food and everything. With the party option we selected, even the goody bags were provided.
During the party, you have a party host who looks after handing out food and even cutting and serving the cake.
The birthday child gets lots of special attention from Chuck E. Cheese himself and an incredibly fun turn in the Ticket Blaster.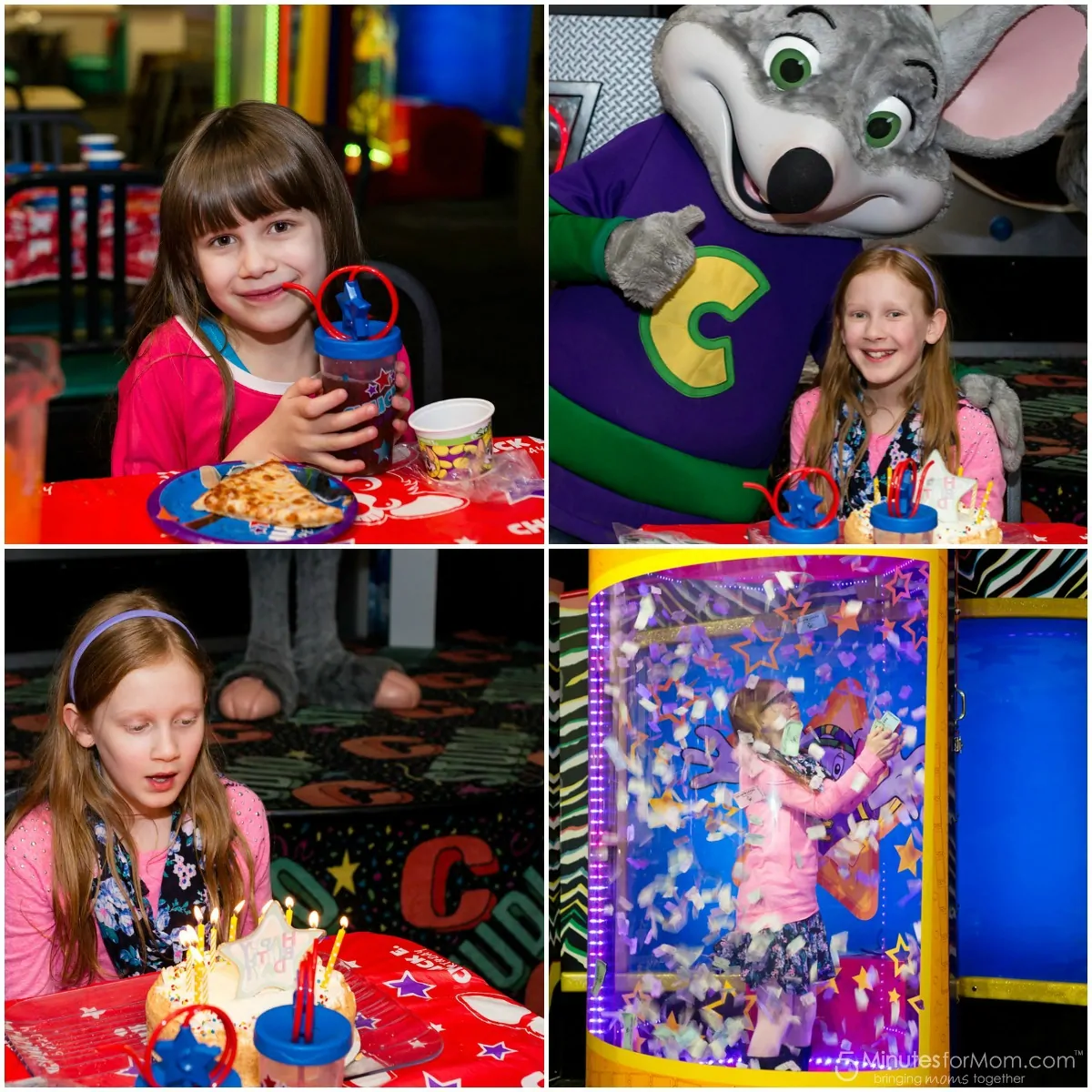 The best thing about a Chuck E Cheese birthday party is that everyone is happy. The adults can sit and relax, enjoy pizza, salad and drinks while the kids run around safely and play games. Everyone is given a hand stamp upon entry, so kids can't just leave the building without you.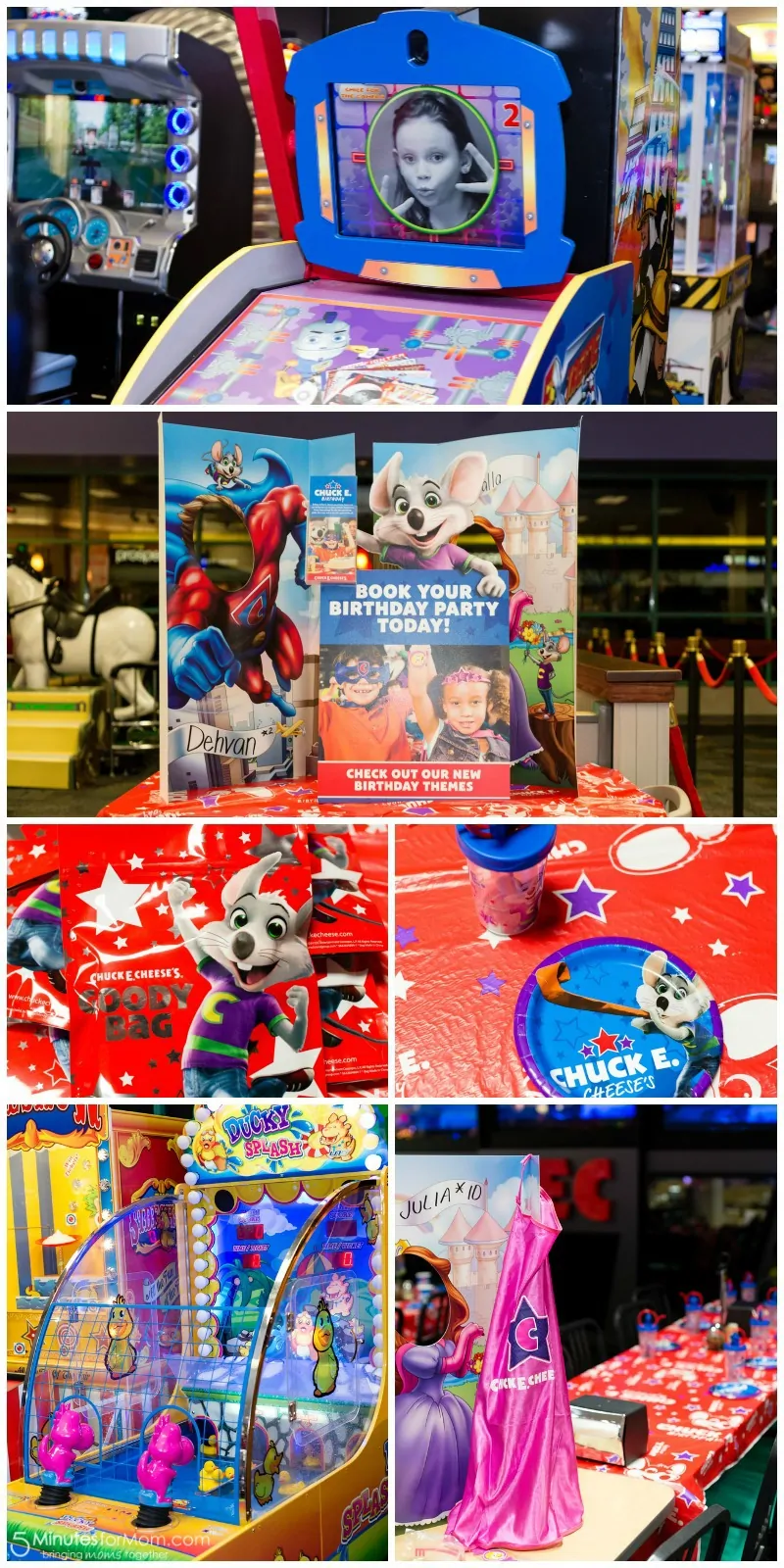 3 Tips for a Perfect Birthday Party at Chuck E. Cheese's
Book Online

When you book online you get an extra 20 tokens. The website is very user friendly and it will only take you a few minutes to book your party.

Schedule it for Off-Peak Hours

If you want a truly relaxing party experience for you and maximum fun for your kids, pick a time after school on a weekday or at 10 am Saturday or Sunday morning.

You'll have the place almost to yourself which means less noise for you to endure and no lines for the kids playing the games.

If you book a Friday or Sunday party, you get 100 Free Tokens.

Order Food and Drinks for the Adults

You'll be pleasantly surprised at how good the food is.

Honestly, we were shocked. The pizza was top quality and they have lots of great salad options too. Our favorite was the new thin crust barbecue chicken pizza. Delicious!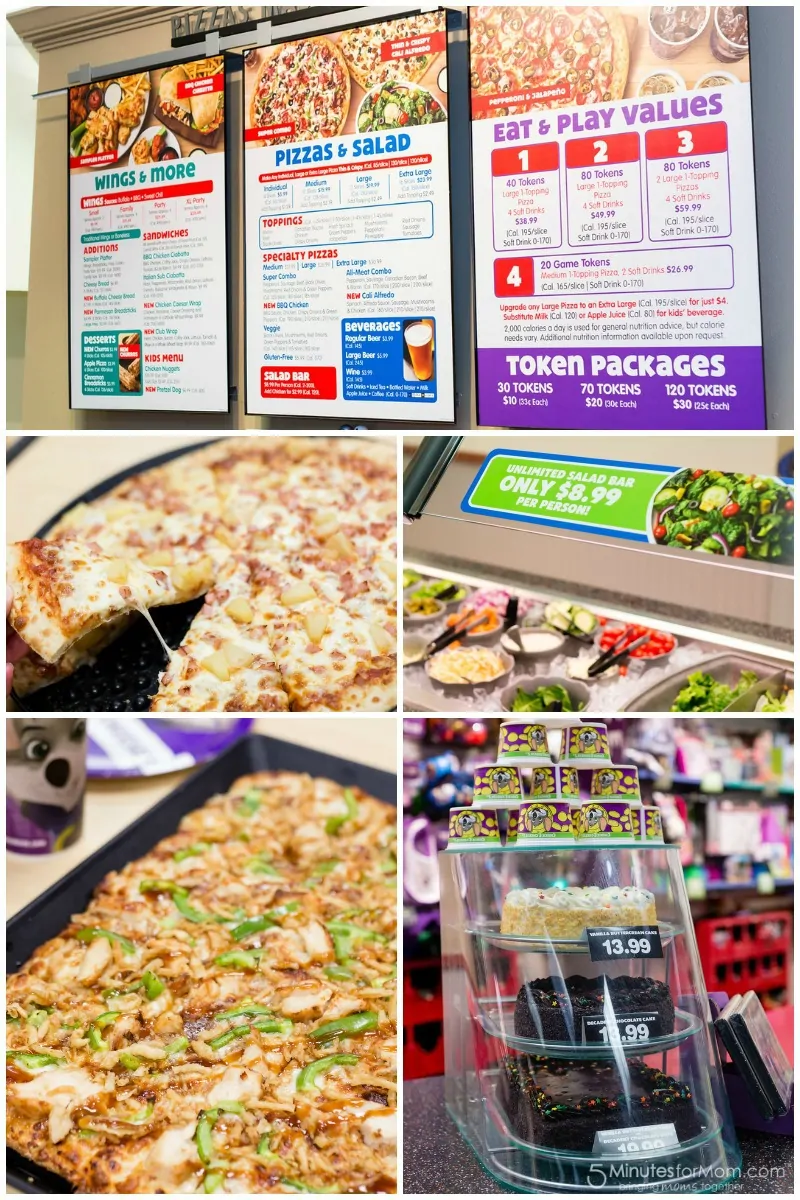 What Age is Best For a Birthday Party at Chuck E. Cheese's
I often used to take my girls to play at Chuck E. Cheese's when they were toddlers and preschoolers, but over the years, we'd gotten busy and hadn't been back in a long time.
Now they are 8 and 10 years old, so when we were asked to host a birthday party for this review, I wondered if my girls were too old.
I searched on Google to find other parents' opinions on what ages are best for Chuck E Cheese parties and I found many parents said their 10 year olds still love the place.
At our party, we had five 8 year olds and three 10 year olds, and they all had a fabulous time.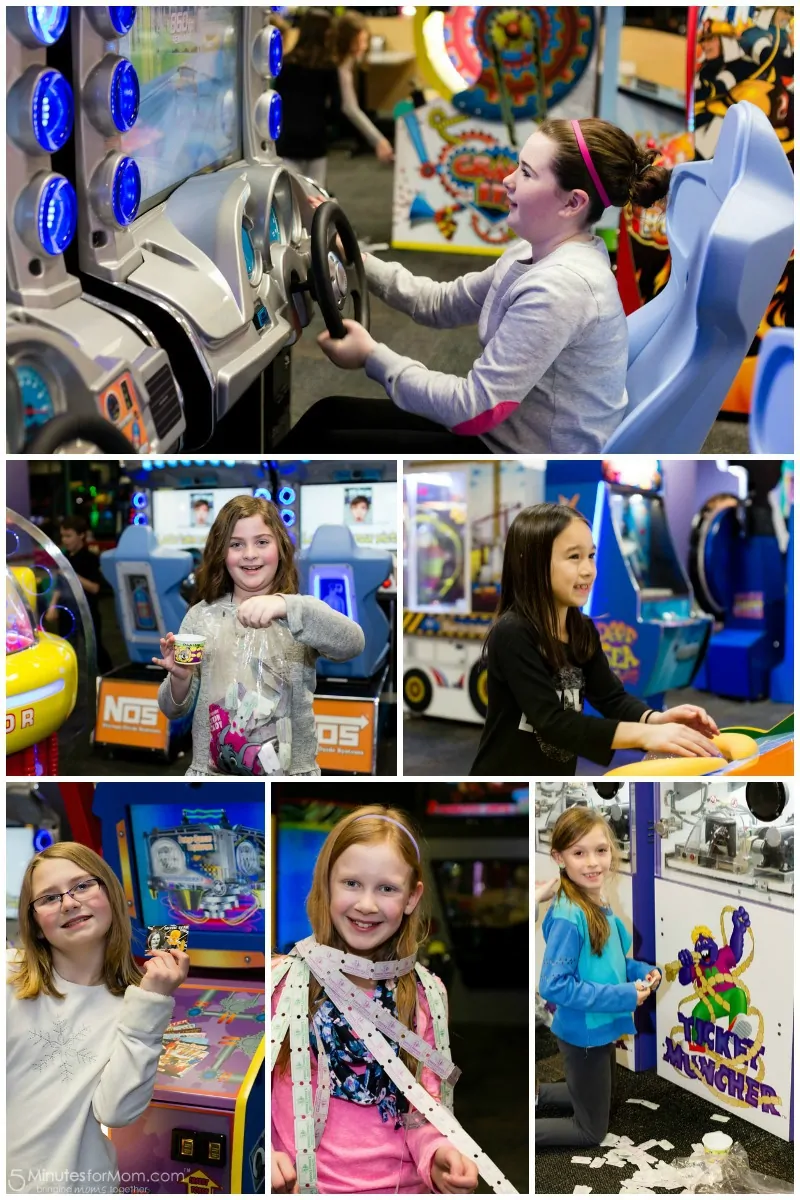 I asked the kids if they thought they were too old for it, and they looked at me like I was crazy. They all said they loved the party.
So while I'd say the ideal age for a Chuck E. Cheese birthday party might be 5 to 7, preschoolers are a great fit too, and kids up to 10 or 11 years old will also have fun.
I remember bringing my daughter Julia to a birthday party there when she was in preschool it was great for all the preschool kids.
Also, unlike many other party places where there's nowhere for adults to relax during the party, at Chuck E. Cheese's, the parents can all stay and enjoy the great food and drinks.
Has Your Child Had A Birthday Party at Chuck E. Cheese's?
We'd love to hear about your experiences at Chuck E. Cheese's and if you think you may host a future birthday party there. Please leave us a comment below.
This is a sponsored conversation written by me on behalf of Chuck E. Cheese's. The opinions and text are all mine.