This post may contain affiliate links. Read my disclosure policy here.
My kids LOVE Halloween. I bet yours do too. Dressing up and going out after dark to collect free candy is a true dream come true for any child. But it can be a little scary for their little teeth. We've partnered again with the American Academy of Pediatric Dentistry (AAPD) to help you reduce their risk of tooth decay during Halloween.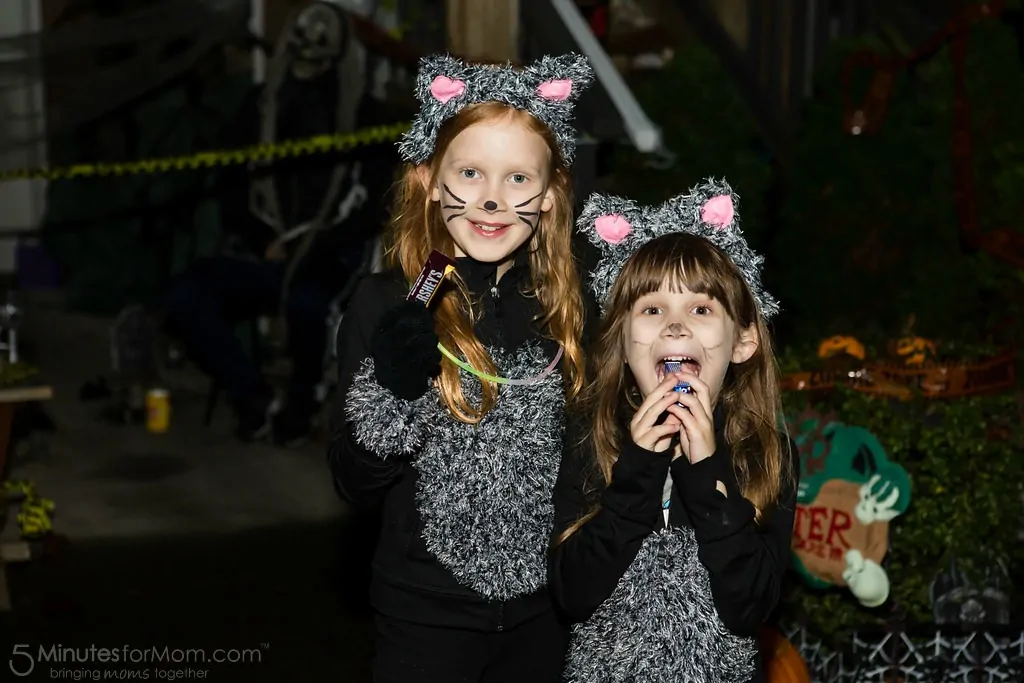 Oh the fun of Halloween… costumes and candy… what more could kids want?
I remember so fondly Halloween as a kid.
My favorite part? Sorting the candy after trick-or-treating and doing trades with my siblings.
And sure enough… that's my girls' favorite part too.
When they come home from trick-or-treating, I make them a nice cup of warm milk and they dump out their bags of treats and organize them into little piles all over the living room floor.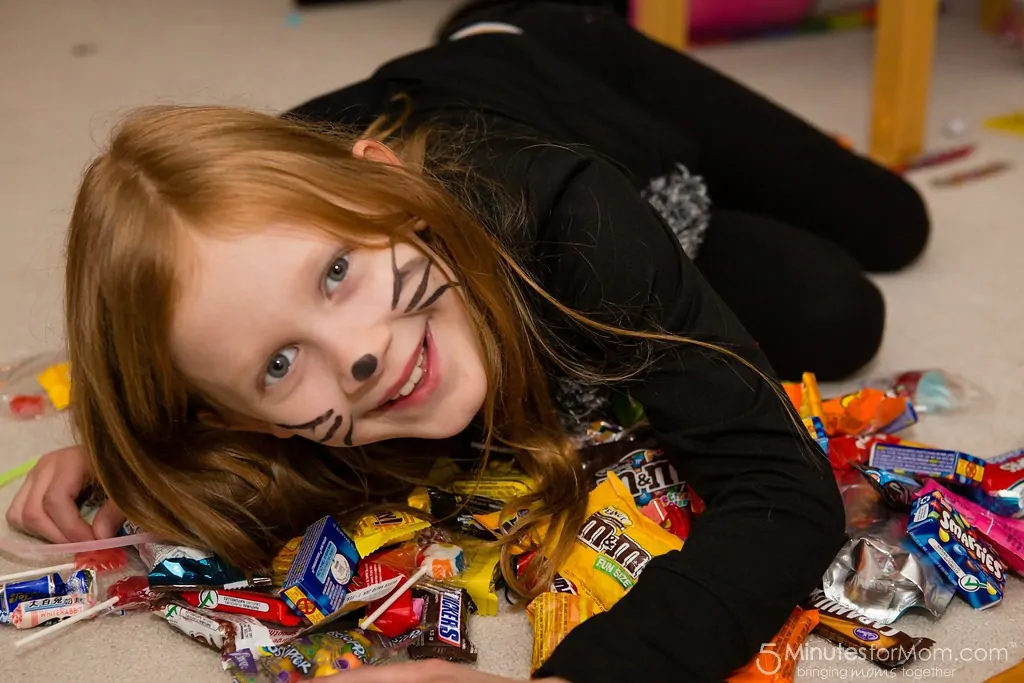 I'm lucky.
My two girls have always loved sorting their candy and "playing with it" by counting it and making trades even more than eating it.
When they were really little, they'd only eat a few pieces on Halloween night and then be full. I wouldn't even have to set a limit. They naturally limited themselves.
The older they get, the more candy they want to eat… but overall, they tend to save their candy more than eat it. In fact, after a few months, they usually still have a bag full of candy that has gotten too old and I then try to convince them it's gone stale and it's time to throw it out.
But every child is different.
Their cousins, Olivia and Jackson, if you let them, would both eat and eat and eat their candy until they made themselves sick. So Janice has to work harder to establish limits.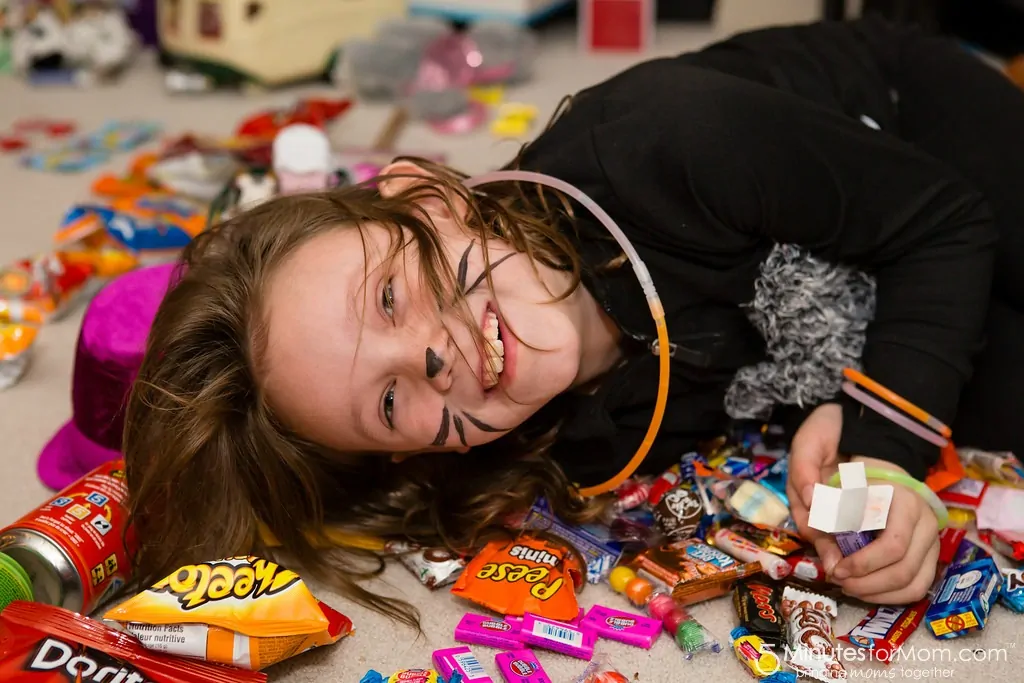 The fact is most kids do tend to eat a lot of candy during Halloween and the weeks following. So here are some ideas to help limit their tooth decay at this sweet time of year.
5 Tips to Protect Your Kids Teeth This Halloween
Know your child and set limits accordingly.

If your child naturally self regulates their candy consumption like my Julia and Sophia, don't add unnecessary rules that might cause them to rebel. On the other hand, most kids will need help with guidelines or even strict limits.

In some families, it makes sense for the parents to store the candy out of reach and control when the kids can eat it.


Keep it fun.

Don't let the worry over the sugar ruin the holiday. The fun of Halloween trick-or-treating is a huge part of childhood and ends so quickly.

Before you know it, your kids will be in high-school and the days of escorting them around the neighborhood clad in cute costumes to collect candy will be long gone.


Bring on the water.

Have water bottles filled with tap water on hand whenever they're eating candy or chocolate.

The AAPD recommends tap water, as most communities fluoridate water supplies. Fluoride encourages "remineralization," or strengthening of teeth to help prevent cavities.

Teach them to swish the water around in their mouths to rinse off their teeth as soon as they're done eating.


Encourage extra brushing.

On Halloween night, do extra supervised tooth brushing, flossing and consider having them use a fluoride mouth rinse.

In the weeks following Halloween, whenever your kids want to eat some of their candy stash, have them agree to brush their teeth immediately afterward.


Trade in the worst candy offenders.

Not all sweet treats are created equal. AAPD created the helpful Candy Sorter Grid below to show the different rankings of Halloween candy, from treats to avoid to best choices.

Encourage your kids to eat chocolate or other treats that aren't quite as hard on their teeth… and then trade in the really bad stuff in a buy-back program.

Most dentists participating in a Halloween buy-back program will pay $1 per pound of candy, which is then shipped out in care packages for U.S. soldiers serving overseas. Find a pediatric dentist near you by clicking here, and then inquire whether they are participating in a similar program during the first week of November.

Stay Up-to-Date With Regular Cleanings

If you've fallen behind with your children's regular dental checkups and cleanings, now is the perfect time of year to book an appointment.

I find the easiest way to keep up regular dental cleanings for my kids (and myself) is to book the next cleaning each time before I leave the dentist's office.

Dentist appointments can be challenging for some kids. My oldest Julia has never had a problem going to the dentist, but her little sister Sophia really struggles with her fears. I'm so thankful we have a fabulous pediatric dentist nearby who does an amazing job keeping even the most sensitive kids as happy as possible.

While the dentist I see is great for adults, I am relieved I decided to take my girls to a pediatric dental office where the staff is trained specifically to treat children. To be honest, I'm continually amazed by their patience… my little Sophia certainly tests it.

Keep It Fun With Printables

To get a fun conversation started with your little ones, download this cute AAPD Halloween Coloring Sheet and these Mouth Monsters Characters.

8 Spooky Halloween Activities Around the Country With the Mouth Monsters

Beware! The Mouth Monsters are haunting Halloween celebrations from coast to coast! Don't forget to help children brush and floss those pearly whites to ward off any Mouth Monsters disguised as tasty treats this Halloween.

Find Out More

Follow the AAPD and the Mouth Monsters on…

Facebook: facebook.com/AmericanAcademyofPediatricDentistry
Twitter: @AmerAcadPedDent
Website: mouthmonsters.mychildrensteeth.org

Share With Your Friends

We'd love, love, love a tweet or a pin… Thanks so much! 🙂

[Tweet "How to make Halloween less scary for your kids' teeth… #MouthMonsters @AmerAcadPedDent"]

Disclosure: This post is sponsored by The American Academy of Pediatric Dentistry.
Written by Susan Carraretto, co-founder of 5 Minutes for Mom
Talk with me: @5minutesformom and Facebook.com/5minutesformom
Pin with me at pinterest.com/5minutesformom