This post may contain affiliate links. Read my disclosure policy here.
Tonya here, and as an ambassador for Nestlé® Pure Life® I want to share with you The Ripple Effect, and how making small changes, like encouraging our children to drink water regularly from a young age, can have a big impact on their health and lives. Plus, to get you started, we have a giveaway for a Ripple Effect kit.  Thanks to Nestlé® Pure Life® for sponsoring this post. All opinions are my own.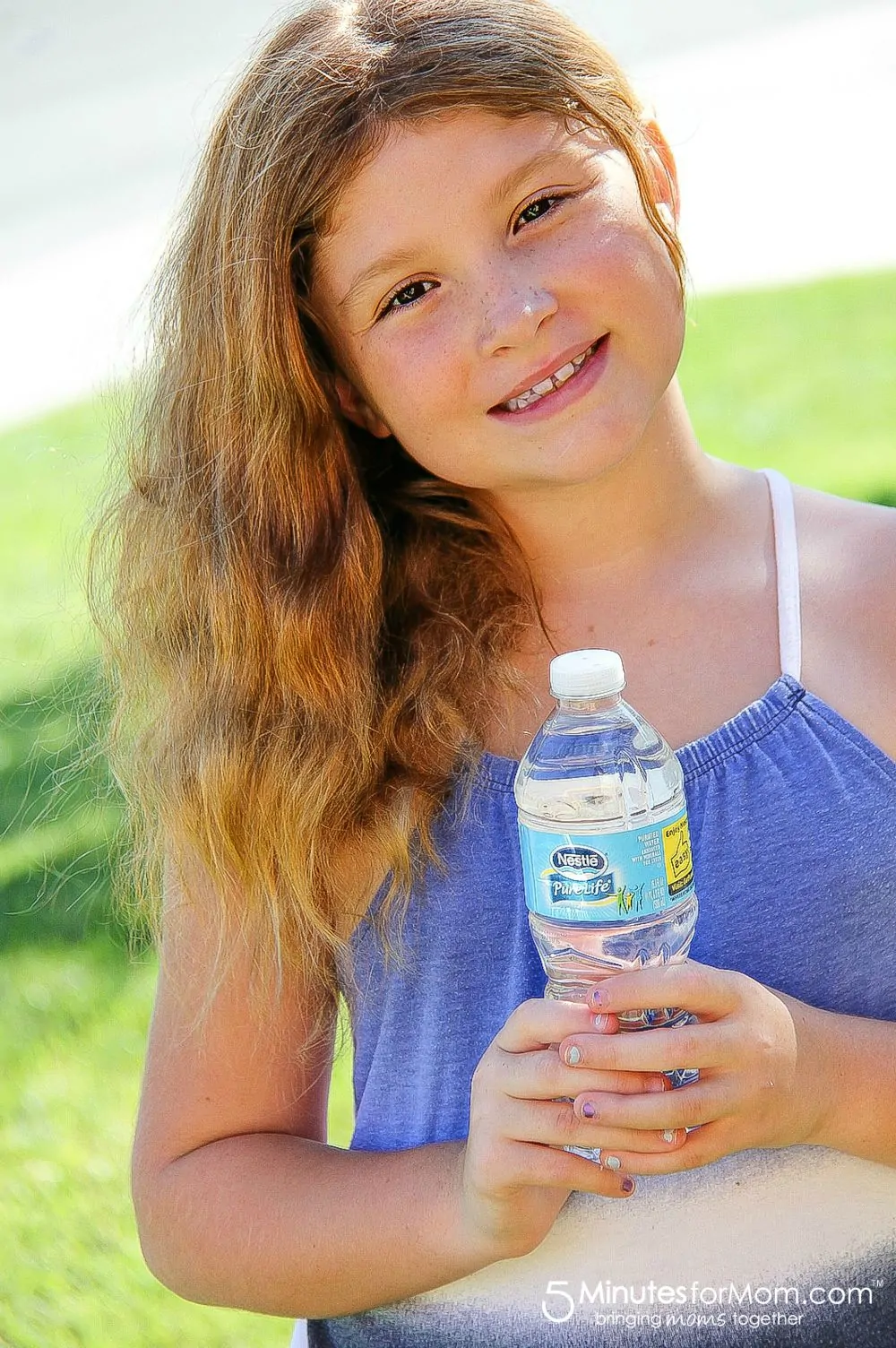 I don't know about you, but I find it's hard to keep track of how much water my kids drink throughout the day. I can't even keep track of how much I'm drinking, but do find myself often asking them (as they head to the refrigerator) what they last had, when they last had water, and to give me a list of everything they've had to drink that day.
My daughter often complains of headaches and feeling tired, and my go-to response is, you need more water, you are probably dehydrated. I only pack water for school, and we always take water bottles in the car, to theme parks, and any other fun family outings.
To encourage my kids to drink more water during the day I feel like occasionally I need to make it fun for them, give them options, or just mix it up and make it a little different.
This is one of my tricks.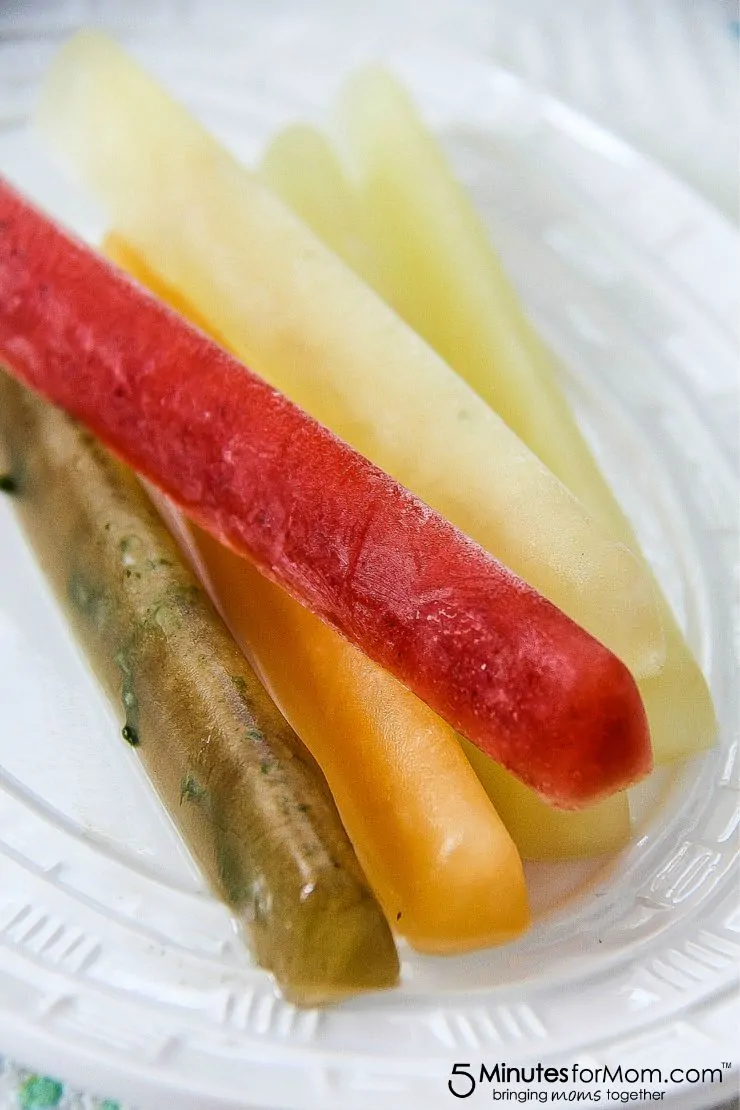 By using fresh fruit and freshly squeezed fruit juice in ice cube trays means there are a ton of possibilities out there to naturally flavor water and make it more fun.
For these ice cubes I used:
Freshly squeezed lime juice
Mint leaves – muddled with a little Nestlé® Pure Life® bottled water
Lemon and ginger – 1 lemon squeezed with 1/4 tsp crushed ginger
Strawberry and kiwi – 3 strawberries and 2 slices of kiwi muddled and the juice pushed through a strainer
Pineapple and coconut – 2 cubes of pineapple juice extracted and topped with coconut water
Freshly squeeze orange juice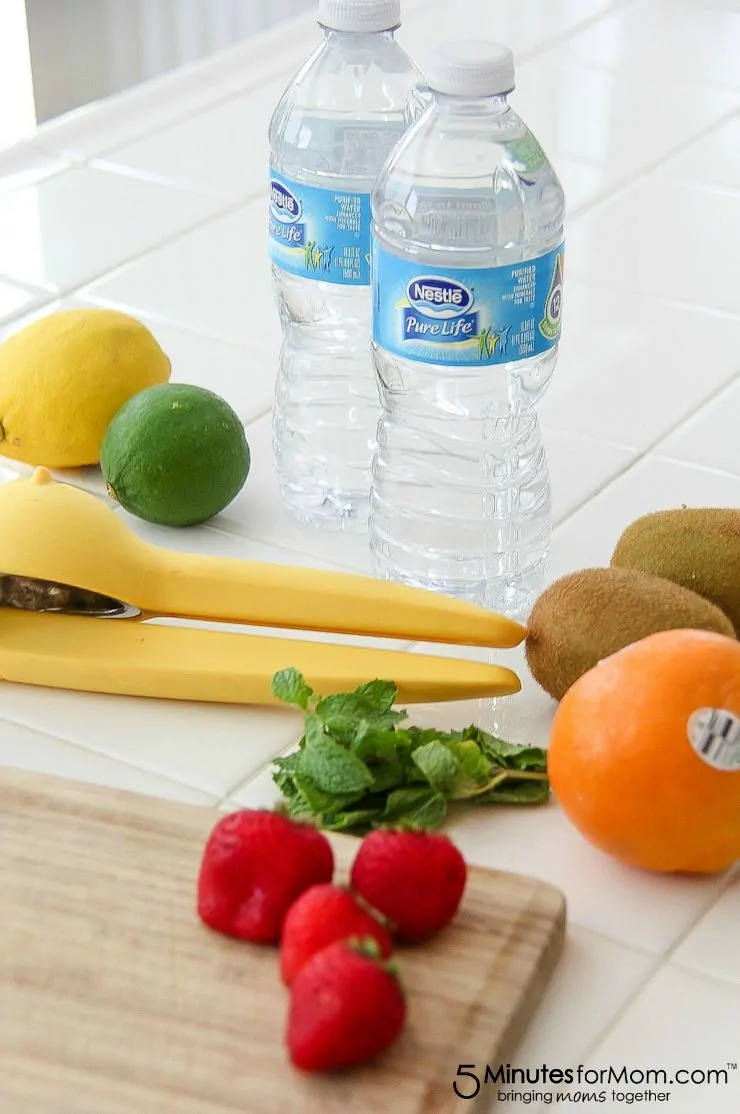 Did you know you can buy a water bottle stick ice cube tray? Well you can. I purchased mine from Ikea a few years ago, and have used it for everything from making ice cubes to crayon melting. I've also seen water bottle ice cube trays in-store at Walmart.
Simply fill your ice cubes with a variety of ingredients (the possibilities are endless), freeze overnight, and kids can pop an ice cube out in the morning, put it into their water bottle and pack it into their school backpack. By the time the ice cube melts they have naturally flavored, cold water to enjoy.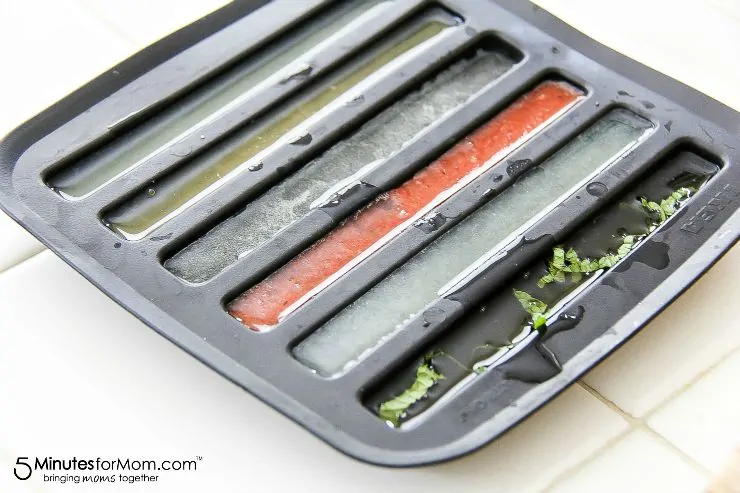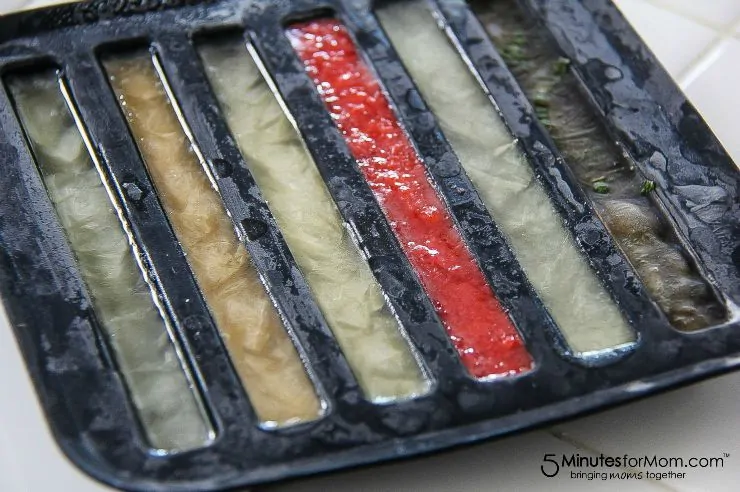 A recent study from the Harvard T.H. Chan School of Public Health found that a little more than half of all children and adolescents weren't getting enough hydration. Although excessive dehydration is associated with serious health problems, even mild dehydration can cause issues, including headaches, irritability, poorer physical performance, and reduced cognitive functioning.
In a survey recently conducted by Nestlé® Pure Life®, moms and kids revealed many surprising insights about their hydration habits.
97% of moms think making one healthy choice leads to making other healthy choices.
Water is one of the biggest "healthy habit" struggles moms have with their kids (38%), even more than struggles like "eat your fruit" (29%), "get enough exercise (23%), "eat your breakfast" (19%), and "drink your milk" (18%).
Between water, milk, juice, and soda, moms say water makes up 67% of their daily beverage intake, but it makes up only 48% of their kids.
33% of kids find it hard to remember to drink water without reminder and only half of moms (52%) regularly remind their child to drink water.
A majority of kids say they prefer a homemade lunch (57%) over a school bought lunch. This preference for packed lunches offers a key hydration opportunity for moms – packing a bottle of water can help increase a child's water intake for the day.
Nearly 2 in 5 (37%) moms agree letting their child drink bottled water instead of out of a cup would help get their child to drink more water.
Other tactics moms think would get their child to drink more water include
40% – Using "fun" straws
35% – Adding fruit pieces to make "flavored" water
29% – Choosing packaging with fun graphics or characters
Kids who drink 4+ glasses of water per day are more likely to frequently exhibit healthy habits, such as
Getting their own water when thirsty.
Eating their fruits and vegetables at meal times without reminders.
Requesting healthy food and beverage options for school lunches.
Nestlé® Pure Life® undergoes a 12-Step Quality Process that includes reverse osmosis and/or distillation. Select minerals are added for taste to ensure you get pure, refreshing water every time.
Did you know that replacing a single 12-ounce, 140-calorie sugar-sweetened beverage with water each day for a year can cut more than 50,000 calories per year from your diet?
To help kids make healthy hydration choices, Nestlé® Pure Life® is partnering with Drink Up and Alliance for a Healthier Generation to encourage America's youth to drink more water. By providing helpful tools and resources to moms and their children, we can help establish good habits for a healthier tomorrow.
Also, as part of their dedication to healthy hydration through the Drink Up initiative, Nestlé Pure Life has committed to providing nearly one million 8oz servings of water to After-School All-Stars. After-School All-Stars (ASAS) is a leading national provider of year-round school-based afterschool programs, with a mission to keep children safe and healthy – helping them to succeed in school and in life.
We know that establishing healthy habits in early childhood has lifelong benefits. We call this The Ripple Effect, and we're encouraging moms and their kids to reach for water first. Nestlé® Pure Life® wants to encourage everyone to join The Ripple Effect movement at pureliferippleeffect.com, where parents can find and share tips and tricks for keeping their kids healthy and hydrated.
What Are Your Tips
We would love to hear your tips and tricks for keeping kids healthy and hydrated. Please leave us a comment below.
Pin for Later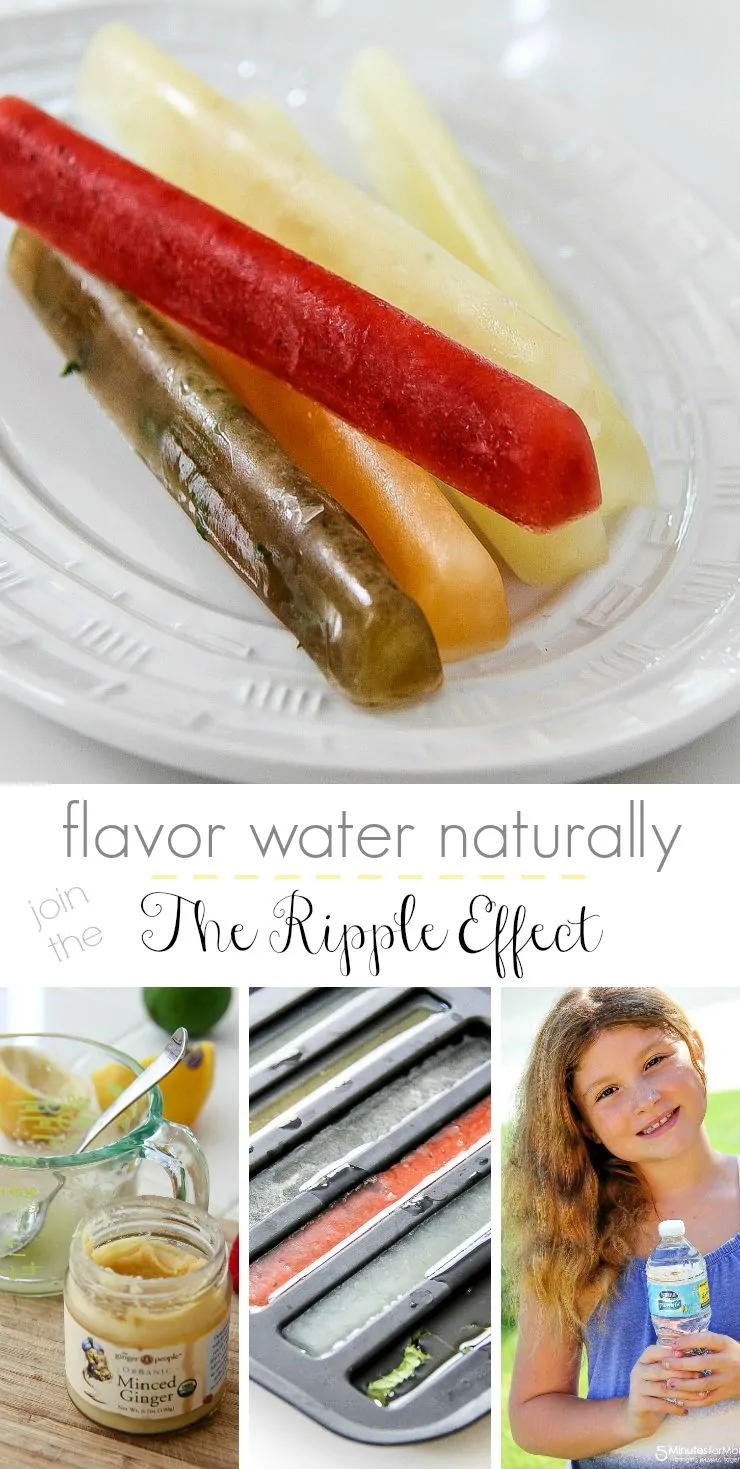 Written by Tonya Staab, lifestyle blogger at Create-Celebrate-Explore
I received compensation from Nestlé® Pure Life®  in exchange for writing this post. Although this is a sponsored post, all opinions are my own.
Thank you to Nestle® Pure Life® for sponsoring this blog post. All opinions are my own.
Have Kids? Don't Miss This…
Contacts For Kids? What You Need To Know About Contact Lenses For Your Entire Family
How old do you have to be to wear contact lenses?