This post may contain affiliate links. Read my disclosure policy here.
Do you ever feel like you've lost your sense of fun?
I sure do… in fact I actually selected "FUN" as my "One Word" for 2015. So when parenting strategist, Cate Scolnik, from How To Train Your Children submitted this guest post, I had to share it with you.
Where did it go?
You know you had a sense of humor, but you haven't used it recently. It seems to be lost beneath a deluge of laundry.
Or maybe it was flung aside in the morning marathon to get everyone out the door.
What happened to the fun side of having kids? The crazy, cuddly, enjoyable bits.
You've been rushing around doing errands, laundry, and dishes. Constantly trying to complete that endless list of obligations.
Meanwhile, little people come along behind you, undoing all your hard work. Making you fatigued, frumpy and frazzled. The kids seem to have all the fun, while you get to do all the work.
So, slowly, almost imperceptibly, your sense of humor fades into the background. It was a muscle you stopped using, and it wasted away.
The good news is that muscles have memory, and you can rebuild them. You just need to learn how to rebuild, and maintain, this muscle now that you have a family.
Want to know how?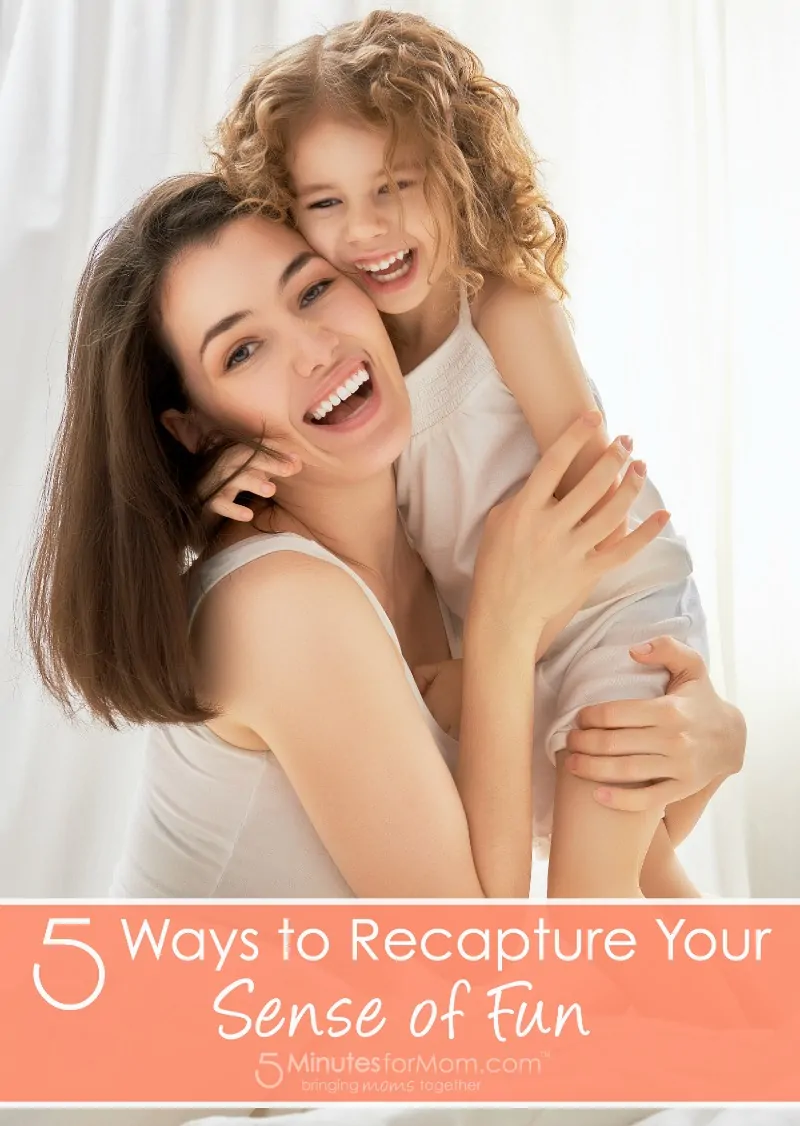 Five Ways to Recapture Your Sense of Fun
You'll think of loads more once you put your thinking cap on, but the following ideas will get you started.
[Tweet "Feel Frumpy and Frazzled? Here are 5 Ways to Recapture Your Sense of Fun…"]
1. Dance like nobody is watching
I'm talking about the YMCA, the Chicken Dance, the Macarena, and the Bus Stop. Whatever rows your boat, just put on some music and shake it till you feel better.
Maybe you have two left feet, or maybe you can teach Justice Crew some moves. Either way, it doesn't matter.
Whatever you do, your kids will love it or be embarrassed, depending on their age. It has nothing to do with your style.
Kids love learning how people used to dance in times gone by. So you can treat them to a history lesson while youíre there. Take them through the Charleston in the 1920s, to the Swim in the '60s, and the YMCA in the '70s.
Moving to music is great fun, regardless of how good or bad your style is. Music has the power to change our emotions, so crank it up and bust some moves.
2. Try trading places
Simply swap roles with your kids — you'll both LOVE this!
They get to wear your shoes for a bit and be you, and you can be them. They can physically wear your shoes or clothes, or it can be pure make-believe.
This is both fun and therapeutic because you can argue and complain as much as they do.
Throw a tantrum if you like, and see how they respond. You'll get some great insights into how they interpret your behavior and how they think you should behave as a parent!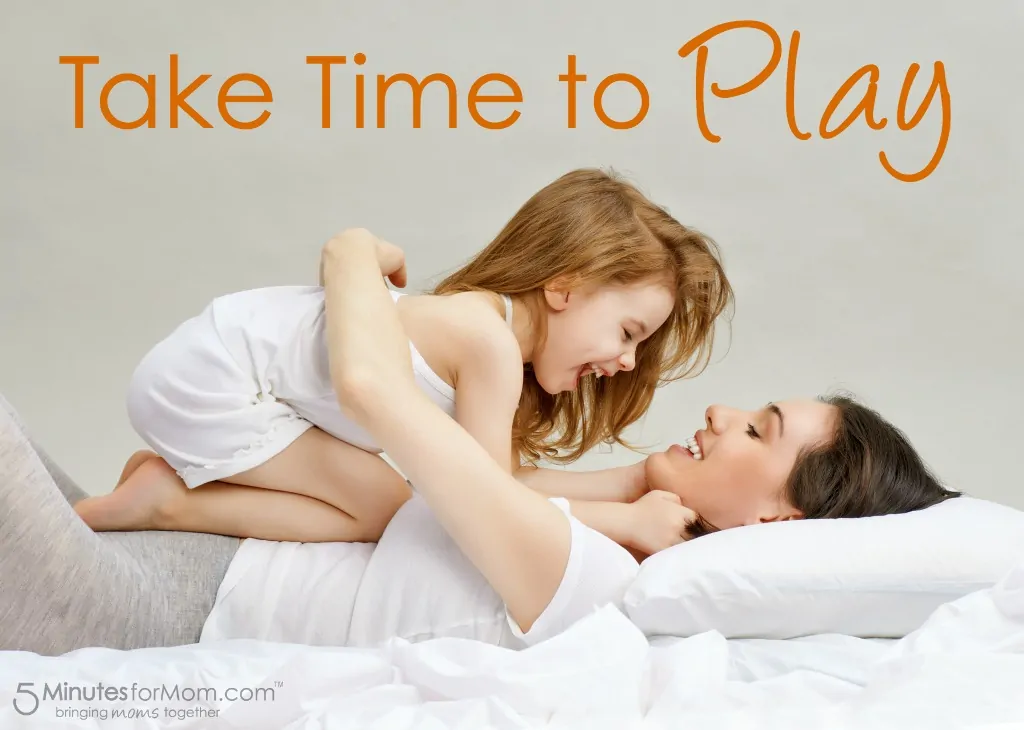 3. Take it lying down
Give in to your exhaustion, and lie on the floor.
How long will it take your kids to jump on you? What game will you turn this into?
You can pretend to be unwell, and the kids will nurse you back to health.
You can pretend to be the Very Angry Bear who is trying to sleep through winter.
You can turn it into a tickling contest and see who calls "stop" first.
This is simple and fun, and the physical contact will bring you closer emotionally, too.
4. Play "What's on my butt?"
While you're lying on the floor, you can play a game of "What's on my butt?"
All you have to do is lie face down while the kids take turns putting toys on your bottom. You have to guess the object.
You can restrict yourself to the range of objects in the room, or you can make it up. We all know how much kids love a little fantasy.
Maybe The Grinch is on your bottom and he's about to steal Christmas. Maybe it's an Alien about to steal your underpants.
Let yourself go wild. It's entertaining, silly, and you get to lie down!
5. Become frosty.
I'm talking about Frosty the Snowman.
Now that the cooler weather is here, you can help the kids make a snowman or snow angels. You can even have a snowball fight.
If you're in the Southern Hemisphere, this won't work for you. So try running under the sprinkler, or see who can make the biggest splash in the pool.
Call it laughter therapy, call it practicing lightness, call it being in the moment. It doesn't matter.
The main thing is that you rediscover your sense of fun while you create new memories. A few minutes of silly can be the best bit of your day, and the best gift you can give your children.
Give a gift more precious than gold
The gift of laughter, and of the fond memories you're creating, is worth more than gold. It's the best gift you can give your family.
You owe it to yourself, but more than that, you owe it to your family to make this a regular part of your life. You need to be silly and spontaneous whenever the opportunity allows it.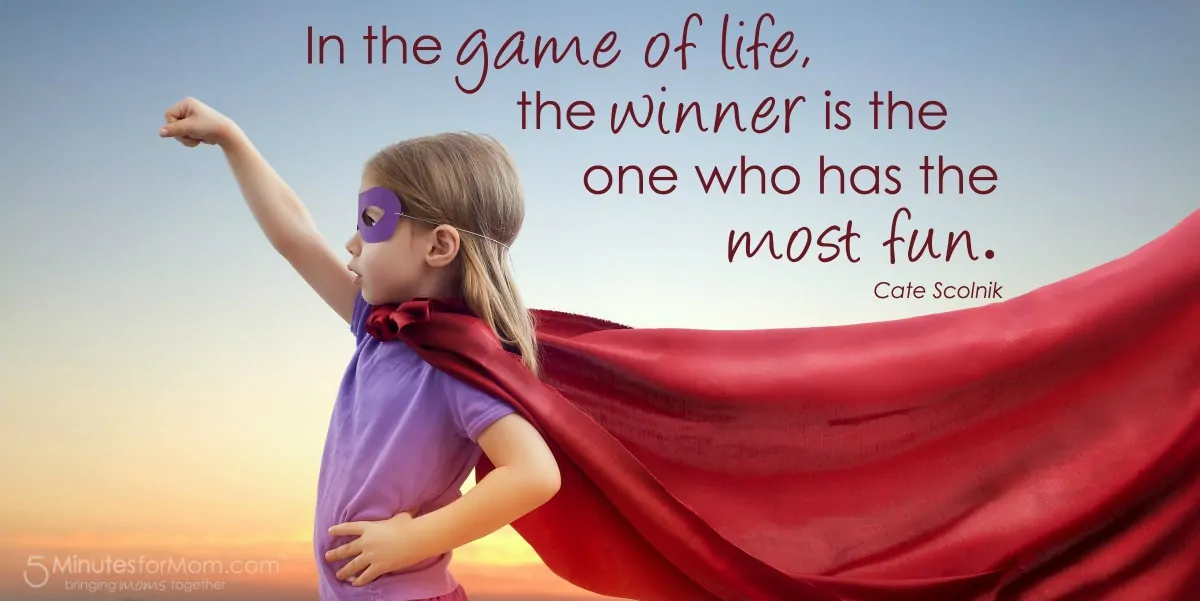 Life is not a box of chocolates, as Forest Gump so famously said. No, it is a game.
Some say it's a game of strategy. Some say it's a game of survival. Some say the winner is the one with the most money.
All of these people are wrong.
In the game of life, the winner is the one who has the most fun and shares the most laughter.
So flick off any frumpy or frazzled feelings and grab a bit of silly.
Make your family laugh. Make yourself laugh. You can win this game.
[Tweet "In the game of life, the winner is the one who has the most fun and shares the most laughter."]
Written by Cate Scolnik, parenting strategist at How To Train Your Children and published exclusively here at 5 Minutes for Mom.