Janice and Susan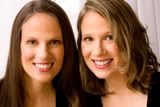 We are Janice and Susan, the twin bloggers who created 5 Minutes for Mom. Within a few clicks around here, you'll realize there's more than two bloggers behind this site.
5 Minutes for Mom started in 2006 with only Janice and I writing posts, but it soon grew into a fantastic team blog. Now we can't even imagine life without the rest of our team. Our regular contributors help us bring you the best in product reviews, the latest news on blogging, and regular features which bring you news you can use from industry experts.
In July 2008, 5 Minutes for Mom expanded by introducing several topic-specific sister sites. Our managing editors have helped us to expand our reach within the blogosphere.
Keep reading to find out more about our contributors, both here on 5 Minutes for Mom and at our sister sites.
Erica

Erica does a little bit of everything at 5 Minutes for Mom — from writing posts and reviews to answering emails to managing the calendar. She is a mommy to three children: Audrey 6, Isaiah 3 1/2 and Christian 2.
You can also find Erica blogging at 3 Little Sparrows.
Jennifer

Jennifer Donovan administrates our contest winners and writes product reviews and authors our weekly 5 Minutes for Books column here at 5 Minutes for Mom.
She is managing editor at our 5 Minutes for Books site. Find out more about her and the team of bookworms who review books in all genres for all ages, encouraging everyone to take a little bit of time to read.
She can also be found blogging at Snapshot about parenting her 10-year-old daughter and 4-year-old son, travel, and whatever else crosses her mind.
Tammy

Tammy is the managing editor of 5 Minutes for Special Needs. She has some other fabulous writers who help her offer encouragement, support, and insight for those who want to understand those with special needs better. Read more about her and the rest of her team HERE.
She can also be found at Praying For Parker where she blogs about life with Parker (pictured), an outrageously cute, medically fragile child with Down syndrome.
Kerri Anne
Kerri Anne Ladish is the managing editor of 5 Minutes for Going Green. An avid t-shirt slogan aficionado and Pacific Northwest native, Kerri Anne is a former English Literature major turned web geek / writer / non-profit savant.
When she's not enjoying all that the good green earth has to offer, Kerri Anne is most likely writing at her personal site, Kerrianne.org, or at CinematicEcstatic.com, wherein she nurses her undying obsession with movies of all lengths and genres.
Find out more about Kerri Anne and meet the green team who helps her encourage everyone to live life a little bit greener.

Meet Our Feature Editors
Here's a brief introduction to each of our feature columnists. For more information about the writer or her column, click on her name:

Kailani shares the most up-to-date online happenings including announcements, giveaways and new sites, each Sunday in 5 Minutes Around the Blogosphere. She blogs at An Island Life and An Island Review.
Jena is our Resident Tackler at Tackle-it-Tuesday. She shares personal tackles and manages our Guest Tacklers. She blogs at Organized Everyday.
Lisa writes our 5 Minutes for Fitness column which appears every other Thursday. Her personal site Workout Mommy also inspires moms to get fit.
Shera coordinates the Sampler, which features bloggers from around the blogosphere once a month on Fridays. She blogs at A Frog in My Soup.

Kelly Curtis writes Positively Speaking on the first Saturday of each month to provide parents with the tools to raise successful, confident kids. She blogs at Pass the Torch.