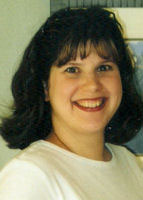 Shera understands that blogging is a huge part of life for many mommy bloggers and immediately hopped on board when Janice presented the idea for The Sampler. The Sampler offers the perfect opportunity to showcase and promote some of the truly wonderful bloggers that are out there.
Shera is the mother of 6 boys, the youngest of whom are identical twins. When she isn't chasing them, she loves to write and encourage moms at her personal blog, A Frog In My Soup.
She has been blogging for over a year and a half and finds it very relaxing and even thought provoking. It offers her the opportunity to share her thoughts, experiences and pieces of herself through her writing.

A Frog In My Soup offers weekly features like Life with Boys and Mommy Reality Check to encourage other moms who are very busy raising their children.
When she's not writing at her own blog, she can usually be found designing brand new blogs for other mommy bloggers through her design site www.SweetnSimpleDesign.com.
To become one of the featured bloggers in The Sampler, please see The Sampler Information and Guidelines.