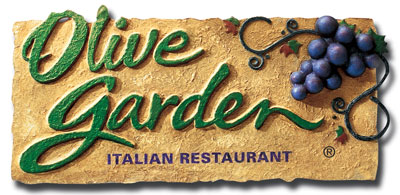 Sponsored Content
Olive Garden and 5 Minutes for Mom have enjoyed sharing with you a peek into Olive Garden's kitchen and the source of the restaurant's culinary inspiration – Italy!
Over the past four weeks we've shared Italian cooking techniques that Olive Garden chefs use in their restaurants every day, and that you can apply at home for your family. With culinary expert insights from Olive Garden Executive Chef and mom Marie Grimm, we've brought you family-friendly food tips like sauce layering, pairing food with wine and sauce with pasta, a fresh herb how-to, olive oil and garlic primers, and a crusting technique. Chef Marie even opened Olive Garden's cookbook and gave us recipes for Tuscan Garlic Chicken and Panna Cotta!
If you haven't yet, check out Janice's national TV debut with Chef Marie, where we discussed culinary time-saving tips for busy moms.
If you don't feel like cooking, there's still time to try Olive Garden's limited-time dishes – Tuscan Garlic Chicken and Tuscan Garlic Shrimp – and enter to win a trip to Olive Garden's Culinary Institute of Tuscany in Italy!
Last Chance to Win a $100 Olive Garden Gift Card!
This week's challenge is all about you!
Leave a comment below telling us if this Olive Garden culinary workshop has inspired you in the kitchen – or maybe just inspired a craving to go out Italian!
We'll randomly select one winner from the comments to win a $100 Olive Garden gift card. Your feedback will help us bring you more great content, so thank you!
This Week: The Dessert Course
We couldn't close our culinary tour of Italy without exploring the country's rich and decadent desserts!
Scroll down now to:
Even though this is our final culinary lesson, you can find more great tips, recipes, and videos any time on Olive Garden's sites.
For recipes:
http://www.olivegarden.com/recipes/
For Italian culinary:
http://www.olivegarden.com/culinary/italian_essentials/
For cooking videos and to learn more about Olive Garden's Culinary Institute of Tuscany:
http://www.youtube.com/user/OGVideo
http://www.youtube.com/olivegardensitaly
For the menu:
http://www.olivegarden.com/menus/
Win a Trip to Italy
You have only a few more days to enter, and remember you can enter every day! For a chance to experience Italy's culinary inspiration firsthand, enter Olive Garden's Trip to Italy Sweepstakes.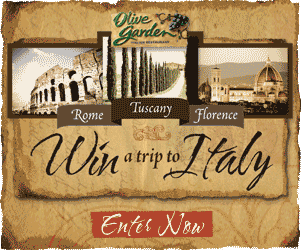 Just imagine…
The grand prize winner will receive an 8-day guided trip for two to Rome and Florence with a visit to Olive Garden's Culinary Institute of Tuscany.
Located in the heart of Tuscany in a restored 11th-century village in Castellina in Chianti, the Culinary Institute of Tuscany provides inspiration for Olive Garden's menu and a unique training experience for more than 100 managers who are selected to attend the institute each year.
To learn more about the training Olive Garden chefs and team members experience at the restaurant's Culinary Institute of Tuscany, visit http://www.olivegarden.com/culinary/cit/
Recipe: Panna Cotta with Raspberry Sauce
Italian for cooked cream, panna cotta is a light, silky custard often flavored with vanilla. It's served chilled, accompanied with fruit or chocolate sauce.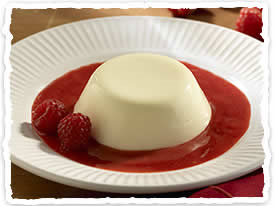 Ingredients
1 1/2 qt heavy cream
1/2 qt whole milk
3/4 cup sugar
1 tsp vanilla extract or ½ vanilla bean, cut in half lengthwise
1 envelope unflavored gelatin
8 oz fresh raspberries
1/3 cup powdered sugar
PANNA COTTA
COMBINE heavy cream, milk, sugar, salt and vanilla in a glass bowl. Mix well.
HEAT bowl over double boiler until it registers 180°F on a thermometer. Remove from heat and remove vanilla bean.
DISSOLVE gelatin in the cream. Mix well.
PORTION into small glass containers and cover with plastic wrap.
CHILL in refrigerator until cold, preferably overnight.
SAUCE
BLEND raspberries on high speed until nice and smooth. Strain to remove all seeds. Add powdered sugar and mix well.
COVER and refrigerate overnight.

TO SERVE:
LOOSEN panna cotta from sides of small containers.
INVERT onto small serving plate.
DRIZZLE with chilled raspberry sauce.
SERVE immediately.
Culinary Lesson: Week 4
Dessert & Wine Pairings
According to Chef Marie, as a general rule, when pairing a dessert with wine choose a wine that is as sweet or sweeter than the dessert.
The traditional box of chocolates pairs well with a semi-sweet, semi-sparkling (spumante) red dessert wine such as Braccetto di Aqui.
Chocolate mousse with fresh raspberries, or another rich, chocolate dessert, can be enhanced with a full-bodied red such as a Ruby Port.
A cream dessert like panna cotta (cooked cream and fresh berries) is best paired with a late-harvest Riesling or a late-harvest Sauvignon Blanc.
Olive Garden's Lemon Cream Cake with its mild citrus flavors is enjoyable with Asti, a light and effervescent Italian dessert wine.
Grazie to Our Chef!
The guest chef on 5 Minutes for Mom throughout our culinary tour of Italy is Chef Marie Grimm, Director of Culinary Development at Olive Garden. Marie's passion for food and cooking was inherited from her mother, who crafted the family's meals from scratch. At Olive Garden, Chef Marie helps transform dish concepts, inspired from Italy, into a reality for guests.
In this video, Chef Marie speaks about the Italian inspiration behind the dishes at Olive Garden.
Watch more great videos at Olive Garden's
Culinary Institute of Tuscany YouTube Channel.
Olive Garden TV
Remember to check out Janice with Chef Marie from Olive Garden discussing timesaving tips for busy moms. The segment has been aired on TV and radio to an audience of almost 900,000 people!
Watch more great videos at Olive Garden's
Culinary Institute of Tuscany YouTube Channel.
Cooking Technique: Week 3
Crusting
How to Add Flavor, Texture, and Moisture to Meats, Poultry, and Seafood
According to Chef Marie, crusting, or the coating of meats, poultry and seafood prior to cooking, is a simple and versatile way to add interesting textures and flavor combinations to almost any dish. Crusting can be done with a variety of spices, cheeses, breadcrumbs and nuts, or with less traditional ingredients such as sesame seeds or coconut. This technique seals in moisture, adds texture and flavor and makes for a great presentation.
You can create a delicious crusted dish by following these simple steps:
First, select a lean, thin cut of what you want to coat. This will prevent the coating from burning before the inside is thoroughly cooked.

Next, determine what ingredient(s) you will use in the crust, then chop or process them until they are crumb-like in size. Choose one of the following ingredients or create your own combination – you can use items you already have on hand in the pantry and fridge.


Cheese
Combine grated Parmesan cheese with crumbled breadcrumbs for a coating similar to the one in Olive Garden's Parmesan Crusted Tilapia.

Nuts
Finely chopped peanuts, almonds, cashews, pistachio or macadamia nuts create a rich and flavorful crust.

Spices
Spices such as red pepper, cumin or Italian herbs including rosemary, oregano and sage add a zesty and lighter-style layer.

Get Creative!
Sesame seeds or baked shredded potatoes add a wonderful crunch and texture.

Start by dipping the meat, poultry or seafood in flour, shaking off any excess. Next, lightly coat in egg whites. Then, pat crumbs on one or both sides and place on a cooling rack to air-dry in the refrigerator for 20 to 30 minutes.

Now, it's time to cook. For thicker cuts of meat, poultry or seafood, preheat the oven to 450 degrees F. On the stove top, heat oil in a large nonstick, bake proof pan. Sauté food in the pan for approximately two to three minutes on each side until golden and a crust begins to form. Place pan in the oven and cook until desired level of doneness or internal temperature is reached.

Thin cuts of meat, poultry or fish with heartier crusts can be sautéed on the stove top until cooked through; while foods with a very delicate crust or a crust only on top should be baked in the oven and left unturned.
Culinary Lesson: Week 3
Tips for Enhancing Flavor with Garlic
Garlic is the quintessential Italian seasoning and can enhance the flavor of almost any dish. According to Chef Marie, garlic is extremely versatile and has the ability to take on a variety of flavors and strengths, depending on how it is prepared and cooked.
Selecting & Using Garlic
Buying: Bulbs should be firm and plump with dry skins, preferably with a hint of purple coloring. Avoid heads with soft or shriveled cloves and those stored in the refrigerated section of the produce department.
Peeling: To loosen the skin, soak cloves in plain water for at least one hour; or, drop cloves in a hot pan and sauté for 30 seconds, remove, cool and gently press with the flat blade of a knife.
Tasting: Crushing, chopping, pressing or pureeing garlic creates a chemical reaction and releases essential oils for a more intense flavor. The more garlic is chopped, the stronger the flavor. Conversely, the longer garlic is cooked, the less pungent and flavorful it becomes.
Smelling: The smell and taste of garlic often remains long after its consumption. To remedy this, try chewing on fresh parsley, a natural mouth freshener, or a spoonful of sunflower seeds. To remove the scent from fingers, rub hands with salt or lemon and rinse under cold water.
Storing: Garlic can be stored at room temperature in an open container or cloth sack for a few weeks. And while fresh is best, to keep garlic for an extended period of time, peel the cloves and store in olive oil in the refrigerator.
Cooking with Garlic
To create a sweet, subtle flavor, add whole garlic cloves early in the cooking process and allow the garlic to cook longer. Remove before serving.

For a stronger flavor, finely chop garlic and add just before the cooking time is complete.

To create a toasty flavor, slowly sauté garlic in one tablespoon of olive oil over medium heat until the garlic turns a light golden color, then add other ingredients.

To avoid bitterness, do not allow garlic to overheat and turn brown, which can occur if garlic is added to a skillet that is too hot.
BONUS Culinary Lesson: Week 3
What's Your Oil IQ?
How to Use Different Types of Olive Oil
Why use olive oil? Olive oil has a high percentage of monounsaturated fat, which is healthier than polyunsaturated fats found in corn oil and saturated fats in butter. Because olive oil is vegetable based, it is cholesterol-free. It is also rich in vitamins A, B-1, B-2, C, D, E and K and iron.
Not all olive oils are created equal, according to Chef Marie. Every grade has a distinct quality and flavor, making each suitable for different uses and cooking methods.
For dressings, dipping and marinades
Chef Marie recommends premium extra-virgin olive oil. These oils are of the highest quality and considered to have the best taste. They come from the "first press" of the olives and are unprocessed. Drizzle over cold appetizers such as tomato and mozzarella caprese, crusty breads or cooked vegetables. However, these oils should not be heated. Because of their low acidity, warming these oils will create a loss of flavor.
Flavored olive oils typically combine extra-virgin olive oil with citrus or various herbs and spices such as rosemary, garlic, peppercorns, parsley, oregano, hot peppers, thyme or basil.
For high-heat cooking methods such as sautéing, pan-frying or broiling
Use virgin olive oil. Also unprocessed, it has a slightly higher acidity level than premium or extra-virgin olive oils.
For deep frying
Because of its high burning point, pure olive oil is ideal for deep frying. It is a blend of refined and virgin olive oils and is the most common of olive oils, often used to add flavor and coloring.
For baking
Commonly used for baking, light olive oil is not a quality grade nor does it have anything to do with calorie count. The term "light" refers to the oil's color and mildness of flavor.
Recipe from Week 2
Tuscan Garlic Chicken
Chef Marie Says: Through April 12, Olive Garden brings back guest favorite Tuscan Garlic Chicken and debuts Tuscan Garlic Shrimp, two dishes inspired by the restaurant's Culinary Institute of Tuscany. The dishes feature a flavorful blend of herb-seasoned chicken or shrimp sautéed with oven-roasted garlic, sweet roasted red peppers and spinach served in a white wine and garlic cream sauce and tossed with curly fettuccine – and it's the sauce that makes these two dishes special.
The white wine and garlic cream sauce is created with simple, fresh ingredients layered in steps to build and accentuate the wonderful flavors of each ingredient. The combination of Italian herbs and sweet roasted garlic with the texture of the cream and acidity of the white wine makes this a creamy yet light sauce, perfect for spring.
Prep Time: 15 minutes
Cook Time: 30 minutes
Servings: 4
Ingredients
4 each (4 oz) boneless, skinless chicken breasts
1 1/2 cups flour, plus 1 tablespoon
1 Tbsp salt
2 tsp black pepper
2 tsp Italian seasoning
1 lb fettuccine pasta, cooked according to package directions
5 Tbsp olive oil
1 Tbsp garlic, chopped
1 red pepper, julienne cut
1/2 cup white wine
1/2 lb whole leaf spinach, stemmed
2 cups heavy cream
1 cup Parmesan cheese, grated
Steps
PRE-HEAT oven to 350ºF.
MIX 1½ cups flour, salt, pepper and Italian seasoning in a shallow dish. Dredge chicken in the mixture, shaking off any excess.
HEAT 3 Tbsp oil in a large skillet. Cook chicken breasts 2 at a time over medium-high heat until golden brown and crisp (2-3 min). Add more oil for each batch as necessary.
PLACE cooked chicken breasts on a baking sheet and transfer to preheated oven. Cook for 10-15 minutes or until internal temperature reaches 165°F.
HEAT 2 Tbsp oil in a sauce pan. Add garlic and red pepper and cook for approximately 1 minute. Stir in 1 Tbsp flour, wine, spinach and cream and bring to a boil. Sauce is done when spinach becomes wilted. Complete by stirring in parmesan cheese.
COAT cooked, drained pasta with sauce, then top with chicken and remaining sauce. Garnish with extra Parmesan cheese.
Click here for more great Olive Garden recipes, including soups, appetizers, entrees, and desserts!
Culinary Lesson: Week 2
Fresh Herbs 101 – Tips for Buying and Preserving Herbs
Fresh herbs provide added zest and enhance the flavors of food without adding calories, salt or fat. Chef Marie recommends the following must-have fresh herbs in your kitchen for preparing flavorful Italian dishes:
Basil
Oregano
Italian flat-leaf parsley
Rosemary
Sage
Tarragon
Thyme
Marjoram
Mint
Here are her tips for buying herbs and keeping them fresh:
When choosing fresh herbs, pick those with a clean, fresh fragrance and a bright color without any sign of wilting or browning. The oils that give herbs their flavor can escape if the leaves, seeds or stems are injured. Take care in handling them and use just enough to be cooked, dried or frozen that day.

Fresh herbs can be stored in the refrigerator for up to 10 days. Rinse fresh herbs in cool water and place them on a paper towel. Gently roll herbs in the paper towel and moisten with a fine mist until lightly damp. Place wrapped herbs in an airtight container and refrigerate. Each time you remove some herbs for cooking, replace the remainder in a new, damp paper towel and refrigerate.

Since fresh herbs are not always readily available, Chef Marie suggests freezing some when you can. First, rinse herbs and pat dry. Divide herbs into smaller portions and freeze in airtight bags. Another method is to place chopped, fresh herbs into ice cube trays and cover with an equal amount of water before freezing. Once cubes are frozen, place in sealed bags to maintain freshness.
The Secret's in the Sauce – Choosing the Best Pasta Shapes
Choosing the best sauce for a pasta dish is as important to your meal's success as selecting the right wine. Considerations are the shape, texture and density of the pasta and how they complement the varying weights and ingredients of the sauce.
Just in time for National Sauce Month, Chef Marie offers these tips for pairing pasta and sauces:
Angel hair pasta, with its delicate shape, is best paired with a rich broth or a light sauce such as tomato pomodoro, marinara or pesto.

Spaghetti and linguine or tubular pastas such as penne or ziti work best with sauces bursting with chunks of sausage, meats, garden fresh vegetables or seafood as these shapes hold sauce well.

Fettuccine, lasagna and other flat, thick noodles are made to be paired with heavier meat or cream-based sauces, such as alfredo or bolognese.

And with these sauces, Olive Garden suggests some great wine pairings:
| | |
| --- | --- |
| SAUCE | WINE PAIRING |
| Pesto | Pinot Grigio or Sauvignon Blanc |
| Marinara | Chardonnay, Sangiovese, or Pinot Noir |
| Seafood | Pinot Grigio or Chardonnay |
| Alfredo | Chardonnay, Pinot Grigio, or Vernaccia |
| Meat sauce | Chianti Classico Riserva, Barolo, or Amarone |
For more tips, check out Olive Garden's food and wine pairing tool.
Culinary Lesson: Week 1
Building Flavor Layer-by-Layer
Chef Marie Says: The technique of layering ingredients, or adding them in cooking stages, builds exceptional flavor in any dish, particularly when making an Italian sauce from scratch. Layering has long been a traditional part of cooking in Italy and around the world.
Creating an authentic and flavorful Italian sauce from scratch is an easy process if you follow these three key steps:
The first layer is the battuto, the rich base of flavor every Italian chef starts with when preparing sauce. Preheat olive oil and add base ingredients of chopped celery, onions and carrots. If desired, a small amount of meat such as pancetta, a lightly seasoned Italian bacon, can be added to the battuto just for seasoning. If meat is used, little or no oil is needed because of its natural fat content. Sauté until steam dissipates. Add garlic and parsley last, in order to maintain their flavor.

When the onion becomes translucent and the garlic turns a pale, golden color, the sauce has entered the second stage or soffritto. At this point, add meant if desired, such as ground beef or sausage, and cook until steam dissipates. Next, add wine to help balance the flavors. Lafata recommends a medium-bodied red wine, such as Chianti, and, to enhance the dining experience, cook with the same type of wine you plan to serve with the meal. Briefly cook the wine in the soffritto on medium heat to completely evaporate the alcohol.

Insaporire, which means "to give flavor," is the final layer, when pureed tomatoes or paste, herbs (except delicate basil) and vegetables, such as mushrooms, bell peppers and olives, are added to the pan. Sauté until all the ingredients have been coated with the flavors of the onion and garlic. Sugar (or a high-quality Balsamic vinegar), salt, pepper and additional garlic can be added here to taste.
Tomato sauce should simmer for 30 minutes to one hour. A sauce with meat should simmer for two to four hours. To complete your sauce, add basil during the last 20 minutes of cooking. Garnish with fresh, chopped parsley before serving.
Don't forget
That trip to Italy sounds good, doesn't it? Ahhhhh… I'm dreaming about it now…

Remember to post a comment below about below telling us if this Olive Garden culinary workshop has inspired you in the kitchen – or maybe just inspired a craving to go out Italian!
Your comment might win you a $100 Olive Garden gift card.