This post may contain affiliate links. Read my disclosure policy here.
Join us to celebrate this festive season and talk about holiday entertaining and selecting unique gifts. The #CrioParty Twitter Party with sponsor Crio Brü will get you in the mood to party and you may win an awesome prize. The party and prizing are open to both Americans and Canadians.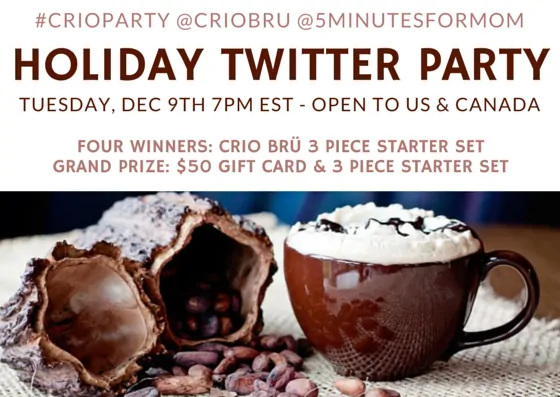 Crio Brü's Holiday #CrioParty Twitter Party
Chat with @CrioBru and @5MinutesForMom about celebrating this holiday season in a whole new way, with Crio Brü. From drinks, to recipes to gifting options, Crio can add new flavor to your festive season in delicious way! Participate in the party for a chance to win products and a gift card from Crio Brü.
[Tweet "Join #CrioParty #TwitterParty Dec 9, 7pm ET @5MinutesForMom – Prizes US and CAN"]
Twitter Party Details
Festive entertaining and gift giving this holiday party season.
This party is open to both US and Canada as our sponsor Crio Brü's products are available in both countries. The US site is criobru.com and the Canadian site is criobru.ca.
Date: Tuesday, Dec 9
Time: 7 pm Eastern / 6 pm Central / 4 pm Pacific
Hashtag: #CrioParty
Party hosts to follow:
@5minutesformom
Sponsor to follow:
@criobru
Community Panelists to follow:
(These community panelists are joining as volunteers and so they are still eligible for prizing.)
@KnowitAllNikki
@ciera_nitkowski
@CourtneyCal
@trala2
@labride
Prizes:
Selected randomly from participants tweeting with hashtag #CrioParty during the Twitter Party.
No RSVP Required
There's no RSVP required for this event. Simply join the conversation with #CrioParty for a chance to win.
But we'd love to know if you're coming to the party… and we'll be sure to follow you ahead of time. Please click below to send out a tweet.
[Tweet "Join #CrioParty #TwitterParty Dec 9, 7pm ET @5MinutesForMom – Prizes US and CAN"]
More About Crio Brü: Brewed Cocoa
Crio Brü is a delicious coffee substitute made from the finest roasted and ground cocoa beans & brewed just like coffee! To learn more, watch the video below and visit http://www.criobru.com.

Disclosure: This Twitter Party is sponsored by Crio Brü.
Written by Susan Carraretto, co-founder of 5 Minutes for Mom
Talk with me: @5minutesformom and Facebook.com/5minutesformom
Pin with me at http://pinterest.com/5minutesformom/