This post may contain affiliate links. Read my disclosure policy here.
Dawn Cullo, 5 Minutes for Mom contributor specializing in all things Disney, is here to share some awesome tips for getting the most out of spending time at Disneyland during Halloween Time. She and her family received complimentary tickets to Disneyland.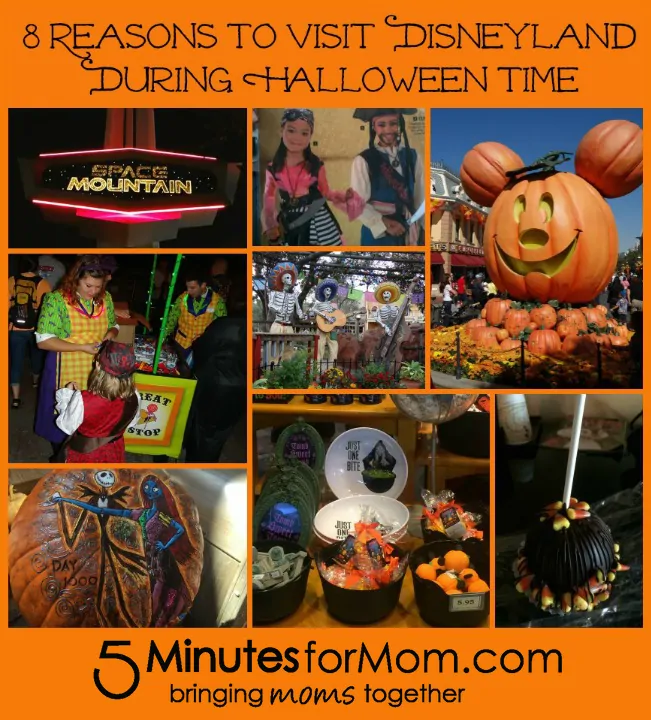 My family and I like to visit Disneyland during Halloween Time. We have a lot of fun during this time at Disneyland because the crowd level is manageable, the weather is great and we enjoy the extra special Halloween Time touches around Disneyland Park.
If you have never been to Disneyland during Halloween Time here are 8 reasons you need to visit.
1. Halloween Carnival at Big Thunder Ranch
Tucked behind Big Thunder Railroad in Frontierland is Big Thunder Ranch. During Halloween Time this area is transformed into a Halloween Carnival. The carnival is very festive and there are Halloween Time treats for everyone.
I can't believe they pack so much fun in one area but this is Disney so they know how to organize fun. Even though there are no attractions in the carnival there is still plenty to do. It is also a nice place to take a rest, get out of the sun and let the little ones run around.
Video clip courtesy of Disneyland Resort of Joey Michaels – Disneyland Entertainment Disneyland Resort
In this area you will find crafts, pumpkin carvers, carnival games, a magic show, a fortune teller, Disney characters in Halloween costumes and Pirate League Transformations.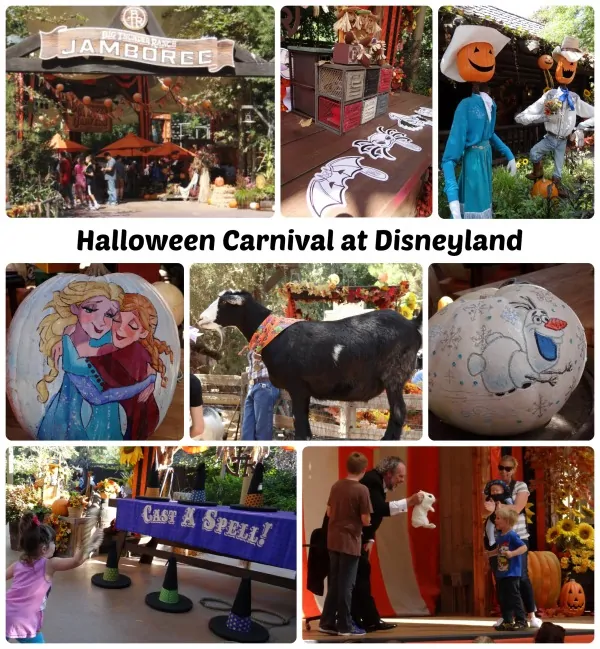 2. Halloween Time Attractions
During Halloween Time there are two attractions that are given a spooky transformation. These attractions are:
Space Mountain Ghost Galaxy
Haunted Mansion Holiday
Take a ride on Space Mountain Ghost Galaxy and visit a haunted section of the universe, try to out run the freaky ghost.
At Haunted Mansion Holiday the entire attraction (inside and out) has been taken over and redecorated by Jack Skellington and his friends from Halloweentown.
The attraction is amazing and there is so much detail that you will need to go on it a few times to see it all.  Be sure to look for the giant gingerbread house in the attraction because it is a different design each year.
Video clip courtesy of Disneyland Resort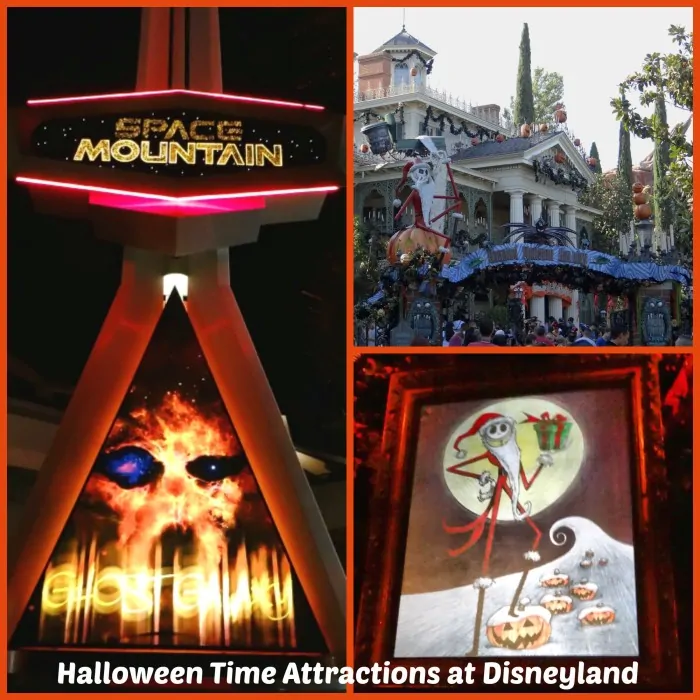 3. Halloween Time Treats
When my family and I visit Disneyland Park one of the things we must get is a fun treat to eat.  Disneyland chef's and candy makers have created an amazing collection of Halloween inspired treats and eats to enjoy only during Halloween Time.
Some of these treats include:
Pumpkin Cheesecake
Candy Corn Cotton Candy
Ursula Cupcake
Pumpkin Mickey Cupcake
Pumpkin Marshmallow Wand
Bat Cake Pop
Pumpkin Seed Brittle
They all sound delicious to me!
One of my favorite treats that I got my hands on was the Pumpkin Twist. It is like getting to the bottom of a slice of pumpkin pie and eating the crust with a little bit of pumpkin pie filling on it. It is also a handy treat that you can eat on the go. It is available only from Maurice's Treats in Disneyland Park and the Cozy Cone in Disney California Adventure Park.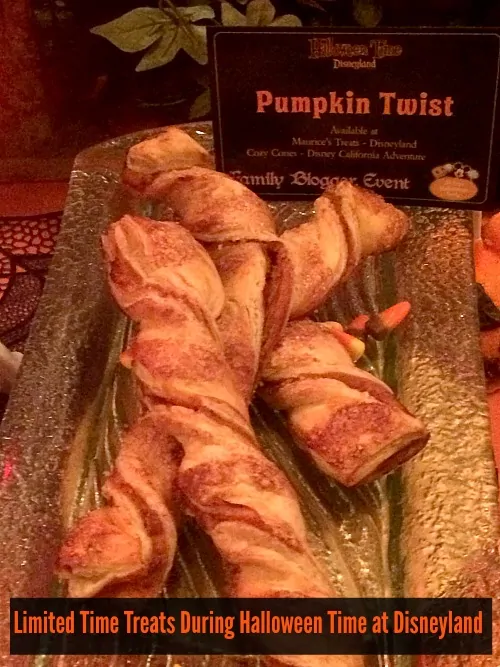 4. Halloween Time Merchandise
Every time my family visits Disneyland Resort we always have a plan of attack when it comes to shopping.  The first day we get there is our "window shopping day" where we take note of the things we may want to buy before we leave.  Then on our last day we leave a few hours in our schedule for shopping.
However, shopping during Halloween Time can be a little tricky because the merchandise is limited. If you visit Disneyland Park later in the month of October, it is best to scoop up your Halloween merchandise right away as it tends to sell out.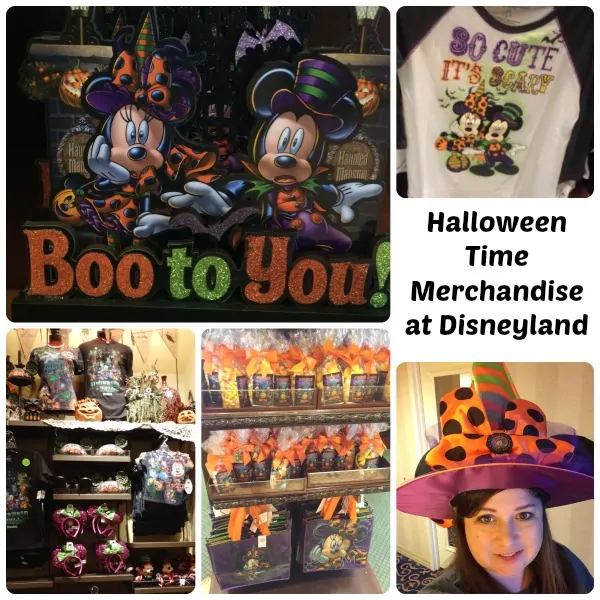 5. Halloween Time Decor
Fall is my favorite time of the year and Disneyland Park is my favorite place to be so imagine how happy I am when I get to visit Disneyland during Halloween Time.  It is fun to see the park decorated differently than normal.
Main Street, U.S.A. is home to hundreds of carved pumpkins and no two are alike. All of the buildings are also decorated in their finest festive Halloween inspired decor. Be sure to have a PhotoPass Photographer take your picture in front of the giant Mickey pumpkin.  It is a family tradition for us.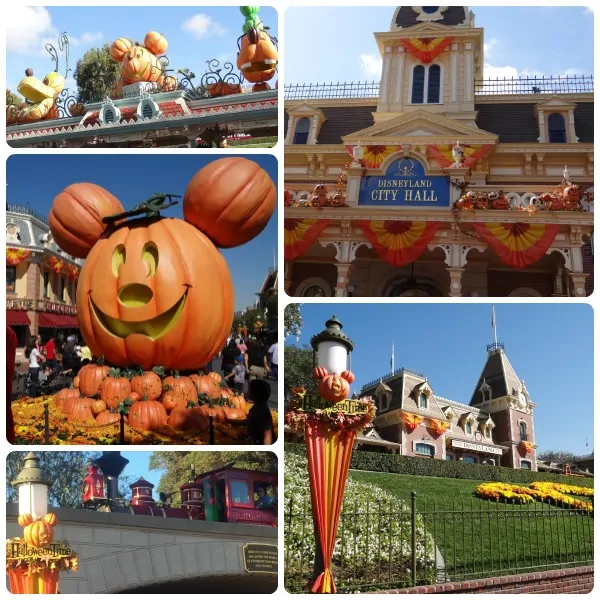 6. Dia de los Muertos
In Frontierland near Big Thunder Railroad is a special place where you can observe Dia de los Muertos.  The area is filled with traditional skeleton displays and decor. It is a beautiful display with a lot of attention to detail.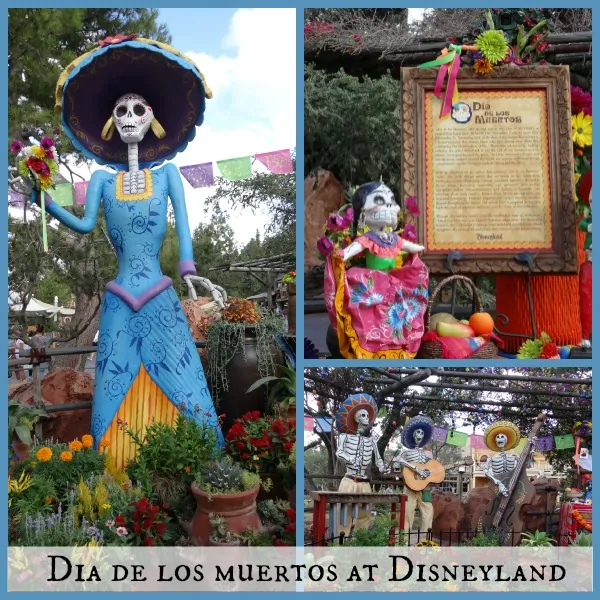 7. Mickey's Halloween Party
Mickey's Halloween Party occurs on select nights from September 26th – October 31th at Disneyland Park.  It requires a separate ticket even if you are an annual pass holder.  My family attended Mickey's Halloween Party for the first time this year and we loved it.  We will be making this a family tradition every year; it really was a blast.
Read More: Tips for Having a Spooky Good Time at Mickey's Halloween Party
8. Pirate's League Transformations
The Pirate's League Transformations is a fun experience for your children as they join Captain Jack Sparrow's pirate crew.  This is only available during Halloween Time at Disneyland Park.  The transformation is more than just having make up applied to your child's face;  it is fun pirate experience.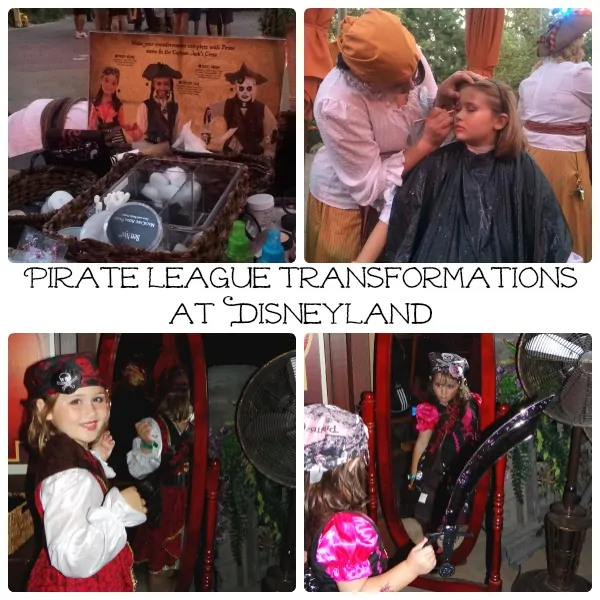 Have you been to Disneyland during Halloween Time? What are your tips for having a spooktacular time?
For more ideas to plan your Disneyland trip, refer to these mistakes to avoid and these tips not to forget.
Written by: Dawn Cullo, 5 Minutes for Mom contributor.
Disclosure: My family and I received complimentary tickets to attend Disneyland during Halloween Time. All views expressed in this blog post are my own.