This post may contain affiliate links. Read my disclosure policy here.
Dawn Cullo, 5 Minutes for Mom contributor specializing in all things Disney, is here to share some awesome tips for getting the most out of Mickey's Halloween Party at Disneyland. She and her family received complimentary tickets to attend the event.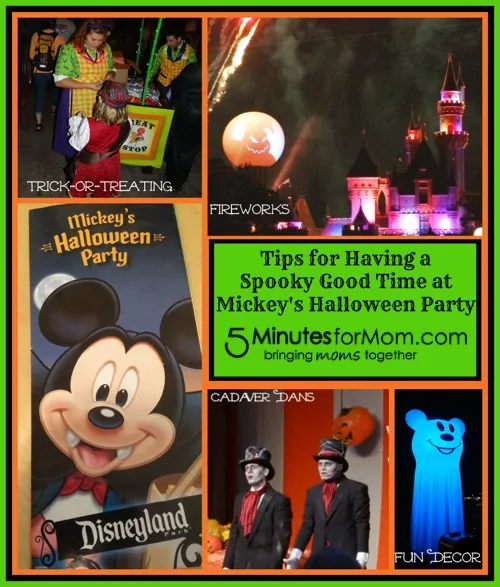 My family and I kicked off Mickey's Halloween Party at Disneyland Park on September 26th and we decided to be Pirates, argh.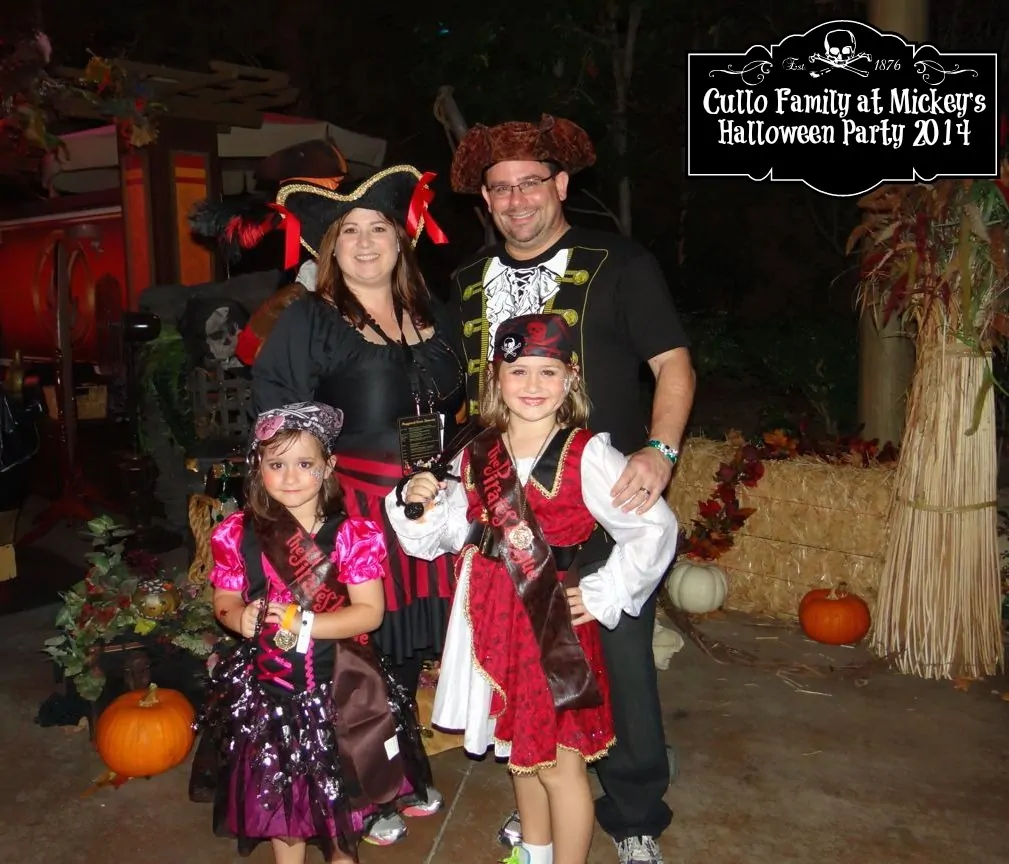 Have you ever been to Mickey's Halloween Party at Disneyland before? This was our first time and we had a blast.  Here are tips that I put together to help you out if you are attending for the first time.
Trick-or-Treating
The candy was good and we came away with snack sized Snickers, M&M's, Milky Ways, Reese's Peanut Butter Cups, Skittles and other chocolate treats.  I was happy with the variety of candy, but the bags are really small so be sure to ask for an extra bag when you enter the main gate.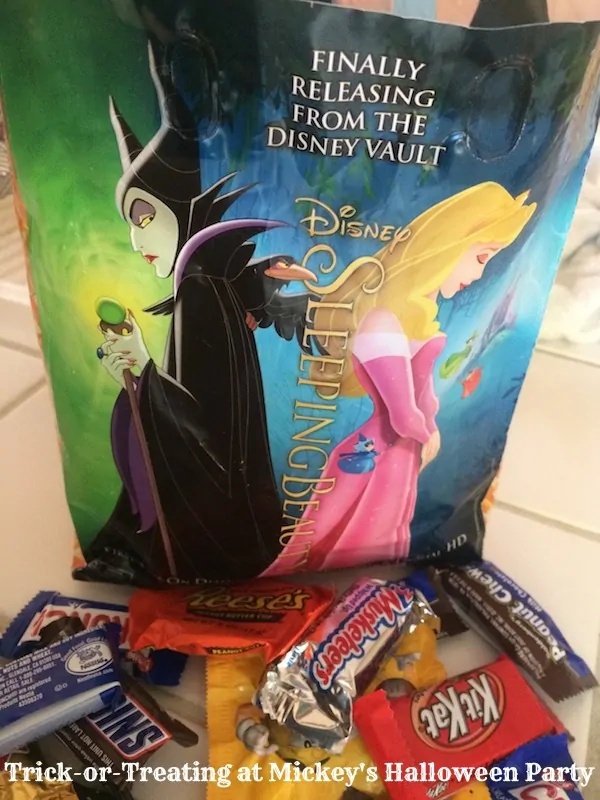 You will also be given a special Mickey's Halloween Party guide map which shows you all of the Trick-or-Treating stations, live entertainment locations, character greeting spots, Mickey's Costume Party Cavalcade parade route, Halloween food and merchandise locations. The guide will also list the rides, restaurants and stores that are open during Mickey's Halloween Party.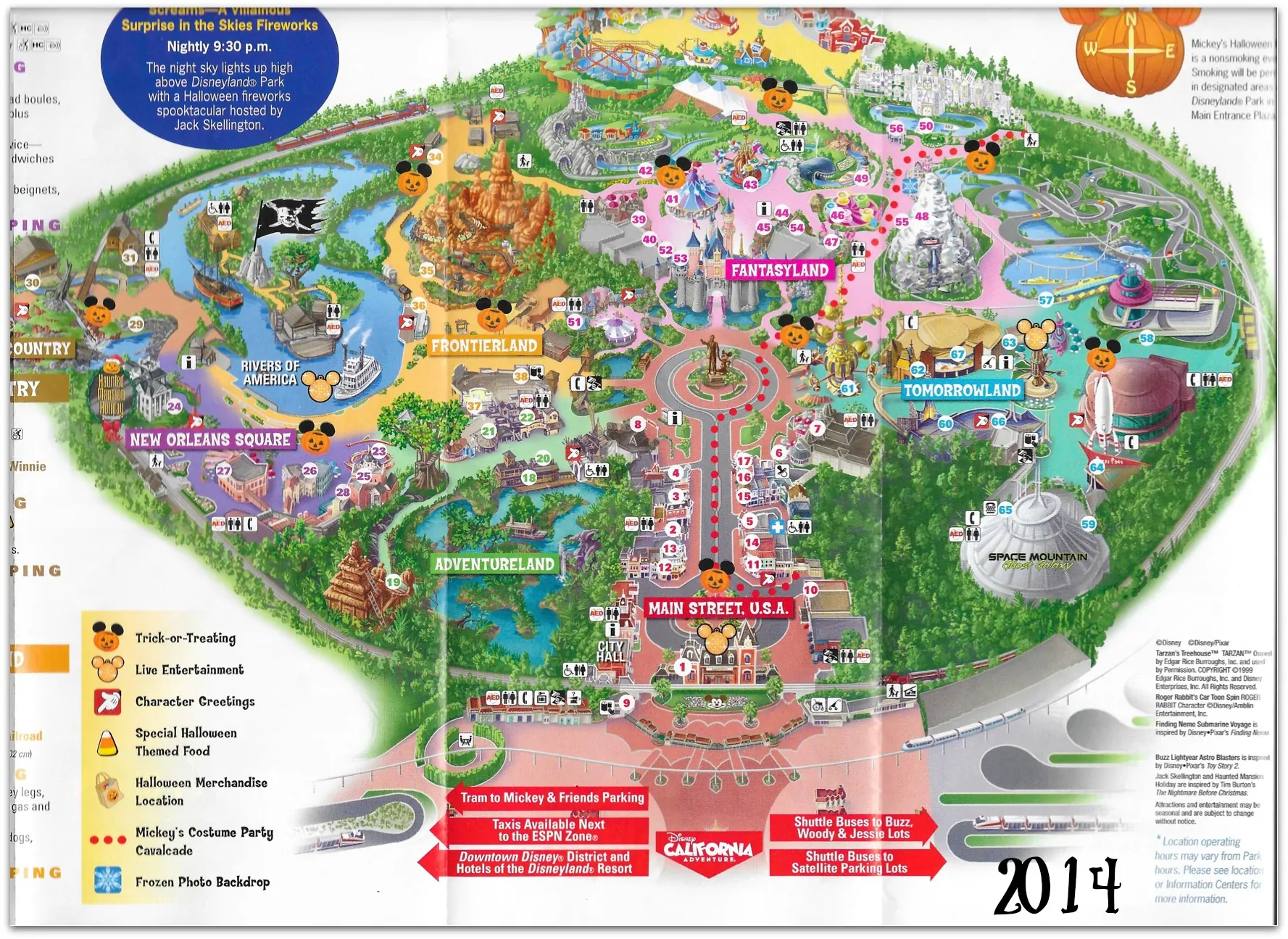 Pirate Booty, Craisins and other non candy treats are also available at the Trick-or-Treat stations.  Be sure to grab a few of these too as they will come in handy for a snack on the go when your kids get hungry during the evening.
Tip: Instead of getting candy right when Mickey's Halloween Party starts hold off for a bit or just do a few stations. After a few hours the lines will be shorter and you can get a lot of candy.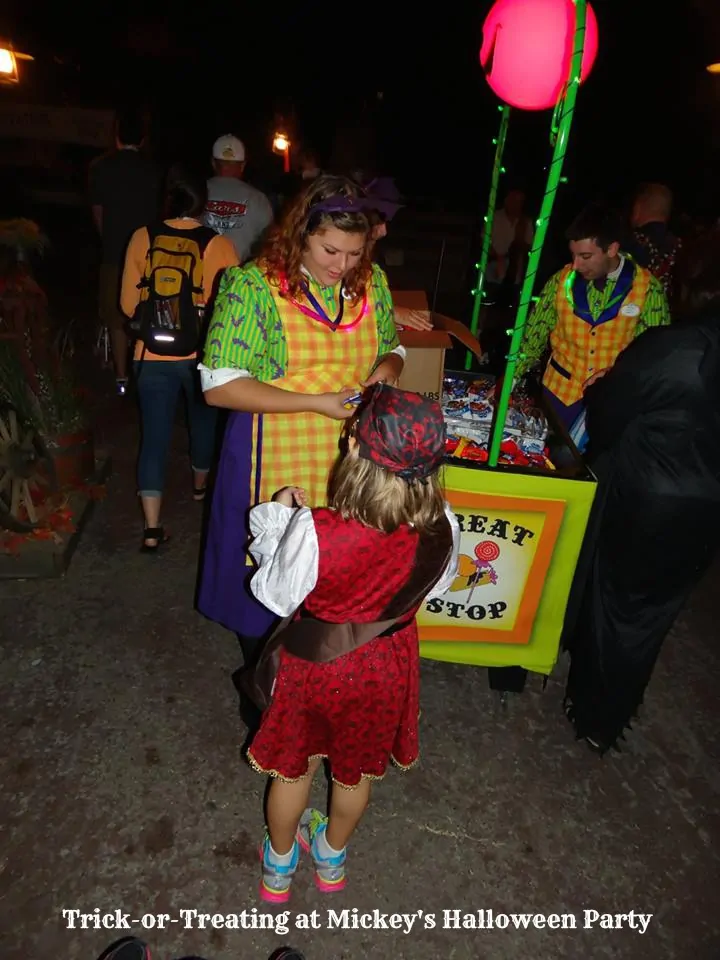 Characters
A variety of character greetings are set up around Disneyland Park.  The guide map you are given at the main gate will show you where you can find your favorite Disney character.  Here is a listing of characters you can expect to meet:
Disney Pirate Pals
Disney Princesses
Disney Villains
Friends from Aladdin
Jack Skellington & Sally
Mickey & Minnie
Phineas and Ferb
Star Wars Stormtroopers
Toy Story Pals
Winnie the Pooh and Friends
Tip: When you get to the Disneyland Park there will be long lines for the characters. Instead meeting characters ride your favorite attractions.  Later in the evening the character lines will lighten up.  However, if there a character that you really want a picture with then I suggest standing in line to meet them right away.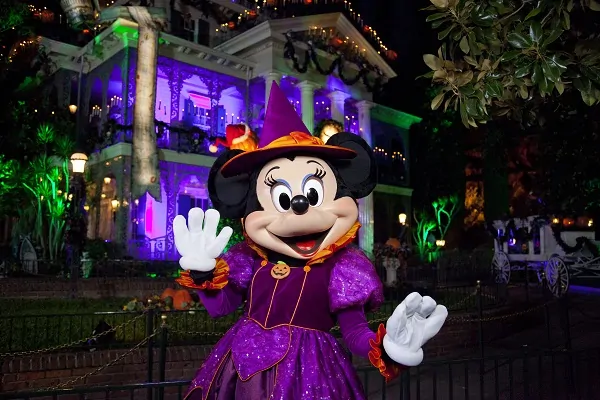 Attractions
The majority of the attractions are open during Mickey's Halloween Party with a few exceptions. Attractions such as the Disneyland Railroad, Monorail, Main Street Vehicles, Mark Twain Riverboat and the Enchanted Tiki Room, just to name a few, are not open.
Refer to the Mickey's Halloween Party guide map you are given at the main gate for a full listing of open attractions.
Tip: Stay at Mickey's Halloween Party as late as you can.  Once the clock struck 10:30 we were walking on just about every ride.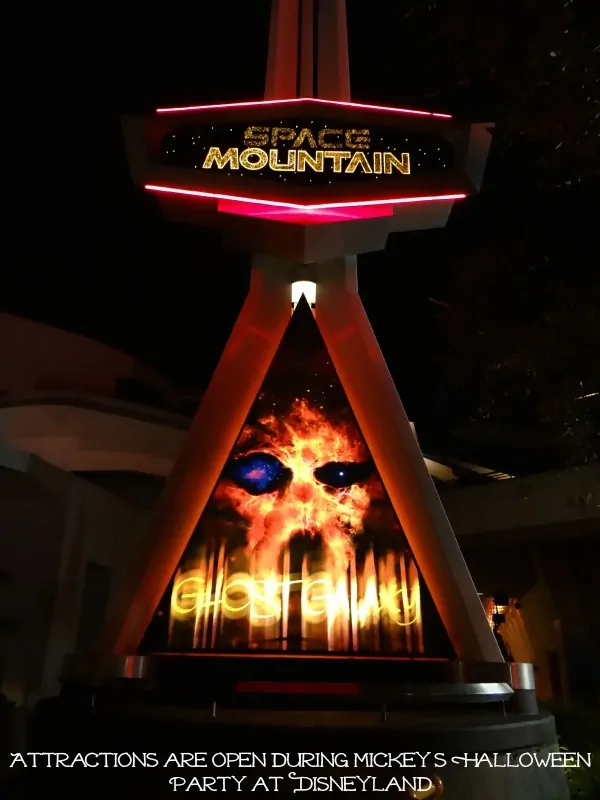 Halloween Screams – A Villainous Surprise in the Skies Fireworks
I have seen my share of fireworks at Disneyland Park and I thought that "Remember…Dreams Come True" was a pretty cool show.  However, I now have a new favorite fireworks show.  The Halloween Screams fireworks show is beyond awesome.  I get chills even now just thinking about how cool it was.
Tip: There is not a bad seat in the house for this fireworks show.  Claim your spot on Main Street, U.S.A. no later than 9:15.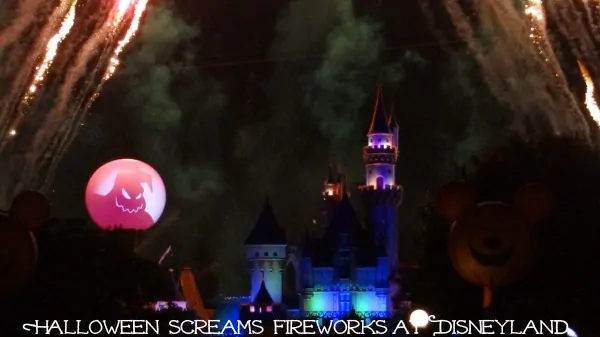 Mickey's Costume Party Cavalcade Parade
Mickey and his friends always throw the most amazing parades and Mickey's Costume Party Cavalcade is no exception. There are a lot of characters in the parade and many of them are dressed in Halloween costumes.
Tip: Catch the second parade at 10:30, it is less crowded and you will get a better view of the parade in Fantasyland past the Matterhorn and near "it's a small world."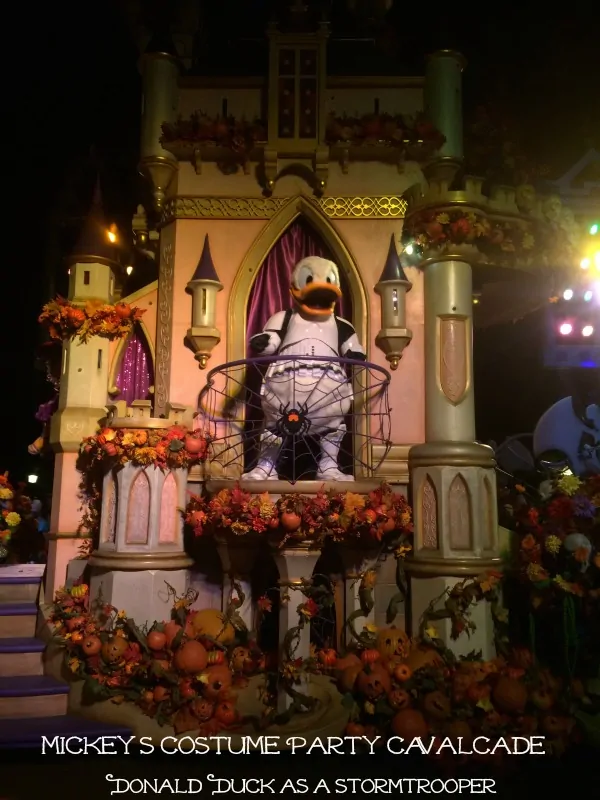 Cadaver Dans
I have heard the Dapper Dans perform many times on Main Street, U.S.A. but I had never heard the Cadaver Dans perform before.  I was blown away by their performance and they only sing spooky Halloween inspired songs such as "Oogie Boogie's Song" from Nightmare Before Christmas.  See the video below for a clip of their performance.
They perform on the Rivers of America on a floating river of fog throughout the night.
Tip:  Take a break and a load off your feet, have a snack and sit and listen to the Cadaver Dans for a while.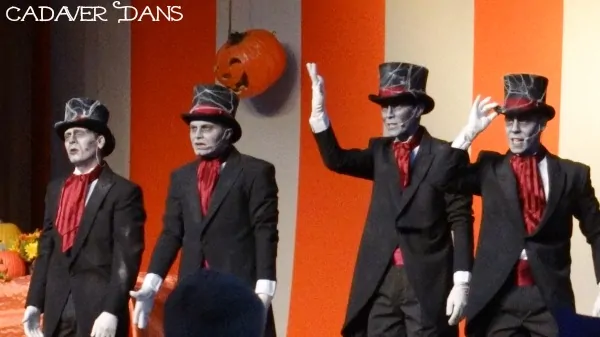 Disney Villains
The Disney Villains absolutely love to hang out at Disneyland during Halloween Time and they have even more fun during Mickey's Halloween Party.  You can find them throughout the night at Town Square, Main Street, U.S.A. 
Tip: The Villains rotate throughout the night so be sure to check back at Town Square during the evening for different Villains.
Monsters U Dance Party
Teleport on over to the Tomorrowland Terrace for a rockin' good time with Mike and Sulley from Monsters University.  We were too tired to dance when we passed by the dance party but it looked like a lot of fun. =)
Tip: The dance party happens every hour on the 45's so you will have four times to catch the fun throughout the evening.
Ultimate Disney Nerd Tip: Wear comfortable shoes even if they don't match your costume.  This is Disneyland Park after all and you will be doing a lot of walking. Be sure to also grab a yummy Halloween Time treat and leave some time for shopping for those special Halloween keepsakes before you leave Disneyland Park.  
Tickets
Mickey's Halloween Party requires a separate ticket, even if you are an annual pass holder.  Tickets sell out quickly so don't wait to buy your ticket.
Each ticket includes:
Admission to Disneyland Park up to 3 hours prior to the event's start time. (that is 7 hours in Disneyland)
Complimentary parking for one standard-size vehicle. Larger vehicles may require an additional fee.
Have you attended Mickey's Halloween Party before? What are your tips? Just put them in the comments below.
Written by: Dawn Cullo, 5 Minutes for Mom contributor.
Disclosure: My family and I received complimentary tickets to attend Mickey's Halloween Party. All views expressed in this blog post are my own.