This post may contain affiliate links. Read my disclosure policy here.
I'm a member of Master Lock's Live Secure Safety Squad and have been compensated for my time in writing this post.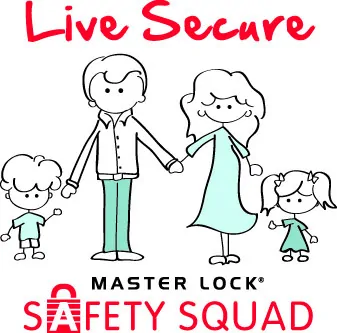 October is National Crime Prevention Month.
Since the National Crime Prevention Council designated October as Crime Prevention Month in 1984, government agencies, civic groups, schools, businesses, and youth organizations have made an extra effort during this month to spread awareness and educate the public on creating safer, more caring communities.
I think it's great to use this as a reminder to check our own home security systems and other steps we've taken to increase the safety of our homes and belongings.
Follow the home security tips we shared in this earlier post, 25 Home Security Tips.
Also use this opportunity to talk to your kids about safety precautions they should know.
Safety Tips for Kids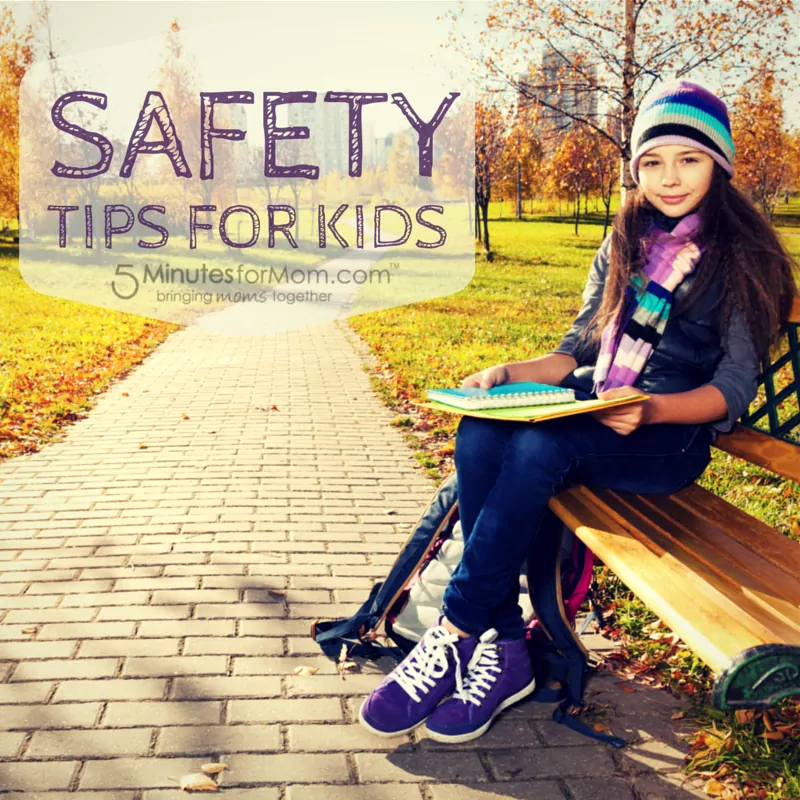 Here are a few safety tips for kids that I adapted from information shared at childquest.org.
Teach kids:
Their full names, parents' names, address and phone number.
Always to tell you about anything that happens that makes them scared or uncomfortable.
The difference between a "good" and a "bad" secret. A "good" secret is like a surprise party and it feels good to keep it. A "bad" secret feels bad to keep and it's important to tell someone. Telling a "bad" secret is not "tattling".
Strangers can include people you recognize but don't know very well. Even if someone knows your name and is nice, he/she can still be a stranger.
When walking down the street, walk facing traffic so you can see the cars coming and know if a car stops near you.
Yelling "No" and running is better than hiding. If a stranger approaches, you should yell "No" and run and tell a safe adult.
Run in the opposite direction that a stranger's car is going.
Fight back if someone tries to take you. Yell, "No!" "Help!" or "Fire!"
If home alone, all doors and windows should be locked.
When answering the door, ask, "Who is it?"
Never say your parents aren't home. Say your parents are busy.
Never give out your name, address or other personal information online.
Crime Prevention Prize Pack Giveaway
While you're thinking about ways to improve security for you family, home and belongings, take a look at the items included in this prize pack giveaway.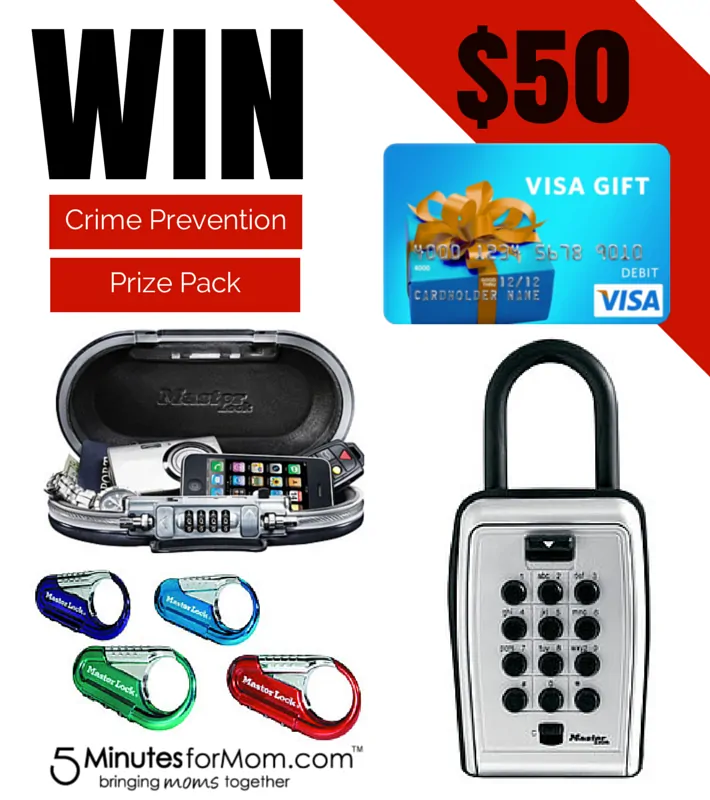 This Master Lock "Crime Prevention" prize pack has an approximate value of $125 and contains…
Enter to Win
Would you like to win this prize pack?
Leave us a comment sharing a safety tip or something you recently have done to improve security. Then use the Giveaway Tools widget below to enter.
Written by Susan Carraretto, co-founder of 5 Minutes for Mom
Talk with me: @5minutesformom and Facebook.com/5minutesformom
Pin with me at http://pinterest.com/5minutesformom/