This post may contain affiliate links. Read my disclosure policy here.
We are part of the Mom It Forward Blogger Network. This post about hand hygiene is part of a sponsored campaign with PURELL® however, as always, all opinions remain our own.
The worst part of the Back to School season is the return to runny-noses, coughs and fevers! It seemed like my girls spent more days of the last school year with stuffy noses than without.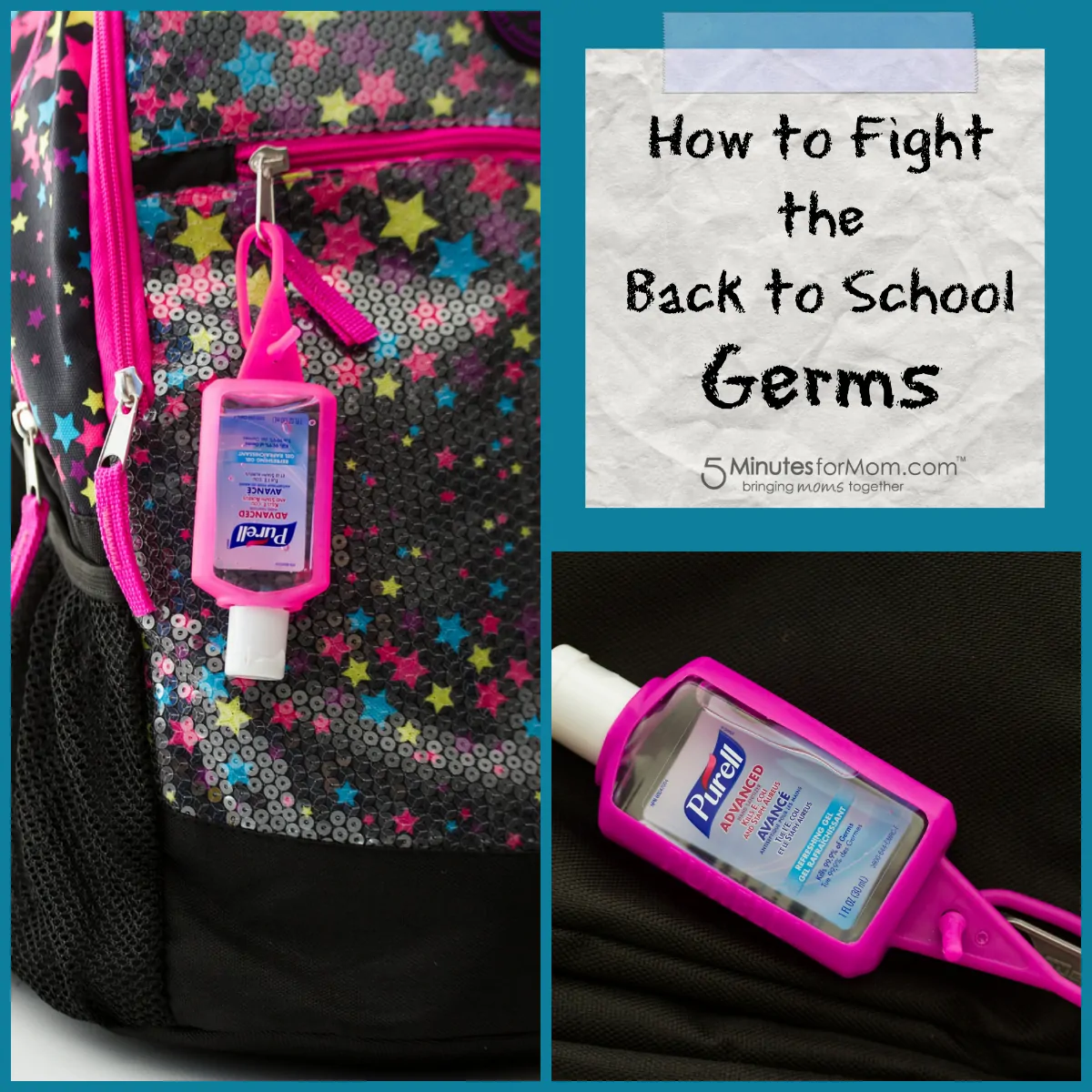 Summertime is so much easier to keep kids healthy and this month, we've also had the help of the PURELL® 30 Day Challenge to remind us of hand hygiene.
The 30-Day Challenge includes creative prompts, such as decorating a bottle or writing a Haiku, as well as simple tasks that we all do anyway, such as holding hands or going shopping. You simply share either a photo, video or text update showing that you completed the day's challenge. And of course, there are lots of prizes to be won.
I've been drilling into my kids the importance of cleaning their hands since they were toddlers, but reminders are always good.
As they head back to school this year, I'll make sure their backpacks each carry one of these PURELL® Advanced Gel Hand Sanitizer Jelly Wrap Carriers. With the little bottle of PURELL® in sight and easily accessible, my girls will be much more likely to remember keep their hands clean.
Hand Hygiene Tips for Back To School
Recess/Gym Class: Everyone loves recess and gym class, including germs. Whether they are outside playing four square or inside playing kickball, make sure your child's gym bags and lockers are equipped with a PURELL® Advanced JELLY WRAP so they can enjoy a healthy break from the classroom, but not hand hygiene.
On the Field: Win or lose on the field or court, make sure your child is a winner when it comes to hand hygiene. Be a team player and keep PURELL® Advanced Hand Sanitizer on the sidelines for the players and their parents. One quick squirt after the game or match can make all the difference. If you do not have hand sanitizer on-hand, be sure to have PURELL Sanitizing Wipes in your bag so you can wipe away any dirt that accumulated during the game!
On-the-Go: Parents Hand hygiene is important for mom and dad too. Attach a PURELL® Advanced Jelly Wrap to a messenger bag, purse or briefcase before heading out the door for work. With easy access to hand sanitizer, mom and dad can practice proper hand hygiene at key moments during the day!
School Bus: Riding the bus for the first time is a big step for kids heading off to school. Give your kids the confidence to fight germs and spruce up their key chain or backpacks with a colorful PURELL® Advanced JELLY WRAP. You can even give one to the bus driver so they can have a healthy school year too.
Play Dates: With new friends come new germs. Whether you are hosting, or sending your child to a new friend's house, remind them to sanitize their hands after playing and before eating. Keep PURELL® Advanced Hand Sanitizer in plain sight so they don't forget, or send some along with your child as a thank you for hosting.
There's Still Time…
Visit PURELL on Facebook or www.PURELL30DayChallenge.com to register for the challenge. For each challenge that you complete you will receive an entry to win great prizes. Get the whole family involved! You can download a list of the challenges or check back on Facebook each day.
Connect with PURELL online at PURELL30DayChallenge.com, "Like" them on Facebook, follow them on Twitter & Pinterest.
More Back To School Ideas
Find more ideas to get your kids ready for the new school year on our Back To School Pinterest Board.

Disclosure: We are part of the Mom It Forward Blogger Network and this post is sponsored. Written by Susan Carraretto, co-founder of 5 Minutes for Mom
Talk with me: @5minutesformom and Facebook.com/5minutesformom
Pin with me at http://pinterest.com/5minutesformom/