This post may contain affiliate links. Read my disclosure policy here.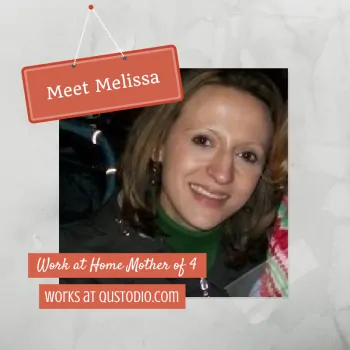 Hi! It's Melissa here from Qustodio.
If you've been following along with the party thread, then you probably already know that we're the sponsor for this year's #UBP14 Twitter Party.
What you may not know, however, is that we're also the creators of a great software that helps parents manage and monitor their kids' online world. I'll be telling you more about that later, but first, I thought since we're partying together, we ought to at least get to know one another a bit better, right? So, I wanted to take this opportunity to tell you a little about myself, how I started working with Qustodio, and why I'm so passionate about digital parenting. If you've got a minute between blog-hopping, why not grab a cup of coffee, and let's get to know one another!
Who's That Girl?
Confession: This is my first go-round at the UBP. Shocking, huh? I know, but it gets better. This is my very first blog party! Now, here I am heading up this sponsorship for Qustodio. You might think that's crazy, but if you ask the people who know me best, they'll tell you I tend to dive right in to things and pretend I know what I'm doing. 😉
Anyway, I sort of feel like I'm crashing the party, so you might be wondering "Who's that new girl?" Actually, I've always been a bit of a wallflower at parties (you know, the ones in real life?), but now that you asked, here goes. I am a WAHM of four amazing children- Kelsey (15), Billy (11), Katie (7), and Taylor (6). I could go on and on about them, telling you how smart, funny, and awesome they are (they really are!), but to keep my bragging somewhat bearable, I'm going to share a couple of fun facts about each of them along with a completely original hashtag (because they hate it when I do that ).
Kelsey (15) is an amazing artist. She also plays the flute and has been the section leader in her high school band since she was in 8th grade. #CanYouSayProdigy?
Billy (11) is obsessed with Minecraft and actually loves watching other kids play Minecraft on YouTube #IDon'tGetIt. He also plays the clarinet and is currently teaching himself to play piano. #IHaveNoClueWhereMyKidsMusicalTalentComesFrom
Katie (7) is my only blue-eyed child and is a force to be reckoned with. Right now, she says she wants to be a teacher when she grows up, but we're convinced she will actually become the CEO of a multinational, multibillion dollar company. #BossyLeadershipSkills
Taylor (6) is the baby of the family and she knows it. She is our very tiny, very prissy, very graceful little dancer, and I swear she even has the French accent to go with it. #OooLaaLaa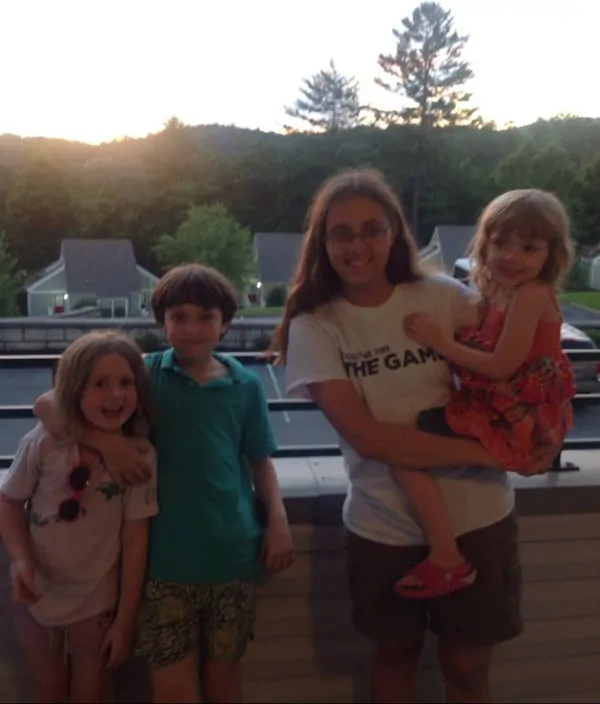 So, I just realized I've told you all about my kiddos and very little about myself.
Why do we moms do that? I guess it's just way more fun and interesting to talk about them. Anyway, if you're curious how I began blogging for Qustodio (and guest blogging for 5MinutesforMom), then you'd better go get another cup of coffee and come back. Just kidding; I will spare you the boring details of that very long story and sum it up briefly:
I always wanted to be a writer, but when I was growing up, admitting that was tantamount to saying that I always wanted to have a really intelligent sounding excuse to do nothing and have no money, so I became the next best thing—a high school English teacher! I did that for 6 years—loved the kids (most of them), hated grading the essays (all of them). When we moved from SC to AL, I had a bit of a tough time finding a teaching job, so I experimented with freelance writing and loved it. Amazingly, other people loved my writing too and started paying me to do something I love to do anyway! Dream come true!
What's Qustodio?
Since then, I've worked with a lot of businesses over the years, (some good, some not-so-good), but Qustodio is truly awesome! Honestly, I've never worked with a company with such a big heart for kids. Many of my team members are parents too, and I can say everyone here actually cares about our core mission—that is, to help kids and parents get the most out of the Web without all of the danger and worry.
You've probably heard about other parental control apps and Internet filters, and I know they all say their product is different, but I'm here to tell you that Qustodio is truly unique. Why? Because Qustodio is just as much a communication tool as it is a monitoring app. We encourage parents to look at how their kids are using the Internet, not in order to catch them doing something wrong, but to learn more about their interests and strengthen their connections with their kids. That's why we are one of the only filters available that can be set up to simply monitor web activity without restricting it.
Obviously, we love technology and social media (we're here, right?!) and we think it has so much to offer kids. We don't think the Internet is evil; we know that it's just a tool, and we want to help families use it in the most productive, educational, and fun ways possible. We also know that ALL families are different and ALL kids are different. They have different needs, personalities, and maturity levels, so, we've designed our product to be versatile and flexible. Yes, protection is a part of it, but we know that at the end of the day, there is no app that can completely ensure safety 100%.
That's why we tell parents that their kids are their number one resource. Talk to them, watch silly YouTube videos together, get to know their online friends. In other words, we're not here to replace good parenting, but to help good parents provide healthy and safe online experiences for their little ones.
I can speak from personal experience as a mom of two little ones plus a tween and teen, and say that Qustodio definitely fulfills all of my digital parenting needs. For example, I can block dangerous content so that my 6 and 7 year old girls can look up ballerina videos without stumbling onto something I'd rather them not see. For my 11-year old, screen time limits ensure that he doesn't spend all of his free time playing mindless games, and I sleep a little easier knowing who my teen is calling and texting. Plus, as my older ones become more independent (sigh), it helps to know I can see exactly where they are on a map at any given time with Qustodio's location monitoring tool.
I also love how easy it has been to integrate Qustodio into my family and my individual parenting style. The software works on any device (i.e. Windows, Kindle, Android, and iOS), and there are literally thousands of ways it can be set up to accommodate YOUR family and YOUR kids. That said, it's also SUPER easy to set up and understand. All you need to do is click to download, and we'll guide you through the rest. If you can blog and tweet, you can use Qustodio 😉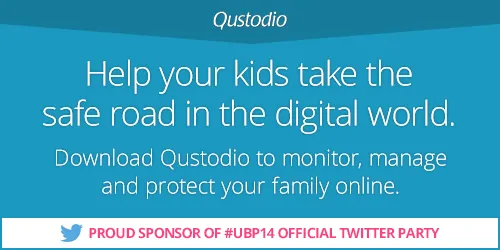 As a final note, we also know that moms and dads, teachers, and caregivers are the real experts when it comes to kids' tech use, so we are always thrilled to hear from parents, educators, grandparents, aunts and uncles…it takes a village! I personally can't wait to read your blog posts for the blog contest we're sponsoring. Have you submitted your link yet? If not, you can read the guidelines and enter your link here. Remember, anyone who raises awareness for child online safety is a winner in our book, so you'll get a year's subscription to our Premium software just for participating!
So glad to "meet" each of you, and I can't wait to tweet with you and visit your fabulous blogs during the week. In the meantime, check out our website Qustodio.com and follow us on Twitter, Facebook and Pinterest for important updates and additional info about online safety. Also, don't forget–I'll be tweeting digital parenting tips during the UBP14 Twitter party Tuesday night at 9pmET. See you there!