This post may contain affiliate links. Read my disclosure policy here.
I've interviewed a lot of celebrities in the last few years, both in person and on the phone. It's no surprise that I've enjoyed it, but what has surprised me is how much I've enjoyed interviewing producers and directors and others who work behind the scenes. Their names and faces might not be recognizable, but they are just as responsible for a movie's success as an A-list actress is.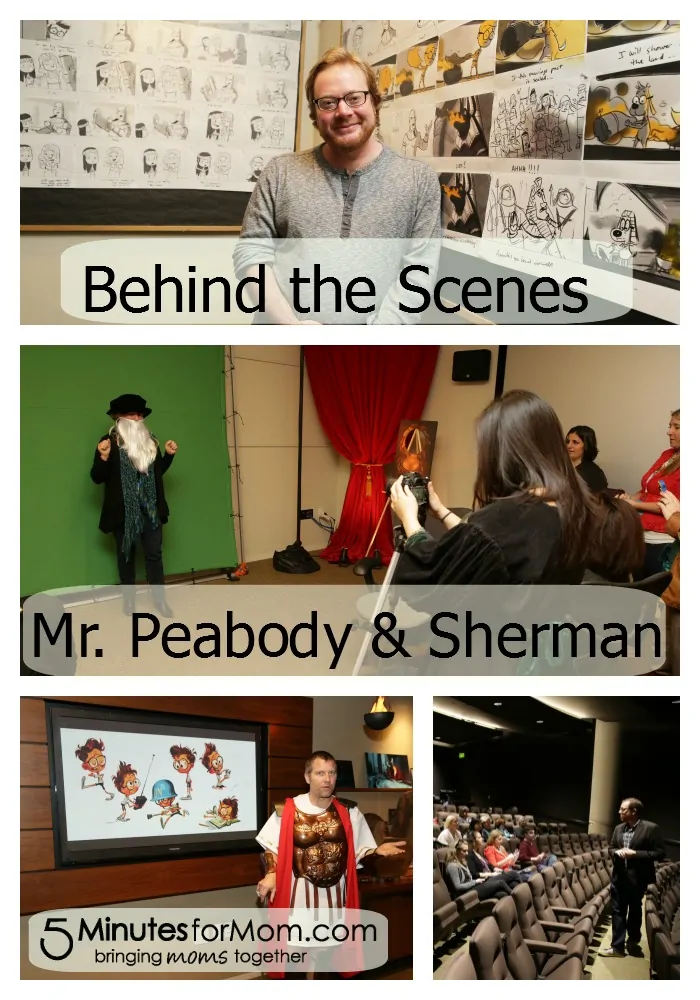 That's one reason that my recent press trip to DreamWorks, sponsored by DreamWorks Animation and 20th Century Fox, was one of my favorite experiences thus far. We truly got to see how the magic happens of getting an animated feature film on screen. We met with producers, the director Rob Minkoff, and heads of character animation, story, special effects, and production.
From storyboard, to animation, to special effects, I kept hearing about the world they were striving to create. In animation anything is possible. Here are a few things you might never have thought about that I was amazed to learn:
What does a director do on an animated picture?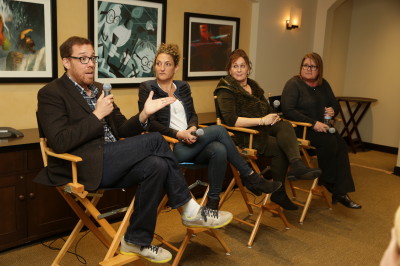 Rob Minkoff, Alex Schwartz, Tiffany Ward, and Denise Cascino
It was cool spending some time with director Rob Minkoff (The Lion King). He introduced the movie before we saw it in the theater right on campus at DreamWorks Animation (pictured below right in the graphic above). We later had an opportunity to interview him. When I have been able to talk with directors, you can really see their pride in the work, and of course, they have the vision.
But I loved that a fellow blogger asked what the day to day work of the director and producers, particularly in an animated picture. Minkoff answered:
"We have department leaders for every department, and they have a team of people. The department leaders are managing the workflow. It is an extremely iterative process in which our day is literally one meeting after the next where you meet with the team to look at a particular thing. You'll look at character design, you'll look at the animation, you'll look at the way the layout is being done, the backgrounds. So it's just a lot of individual meetings to get it done over a year and a half. Period."
Producer Denise Cascino added:
"We have about 15 departments and every single one of them needs feedback from Rob. So, it's from morning 'til evening, meeting after meeting. And yet, most importantly, reserving time for story and development as well. It's like Weekend and Bernie's where we just keep dragging him through and trying to get everything looked at and approved."
Why you don't ask "Why is the dog talking?"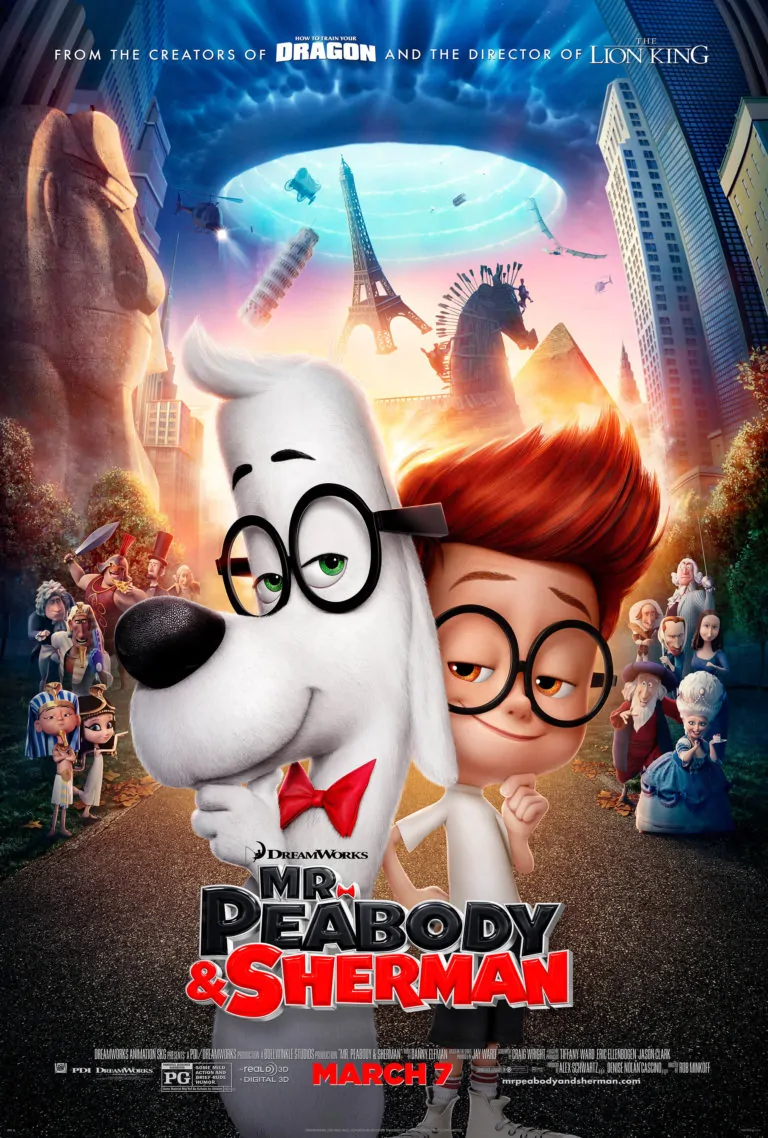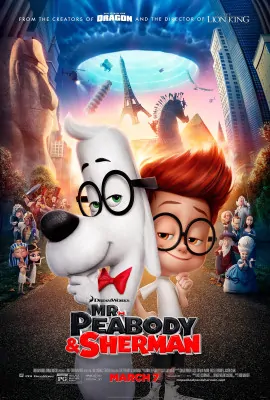 When director Rob Minkoff was approached about making a Mr. Peabody and Sherman movie, he decided to go with animation over live action so that he could create a "fantasy world where you can accept a talking dog much more easily than if it's a live action world."
This was a thread that I heard from many presenters, and it helped me understand the magic of an animated movie. In particular Production Designer David James (above, dressed like a Trojan in honor of the Troy section of the movie), posed the question above. Every decision that is made on the set is designed to make sure that the world is whimsical enough that a talking dog becomes a part of what's possible.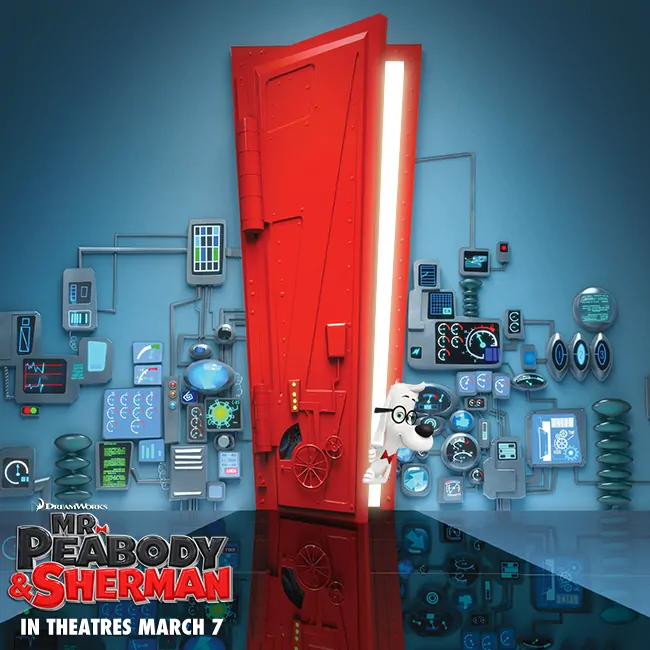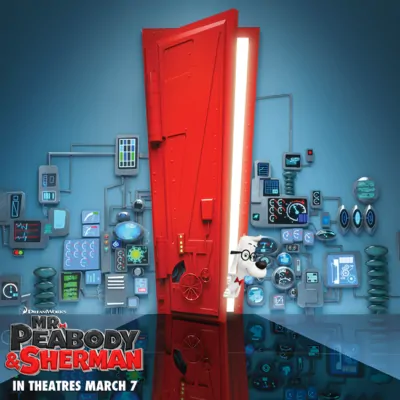 I never thought about that, but it makes a lot of sense. In live-action, talking animals exist, but often have to be explained away. They didn't want to have to do that. If a realistic style of animation had been used, the same questions would have existed. I did muse on the larger issue of why a dog was able to adopt a boy. Watch the trailer to find out why that isn't the only obstacle you have to overcome. It was addressed in just the right way, as were the intricacies of travel.
Read my review of Mr. Peabody and Sherman over at 5 Minutes for Books to see why I think it's a movie the whole family will enjoy.
How do they get the characters to look so real?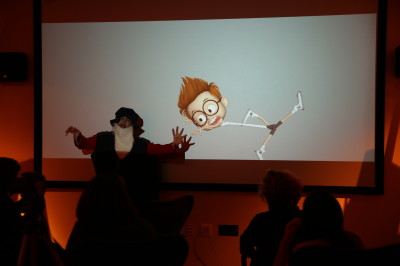 Jason Schleifer, in Renaissance Italian costume
In addition to closely watching the actors' mouths and faces when they are recording, I was amazed to hear Head of Character Animation Jason Schleifer explain all the steps the animators take to bring us what we see on screen. They have to consider the logistics of the characters, and how to get the look they want. The picture above shows a 2D animation feature of adding a third leg that they used to show movement.
Then they do video reference, where the animators actually act out the scenes, so they can see perspective and how the characters would interact. A few bloggers got to try it out (middle shot above).
One reason this is so important is that it takes each person a week to animate 3 – 5 seconds of film. Did you get that? A week of work for what flashes by you on the screen.
How do you draw Mr. Peabody?
A fun hands-on activity that David James led us through was drawing Mr. Peabody. Try it yourself!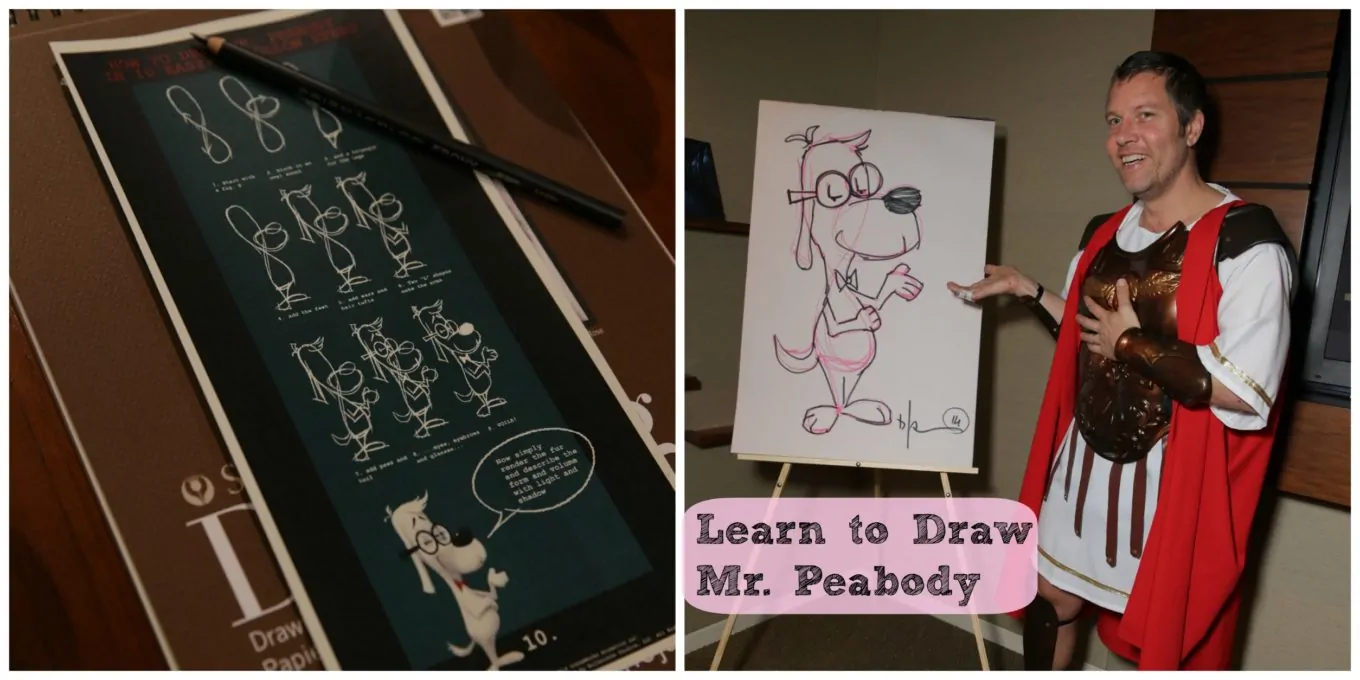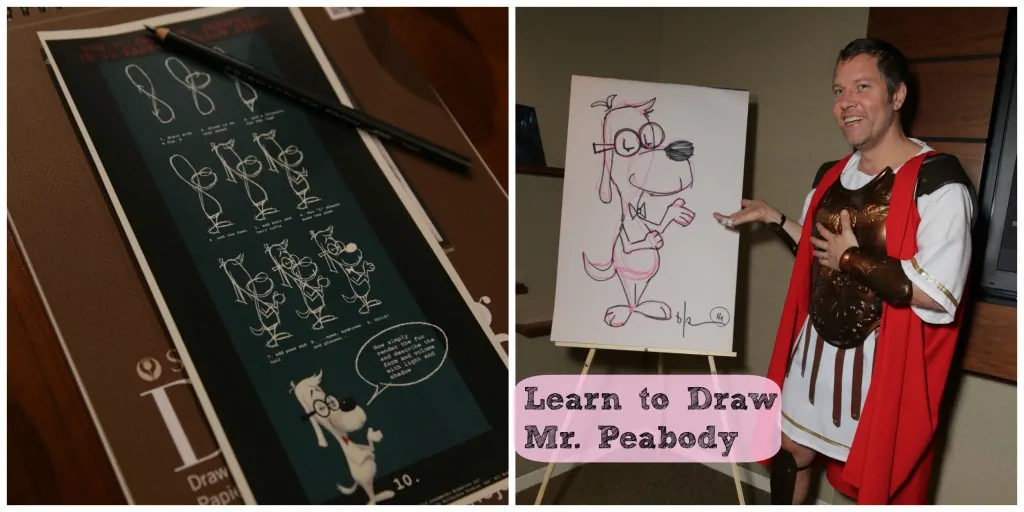 Find out more: Mr. Peabody and Sherman in theaters MARCH 7.
Mr. Peabody (voiced by Ty Burrell, Emmy Award® Winner –Modern Family), the most accomplished dog in the world, and his mischievous boy Sherman (Max Charles –The Amazing Spiderman), use their time machine—the WABAC—to go on the most outrageous adventures known to man or dog. But when Sherman takes The WABAC out for a joyride to impress his friend Penny, they accidently rip a hole in the universe, wreaking havoc on the most important events in world history.  Before they forever alter the past, present and future, Mr. Peabody must come to their rescue, ultimately facing the most daunting challenge of any era:  figuring out how to be a parent. Together, the time traveling trio will make their mark on history.

Starring Ty Burrell, Max Charles, Ariel Winter, Stephen Colbert, Leslie Mann, Patrick Warburton, Stanley Tucci, Allison Janney, Lake Bell, Zach Callison, Dennis Haysbert
Directed by Rob Minkoff
Produced by Alex Schwartz, Denise Nolan Cascino
Executive Produced by Tiffany Ward, Eric Ellenbogen, Jason Clark
Disclosure: My travel was sponsored by DreamWorks Animation and 20th Century Fox.