This post may contain affiliate links. Read my disclosure policy here.
Disclosure: I (Jennifer D.) was thrilled to be invited to visit DreamWorks and learn more about Mr. Peabody and Sherman. My trip and accommodations was covered by DreamWorks Animation and 20th Century Fox. This is the first of several posts. Stay tuned.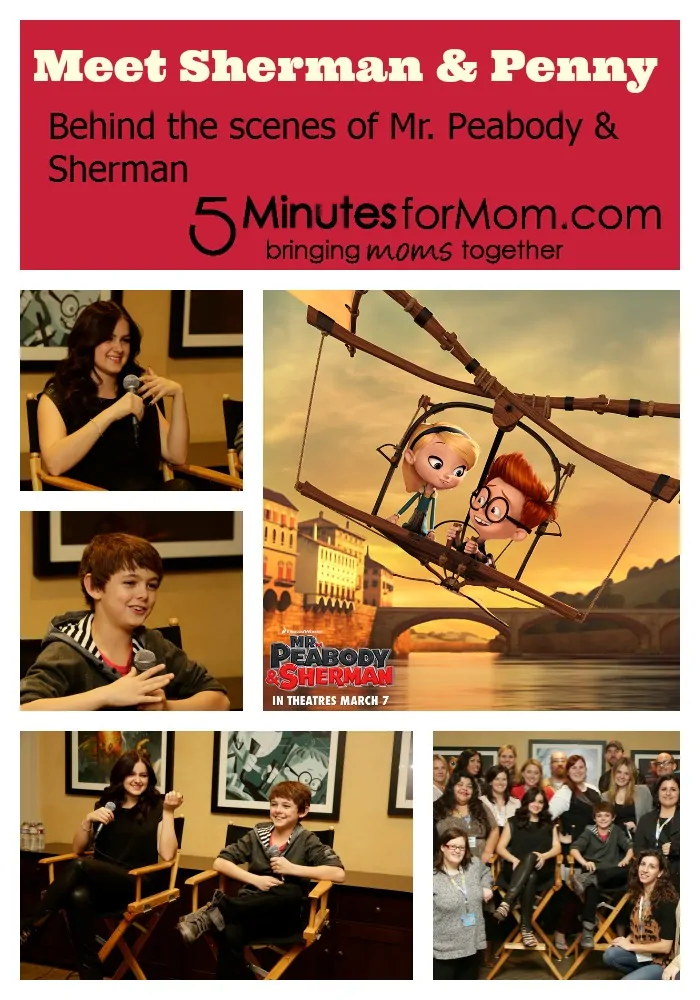 Ariel Winter is no stranger to animated work. She currently voices Sofia on the Disney, Jr. show
Sofia the First
(in addition to her acting work on
Modern Family
). I wouldn't necessarily have recognized her voice as Penny, but she told us "I've been doing animation for 12 years, so for me, it's kind of just second nature for me to change my voice. I do weird voices all the time. So for me, I just kind of do it."
Ten-year-old Max Charles said he made his voice a bit higher and thought it was cool to act in that way. The animators said that Max Charles' face was perfect to inspire his character Sherman's faces. They watched his big expressive mouth as he recorded the dialogue to get Sherman's mouth just right. He thought it was "really cool" that he influenced the character in that way.
Though the animators didn't mention it, I could see the teen girl attitude that I'm sure Ariel Winter could summon in Penny's character as well. Winter confirmed it, saying "The sass is real. The sass is so real. I loved her sassiness."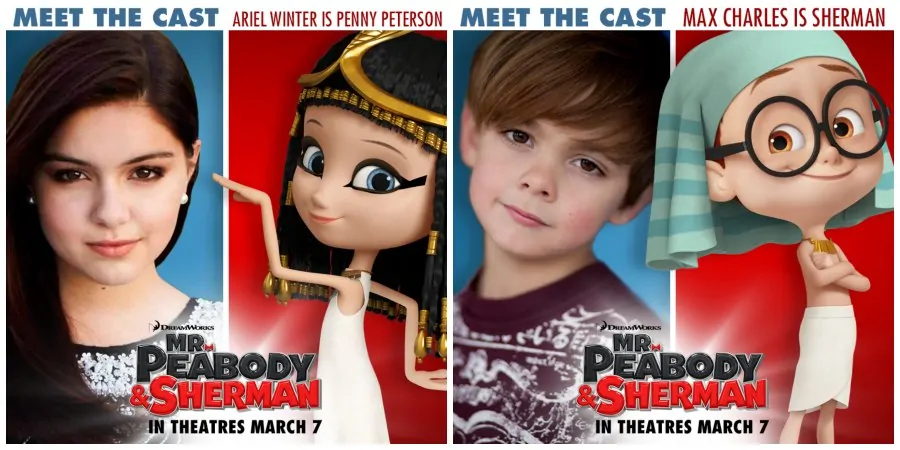 Both young actors said they enjoy voice work and regular acting work as well and would not want to have to choose one over the other. Ariel Winter explained what she likes about voicing animated characters:
"I love the challenge of having to express yourself only through your voice because I'm sure as you can tell, I'm a very expressive person with my face and with my hands. So for me, it's a challenge to have to express only through voice. I love that. And I also love being on film. It would be hard to pick."
What's next for these two young actors?
For one, they (and all of us interviewers) hope for a Mr. Peabody & Sherman sequel. As for Ariel Winter, she has a lot of plans: "I want to open a record label and I want to be on the music side, and I also want to be in front of the camera and behind the camera. I have a lot of things I want to do in the entertainment industry."
When another blogger asked about encouraging young children in the entertainment industry, both actors said that they should be sure that they are having fun. Max said, "Just follow your dreams, you know?"
If entertainment is what they love, they've found a good fit with these roles in this movie.
Connect with Mr. Peabody Online!
Win a Prize Pack worth more than $50

One (1) US winner will receive:
$50 Visa gift card to see the film in theaters
4-pack of Mr. Peabody & Sherman glasses and bow tie set