This post may contain affiliate links. Read my disclosure policy here.
Hosting a party to watch a big football game like the Super Bowl can be one of the most fun events you host all year. Here are 40 tips to make your party a true winner…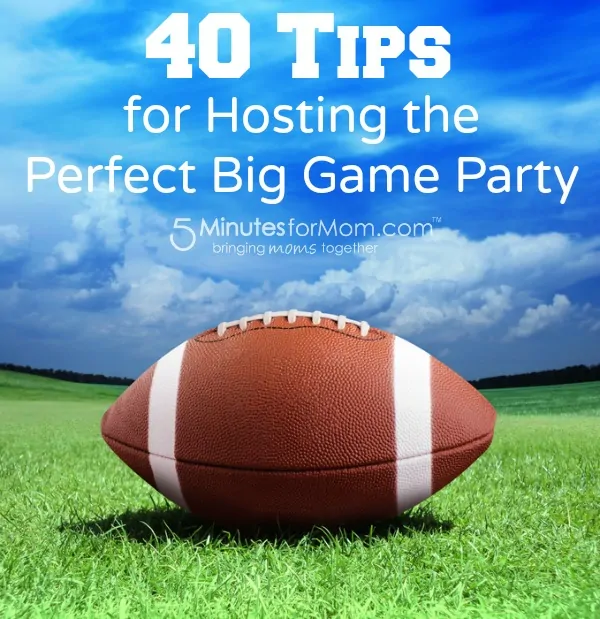 Get Prepared

Plan to have the right number of guests. The more may be the merrier, unless they can't see the TV.
Make an online invitation list to track RSVPs and get an accurate count of guests.
Ask guests if they want to bring any food and find out exactly who is bringing what dish.

Clean Ahead

Do a deep clean ahead of time and then a quick vacuum the morning of the party.

Get rid of PET HAIR — make sure your carpet, couch and chairs are free of any pet hair.
Clean out your fridge and make room for party food.
Dust your TV, mantle, coffee table, and end tables.
Clear ice or snow from your stairs, driveway and entrance.

Stock Up

Grocery shop well ahead of time and stock up on ingredients, drinks, supplies and bags of ice.
Plan ahead how many people are coming and how much food you'll need.
Ensure you have extra garbage bags and paper towels on hand.
Get out your barbecue if you'll be using it.
Consider asking a couple guests to bring extra crockpots or warming plates for keeping food and dips warm.

Set Up The Room

Set up your dining room table or another buffet table with napkins, paper plates, serving spoons, cutlery, dishes, glasses etc ahead of time.
If you choose to cut down on dishes by using paper plates and perhaps plastic cups, still use real utensils.
Place extra seats, chairs and cushions in your TV room — arrange them to ensure everyone can see and still walk through the room
Remove anything unnecessary or fragile from coffee, end tables and other furniture in the TV room.
Place out lots of coasters.
Keep plenty of napkins and paper towels nearby.

Chill

Cool beer mugs in the freezer overnight.
Print out drink labels so that people can keep track of whose glass is whose.
Chill drinks ahead.
Disclosure: This post is part of our promotional campaign with BISSELL.
Written by Susan Carraretto, co-founder of 5 Minutes for Mom
Talk with me: @5minutesformom and Facebook.com/5minutesformom
Pin with me at http://pinterest.com/5minutesformom/