This post may contain affiliate links. Read my disclosure policy here.
Hello, hello!  It's Sarah again from Bombshell Bling (formerly Craft Quickies).  I hope that you have been having a lovely fall!  Fall is my favorite season of the year.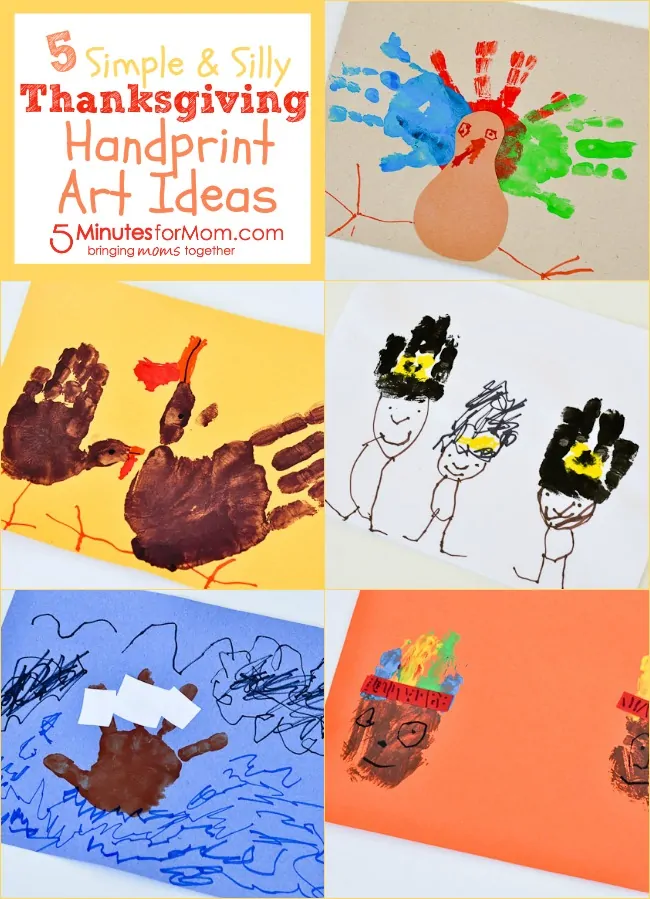 I love the weather, I love the food—like soups and caramel apples and pumpkin bread—and I love the holidays.  THE HOLIDAYS!!!!
My mom was a big holiday lover—decorations, special traditions, fun food, the whole nine yards—so my sisters and I all have it in our blood.  Additionally, I used to be an elementary school teacher, so I have loads of cutesy projects and things to do with kids in my back pocket.  For that reason I have LOVED having my kids grow a bit older.  Generally speaking I believe that babies should NEVER grow up and should stay little snuggly balls of chub forever and ever, but even I have to admit that holidays are way more fun with older kids!  I love seeing my son's excitement as the holidays approach and doing fun little art and food projects and games with him.  It's the absolute best!
Today I am sharing with you a super fun art afternoon that my son and I had one day during his little sister's naptime making a variety of Thanksgiving hand art projects.  So so simple, but it brought him so much joy.  Can you tell?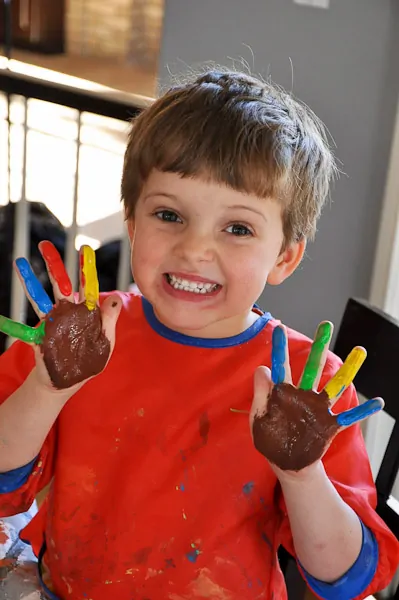 He is way too cute, if I do say so myself…
Here are the five quick and fun Thanksgiving Handprint Art projects that we did together.  Be sure to use the washable preschool paints!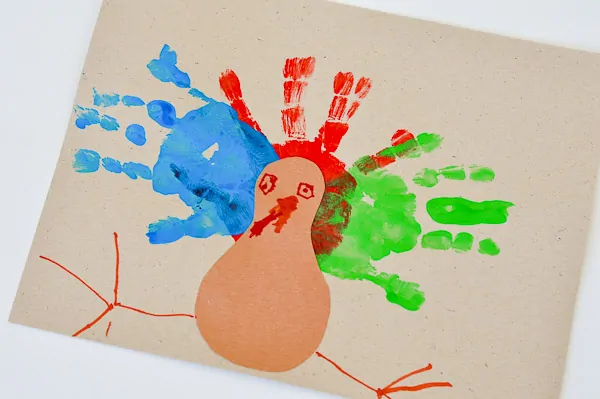 Big, Colorful Turkey
Stamp three different colored hands in a semi-circle.  Once the paint has dried cut out a pear shaped turkey body, paste it in the center of the feathers, and allow your little one to draw the face and legs of the turkey.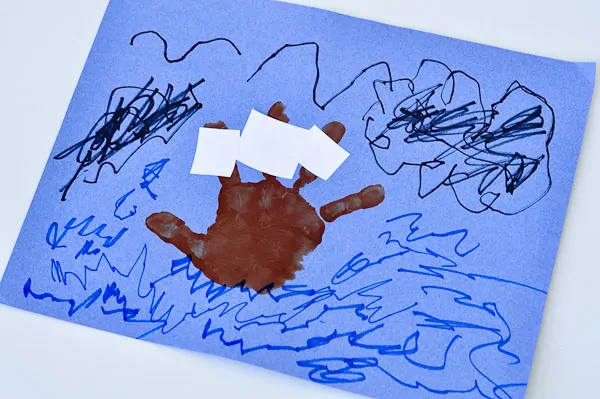 The Mayflower
Paint your little's hand brown and have them spread their fingers wide when stamping it down.  Once the paint has dried glue three white squares onto the middle three fingers for "sails" and let your little one add the sea and sky.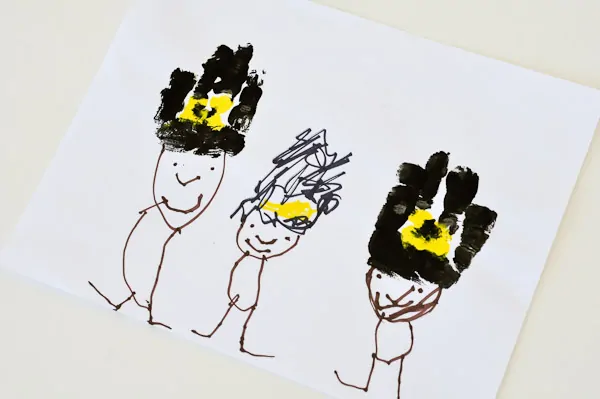 Pilgrims
We made these hats by painting a square of his hand yellow and then painting the fingers and hand around it (no thumb!) black, with a black dot in the middle of the yellow "buckle."  Once the "hats" are dry your little one can add the pilgrim bodies.  And an extra pilgrim if he or she so insists.  🙂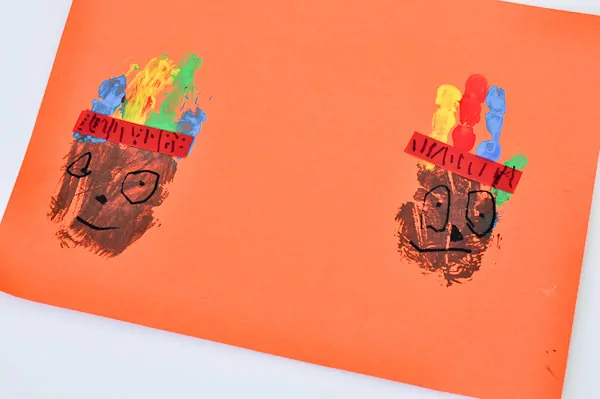 Native American Indians
We made these cute Native Americans by paint his palm brown and each of his fingers a different color (again, no thumb!).  Once they had dried we used a piece of red washi tape for the headbands and markers to add the faces and headband detail.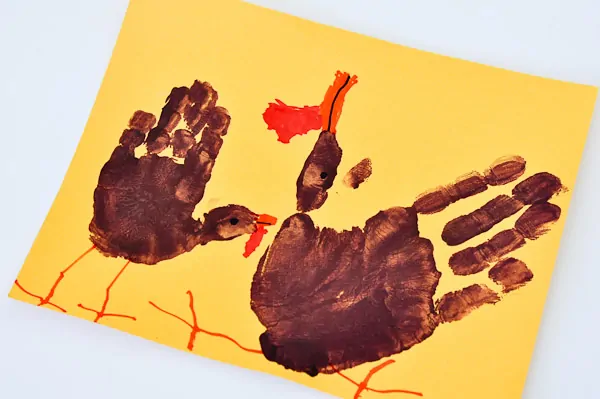 Mommy and Baby Turkeys
Time to get your hands dirty, Mom!  Each of us painted one hand brown and stamped them with the fingers together and the thumb out.  Once they were dry my son added the faces and legs.  I'm not sure why Mommy Turkey has a freaky long beak that's pointing to the sky, but he was very emphatic that it was drawn correctly, so we just went with it.
I hope you like these ideas and take a little bit of time to do one or two of them with your kiddo.  They are simple and cheap, but they are also festive and will make your kid feel so special and great because of their project time with Mommy!
If you enjoyed this post then you may also like these ideas from my site, Bombshell Bling:
Silly Turkey Gratitude Jar
Pilgrim Popcorn
Make a Silly Turkey Placemat Using Fall Leaves
HAPPY THANKSGIVING!
More Thanksgiving Ideas For Family Fun
Here are more Thanksgiving Activities for Kids your kids will love. And these Turkey Treats For Thanksgiving – This easy fall craft is so cute!