This post may contain affiliate links. Read my disclosure policy here.
5 Minutes for Books staff reviewer Nancy received a copy of this book to facilitate her review and is here to share her thoughts and offer up a giveaway copy for one of you.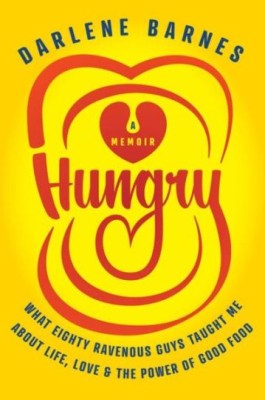 When Darlene Barnes moved to Seattle with her husband, an engineer at Microsoft, she wanted a thing of her own. Her boys were out of the house and she wanted a challenging project, so she applied for a job as cook for the Alpha Sigma Phi fraternity at the University of Washington, where she spent the next 6 years cooking for guys who didn't always appreciate her attempts at feeding them more upscale cuisine, dealing with a food service company who fought her attempts at fresh, local food, and fighting to keep the guys out of her parking space and her freezer.
But Darlene was determined to cook healthy, delicious, and appealing lunches and dinners for the guys, breaking the stereotype of the frat cook who only served frozen pizza and something called "Asian surprise."  The chapter describing her first year on the job cleaning a disgusting kitchen, firing food suppliers, adapting recipes to feed 50 guys, and setting rules for said guys is amusing and at times revolting.
Most of Hungry focuses on her time with Alpha Sig, starting from her first year, which was met with both applause and disdain, depending on whether the guys welcomed a home cooked meal or preferred their mac and cheese bright orange and from a box. Most were at least willing to try her food but often complained.  Darlene learned to ignore the dissenters and formed relationships with the guys who hung out in the kitchen with her, sharing stories of their drunken nights out while helping out when needed, often in the form of companionship.
Hungry also provides some history, including her time spent as personal chef for an extremely wealthy and even more demanding family, and her own childhood and introduction to good food by her grandparents in Louisiana.  
While at times the book feels like loosely strung together blog posts, referring to the guys and others she dealt with often without introduction, Hungry is an enjoyable read that provides some insight into the minds of college boys. It's clear Darlene loves her boys, still in contact with many alumni who email her for recipes — often needing step by step instructions — or text her just to let her know they're thinking about her.  
The recipes that end each chapter are all mouth-watering and look accessible to home cooks.
Win it
Hungry is a fun and easy read, and if you'd like to win a copy enter the Rafflecopter below. Start off by answering the question: "What's the biggest group of people you've ever cooked for?"
You also have another week to win the 5-Star memoir that Jennifer reviewed last week, Etched in Sand, so click through to check it out.