This post may contain affiliate links. Read my disclosure policy here.
5 Minutes for Books contributing editor is here to tell you about her latest 5-Star Read. She was provided a copy of the book for review from TLC Book Tours.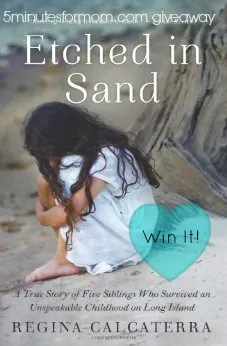 I like reading memoir, but it's become so popular now that in some ways the quality has declined. I think publishers are clamoring to get the next hot ticket, so anyone who has some sort of story to tell is likely to get published. Now I often find them to be either too explicit, too profane, or too surfacey to be of interest to me, but when it's done right, memoir is one of my favorite types of books to read.  I recently found one that was done just right.
Etched in Sand: A True Story of Five Siblings Who Survived an Unspeakable Childhood on Long Island is Regina Calcaterra's story. You may be asking, "Why would I want to read about an "unspeakable" childhood?" I'll tell you why.
I once read an apt description of these memoirs that deal with overcoming some sort of obstacle. A reviewer called them our modern day fairy tales. Think about Cinderella, forced to endure a wicked stepmother and stepsisters, to dress in rags and work harder than a young girl should have to. But the hard parts of her story make the fact that she becomes Cinderella even more lovely and worth celebrating. Such it is with Regina Calcaterra. The prologue opens with her in present day, surveying the damage of Hurricane Sandy with the governor and two senators from New York state, serving in her role as chief deputy executive of Suffolk County. With that setup, we know that she is definitely an overcomer. The prologue ends with the story of how she and her siblings would write their names in the sand, only to watch them be erased by the tide where they'd then take the opportunity to create anew. The tone of the memoir is also promised at that time:
We didn't know it then, but that persistence would become the metaphor to predict how we'd all choose to live our lives. No accomplishment has taken place without trial, and no growth could have occurred without unwavering love. This is the story of the hope it took a community to raise a child. . . and how that child used her future to give hope back (page 4 Advanced Reviewer's Copy).
This story is riveting. The writing is fluid and captivating. Calcaterra tells some stories in flashback form, but it always serves to better the story and is never confusing or out of place. She tells about emotional and physical abuse, the uncertainty of not knowing her father, homelessness, good and bad experiences within the foster system. But even in the midst of that, she offers glimmers of hope as she trumpets the support and love that she and her siblings had for one another, the help that the community offered them, and the encouragement from teachers and others that helped her keep moving forward.
As I stated above, some memoirists share too much, going too far (or too far for my tastes), while others don't share enough. Calcaterra walks this line perfectly. There are unspeakable things that she only alludes to, but doesn't share outright. But there are other trials that she shares honestly, which helped me to understand the trials that kids like this must endure. Knowing stories like this causes me to look at others with compassion. My childhood didn't have these struggles, and as far as I know, neither did those in my middle-class community, but what I realize, especially after talking to my friends now, is you really never know.
Win it!
*****The giveaway has ended*****
I have a copy of Etched in Sand for one of you (U.S. and Canadian shipping addresses are eligible). Just use the rafflecopter below.