This post may contain affiliate links. Read my disclosure policy here.
At a recent BBQ, I glanced over and saw my twenty month old son eating a handful of potato chips. Since I prefer that he eat healthier foods, I intervened and took them away (wondering who on earth gave them to him). Another mother made a comment under her breath that a little bit of junk food wouldn't kill him (mystery solved as to how he got those chips).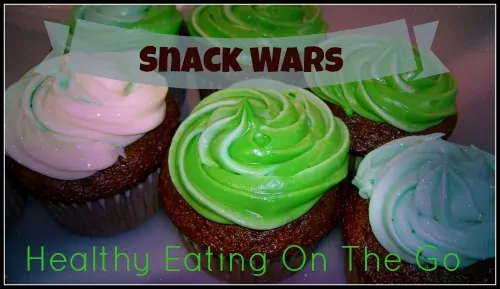 Kill him? Probably not. But, while he is little, I am trying to instill good eating habits that he can hopefully apply in the future – apparently, a lofty goal. Never one to shy away from a challenge, I have come up with some strategies to keep my son's food options healthy.
Read labels. Sounds like a no brainer, but take a lesson from me, read all labels. Recently I discovered the "whole wheat" healthy bread I bought contained high fructose corn syrup, which is not something I want my son to eat if I can help it.

Write it down. Keep a running list of healthy options that you can always fall back on. When you are in a rush, you won't need to think about it, taking the stress out of snack time.

Take a stand. This one is, by far, the toughest one to implement. It requires you to say no when a very kind stranger offers your child a cookie. Or another mother offers a snack at a play date that you would prefer your little one avoid. It takes a lot of finesse to avoid hurting another person's feelings, but I find that a simple "thank you so much for the offer, but my son cannot eat X" works beautifully.

Bring your own. I now carry a myriad of snacks so I can offer my son an alternative if other kids are eating something I would prefer he not eat. This strategy is a win/win. He gets to eat a snack he loves and I get to control what it is. He doesn't even know the difference!
Your Turn: How do you help your little one eat healthy?
Jamie is a mom, wife, lawyer, professor and writer. These days, you can find her either writing for her website www.twohappymamas.com, playing with her son or teaching writing at Seton Hall School of Law.