This post may contain affiliate links. Read my disclosure policy here.
The film BULLY and the companion social outreach campaign, The Bully Project, are sharing the message that bullying is a widespread and serious problem that can happen anywhere.
It is not a phase children have to go through, it is not "just messing around" and it is not something kids just grow out of. Bullying can cause serious and lasting harm. Bullying hurts.  Bullying kills.  Bullying cannot be ignored.
Written and directed by Lee Hirsch, the movie BULLY addresses the topic of bullying in a very poignant way.  The Bully Project website explains the film:
BULLY is a beautifully cinematic, character-driven documentary. At its heart are those with huge stakes in this issue whose stories each represent a different facet of America's bullying crisis.

Filmed over the course of the 2009/2010 school year, BULLY opens a window onto the pained and often endangered lives of bullied kids, revealing a problem that transcends geographic, racial, ethnic and economic borders.

It documents the responses of teachers and administrators to aggressive behaviors that defy "kids will be kids" clichés, and it captures a growing movement among parents and youths to change how bullying is handled in schools, in communities and in society as a whole.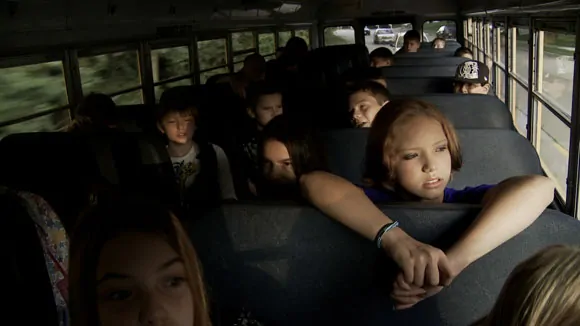 Bullying doesn't look any particular way. Bullying can take many forms. A snide comment in the school hallway, a sharp elbow to the ribcage at a locker, a nasty comment meant to humiliate or a threatening stare are all examples of bullying.
Bullying involves an imbalance or perceived imbalance of power. Bullies pick on targets that appear unable to defend themselves – they intend to cause harm. Bullying is done on purpose, it is not accidental. Bullying incidents occur repeatedly; bullies wear down their victims by harassing them mercilessly.
Susan recently interviewed Katy Butler, a bullied teen who has now become an anti-bullying activist. Katy shared practical advice as to how kids, parents and teachers can help end bullying.
Bullying will affect an estimated 13 million kids in America this year. As a parent and as a human being, you can't afford to ignore this important issue. The Bully Project has made it their mission to bring bullying out of the shadows where it lurks. By shining a light on the negativity and violence of bullying, BULLY's goal is to foster empathy and action in schools to help adults and children alike understand what bullying is and the magnitude of its impact.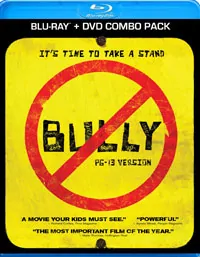 Please buy BULLY on DVD today. Share it with everyone you know.
For more information on bullying, visit stopbullying.gov,  The Bully Project, and
5 Minutes For Mom's Anti-Bullying Resource Page.
Follow The BULLY Project on Twitter
Enter to win
Three lucky readers are going to get their chance to win a copy of BULLY on DVD.  Use the Rafflecopter form to enter this giveaway. New to Rafflecopter? Watch this 45-second video on how to enter!