This post may contain affiliate links. Read my disclosure policy here.

Katy Butler is the teenage activist who successfully petitioned for the film rating of the movie Bully to be changed from R to PG13 thus allowing middle schoolers and teenagers to see the movie and for it to be viewed in schools.
Passionate about the cause because of her own experience of relentless bullying in middle school over her sexual orientation, Katy started a petition and inspired celebrities such as Ellen Degeneres to help pressure the Motion Picture Association (MPAA) of America's ratings board to reduce the rating to PG13.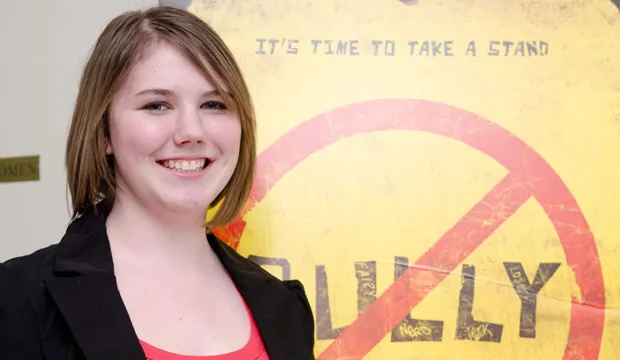 I spoke with Katy and asked her advice on how kids, parents, and teachers can take action today to reduce bullying.
How Kids Can Help
Katy's number one action for kids being bullied is to TALK to someone NOW. Unfortunately, kids so often do not tell anyone that they are being bullied or tell the full story of what is happening.
In her own struggle with bullies, Katy herself did not admit to her parents what was going on. Fortunately, her parents did notice how upset she was about going to school and they took action.
Katy began to be bullied at 12 years old after she told her best friend that she was gay. Her friend betrayed her confidence and soon all the kids in their middle school mercilessly bullied Katy for being a lesbian.
I asked Katy if she regretted opening up to that friend and she said, "No, I don't regret anything. It made me who I am today."
To kids who are considering opening up about their sexual orientation, Katy encourages them to be true to themselves.
How Parents Can Help
Katy's mother is a fabulous example of how parents can help their bullied children.
Katy is thankful to her parents for how they helped her.
She said her mother kept telling her over and over how much they loved her. Katy laughed and said she'd say, "yeah, yeah… I know, I know…" when her mom would tell her how nothing she could do would make them stop loving her. But that hearing it over and over was so powerful and eventually gave her the courage to come out to them as a lesbian.
When I asked Katy if she thought her parents knew, she said…
"Yes, I'm sure they knew all along. But they waited for me to be ready to tell them. And I'm glad they did."
While the first step for parents is showing and communicating their love, Katy's parents also demonstrate the second critical step… take ACTION!
Even though Katy didn't really tell her parents what was happening, they saw through her behaviour that she was suffering. They went to her teachers and school administrators to seek help. Unfortunately, they didn't get the help they needed and eventually they took Katy out of that school and enrolled her in a different school where she is no longer bullied.
Katy and her family were fortunate to have the option to switch schools, and as she recognizes, not all bullied kids can change schools and nor should they have to.
How Teachers and School Administrators Can Help
Teachers have a tough job. No one, not even Katy, disputes that fact. With overflowing classrooms and overcrowded schools, teachers and school administrators are struggling to educate and keep kids safe.
Katy's plea to teachers is to try to create a new tone of acceptance and promote equality in the classroom. While she realizes teachers are busy, she feels taking just a couple moments to check if a student is okay can make a huge difference.
Katy has noticed that one of the positive aspects of the Bully movie is that educators who have seen the film are recognizing and admitting their own mistakes.
Watch Bully on DVD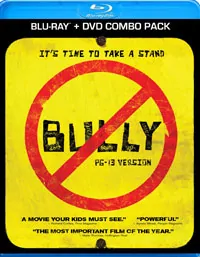 Bully comes out on DVD tomorrow, Tuesday, Feb 12th.
Watch this movie with your kids. Personally, I think kids ages 10 to 12 should watch with their parents. If you can get your teen to watch with you, it's a great way to start discussions with them too. But whether they watch with you or not, all teenagers should see this film.
Order a copy of the DVD for yourself and at the same time, perhaps get a copy to donate to your school or public library.
Let's stop bullying now!
For more information on bullying see our Anti-Bullying Resource Page.
Listen to My Interview with Katy Butler
Hear first hand Katy's story and her advice on how we can all take action against bullying.