This post may contain affiliate links. Read my disclosure policy here.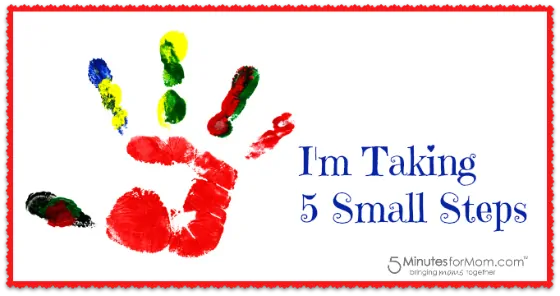 My "one word" for 2013 is "Enjoy" and while I'm doing rather well focusing on enjoying the small moments with my girls and being thankful for each day, I've slipped a little on some of my other goals for healthier living. 
January kicked me off track with a 3 week flu. So while I spent the first part of the new year coughing uncontrollably, I wasn't able to exercise.
But, I'm not letting myself feel guilty for too long.
These are 5 small steps I'm taking to create a healthier lifestyle…
Power walk in the morning. This is the toughest step for me to implement. I absolutely LOVE power walking, but doing it first thing in the morning is a tough habit for me to get going. Still, I do believe walking in the morning will help me ensure I make the time for my walk and energize my day.
Meditate. I want to meditate at least 20 minutes each day. So far, I haven't got this habit locked in either.
Sleep 8 hours on a regular schedule. Not counting tonight, I have been doing better with getting to sleep at a reasonable time.
Eat healthier snacks. Eating on the run is a constant for me. I want to try to improve the snacks I grab and eat on the road.
Exercise WITH my children. My girls learn yoga at school and enjoy doing a little at home with me. I want to increase the amount of time we exercise together.
I think a key to making these changes in my routine is celebrating my successes along the way. I'm trying to pat myself on the back and encourage myself as I take steps towards changing my lifestyle for the better.
Quaker® Quakes® are now Quaker® PoppedTM – a new name for the snack made with the delicious goodness of whole grain brown rice and corn and a great snacking solution.

Reply below for your chance to win a sample of all 14 flavors of Quaker Popped Rice Snacks and $1,000 gift card to help you achieve your New Year's resolutions.
This is a sponsored conversation written by me on behalf of Quaker. I received product in conjunction with this post. The opinions and text are all mine. NO PURCHASE NECESSARY.  See Official Sweepstakes Rules