This post may contain affiliate links. Read my disclosure policy here.
The other day, I had an amazing live styling experience thanks to TRESemmé and their professional stylist Nicole. I didn't have to go anywhere, visit a specific salon, or even travel to an upscale mall.
Right in the comfort of my own home, on my laptop, I was able to get styling tips and help from the Live Styling expert!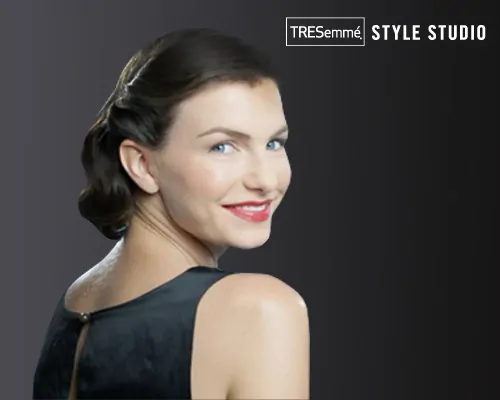 I only had about 10 minutes to spend with the stylist so I gathered all my questions before hand. I already knew what I was going to ask. You see, I have MAJOR horse hair — I am so not kidding. My hair is very auburn and super coarse. I have always longed for soft, flowy hair, so I was excited to find out what I could do to make it better.
Each stylist has been hand-selected for this program and has a ton of experience dealing with a variety of hair types. You can ask the stylist questions such as:
"What's the best hair length or style for my face shape?"
"Which TRESemmé products are best for my hair type?"
"I have an upcoming event, can you recommend an updo for me?"
The best part, all this is done in the comfort of your home and for FREE!
Here is "THE HAIR" as I call it: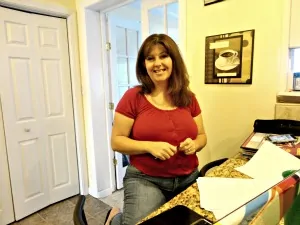 As you can see it is very thick — so thick that it takes most beauticians around two hours to cut and style it. I have to spend about 30-45 minutes in the mornings flattening it so that I can get it to lay down some.
In other words, my hair is a SUPER hot mess!
As I chatted with the stylist, which I did by web cam (so awesome), I showed her my hair and begged for her help! I explained all the aspects of my hair and what I wanted to accomplish with it.
She had a few suggestions for me: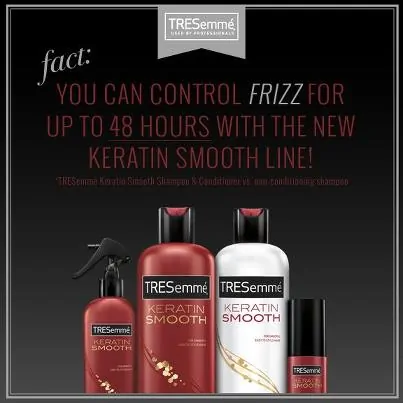 She explained to me that the new Keratin line would do exactly what I wanted for my hair, which is soft, flowy, and will give it that shine — all while keeping my hair from frizzing and poofing.
The one main point I took away from this styling session was how I was blow drying my hair. She said that most people blow their hair and curl the brush underneath. That causes the hair to get that rounded effect right around your face, instead of laying flat. She suggested allowing the dryer to follow the brush all the way to the tips of the hair for that flattened look. It makes a TON of difference!
Get Your Own LiveStyling Session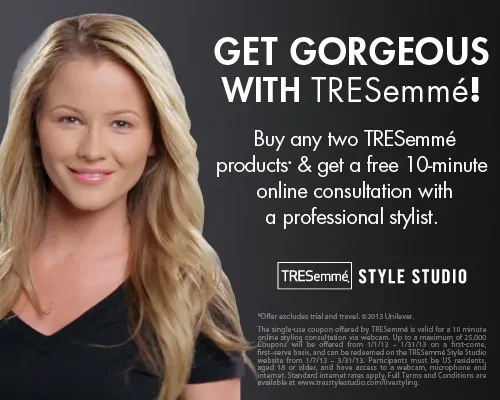 Want to have a salon experience in the comfort of your own home? Now you can with Walgreens' exclusive new program with TRESemmé!
During the month of January, when you buy two TRESemmé products at Walgreens, you will receive a coupon with a unique code that can be redeemed for a FREE 10-minute consultation with a professional stylist!
The styling consultations will take place via webcam with a professional TRESemmé stylist at the TRESemmé LiveStyling site. You can redeem your session between Jan. 7, 2013-March 29, 2013, Monday-Friday from 11am-7pm EST, on a first come first serve basis.
What questions would you ask a professional stylist?
This is part of a promotional program with Walgreens and TRESemme. All opinions listed are our own.