This post may contain affiliate links. Read my disclosure policy here.
No one is more surprised than I am that my new favorite pair of jeans cost less than $30 and is made by Kmart!!!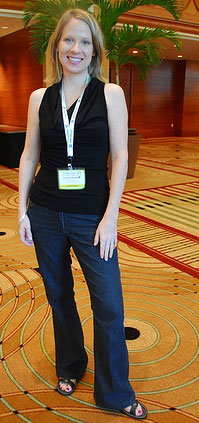 Seriously Girls, the jeans I'm wearing in this photo are so comfortable and dare I say… rather figure flattering.
I LOVE THEM.
I have to admit, I tend to be a bit of a jeans snob and I own a few pairs of designer jeans. I have purchased jeans from all types of stores ranging from Old Navy to Bebe… please don't ask how much I paid for that last pair.
So when Kmart Design offered to bring us in for a styling session and set us up with new clothes to wear during BlogHer, I never expected to replace my expensive designer jeans with a pair that cost less than a family dinner at McDonalds.
(And did I tell you that Tim Gunn said my jeans looked RAPTUROUS?!?)
We had so much fun during our styling session and my favorite take-aways were obviously my jeans but also the jewelry. Janice and I have been fighting over the jewelry ever since the event. LOL
Here's a fun video of our Kmart styling session with our blogging friends Steph, Jennifer, Esther and Erica.
After we got styled, Janice and I had the opportunity to interview Kathy, Kmart's VP of Women's Apparel Design.
Cathy shared with me why she enjoys the challenge of designing affordable and stylish clothes for the American family.
We sincerely thank Kmart Design for showing us such an affordable way to dress in style.
We also want to thank them again for sponsoring our BlogHer09 video shoot so that we can bring the BlogHer 09 experience home to you.
Kmart Design, you've impressed us!