This post may contain affiliate links. Read my disclosure policy here.
UPDATE: This SnazL party rocked! Thank you all so much for coming. See you next week – Thursday at 2pm Eastern.

In the meantime, you can still watch the snazL below and add to it. You can also add your video responses to our Blogging Tips conversation at Say It Face to Face.

Talk soon!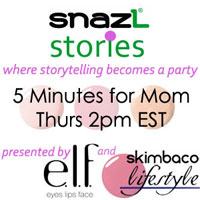 Okay, SnazL time…
This week in our SnazL story we're talking about Blogging Tips and Advice.
It you don't know what the deal with SnazL and our weekly SnazL Stories Event is yet, click here.
But basically, Snazl lets users share multimedia, including video and pictures, live while interacting via chat in real time from multiple locations online.

Join the SnazL party below or host it on your own site and party with your readers at your own blog.
Remember you can also add your video responses to the Blogging Tips conversation already over at Say It Face To Face AND add that video to the SnazL above.
So tell us, what advice or tips do you have for bloggers or what questions do you have about blogging?