This post may contain affiliate links. Read my disclosure policy here.
It is time for BlogHer Business '09!

This year, the BlogHer Business Conference is on Thursday, July 23rd, one day before the main BlogHer conference begins. Since we didn't have to make an extra trip, Susan and I decided that we definitely wanted to be at BlogHer Business this year. But, to save money, we decided that just I would attend.

So today, while I am soaking up all the knowledge and networking I can, I wanted to tell you about my fabulous Mompreneur sponsors who helped cover some of my costs for this event.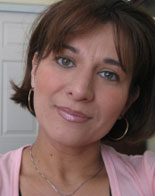 I have introduced you to Stephanie from Faith Baby before. In fact she was my sponsor for Startup Princess Academy in the spring.
Faith Baby is an online store specializing in faith-inspired babywear and I just love their adorable products.
Stephanie is an incredible woman, juggling a full time career, three children and her own company! (And included in those three kids is a set of infant TWIN girls!)
Stephanie has quickly and effectively grown her online business, Faith Baby, and so I thought I would ask her to share some of her experiences as a business owner with us.
Janice: Stephanie, your business is thriving and bursting at the seams, pardon the pun! Why do you believe you have had such success?

Stephanie: We all know that there are many companies out there, large and small, that are struggling in this horrible economy. I strongly believe that my Faith in God is the true answer to our success, I also know in my heart that He has great plans for my company.

Janice: You have put a significant portion of your budget into advertising and promotion — and it has really paid off for you. What kind of an advertising budget do you recommend for mompreneurs?

Stephanie: Budget, Wow! It's really hard to say. Of Course every company is quite different. Since we are still a fairly new company, spreading the word is very important. So for us, we usually put about 40% of our monthly profits right back into advertising.

Janice: What is a mistake that you made and learned from?

Stephanie: Choosing a manufacturer. The best price is not always the best selection, no matter what it is you are selling. The end result in your product is what matters. Look at your product through the eyes of the consumer.

Janice: Thanks so much Stephanie for sharing with us!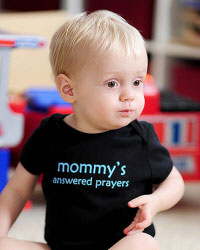 Stephanie's biblically inspired products come in an assortment of colors and each has a sweet phrase or verse on it, such as this one pictured here from her site, "Mommy's Answered Prayers."
To have some giveaway fun, we are giving away Faith Baby Onesies!
So tell us, which onesie do YOU want?
One: Let us know in a comment below and we will pick a random winner in two weeks.
(If you want to earn additional entries, you can add subscribe to Faith Baby Blog and let us know in the comments. And as usual, you can earn additional entries for being subscribers of our feed and newsletter, and for tweeting, etc.)
AND
Two: Tweet about which one piece you want with the hashtag #faithbaby and we will draw a SECOND winner from those Twitter entries.
SO – to recap – there will be TWO contests, one here and one on twitter, each with one winner receiving a Faith Baby One Piece of their choice, valued at $14.99.
We will draw the winner from the first contest here from the comments. And the second winner will come from the contest on Twitter, that we will draw from tweets with the hashtag #faithbaby.
In both contests, you need to visit Faith Baby and tell us which one piece you want to win. And in the twitter contest, in addition to tweeting with the hashtag #faithbaby, you need to also follow @faithbabywear.
We will announce both winners, here and on Twitter, August 8th.
Please see our site's Terms and Conditions of Use for a complete list of our contest and giveaway rules.
Ohhh, you want even MORE Faith Baby Onesies??? Well — if you are at BlogHer Business, keep your eye on Twitter and/or look for me there. I will be giving away more adorable onesies on site at BlogHer Business in Chicago!
Thanks again Stephanie — I am honored to be representing Faith Baby at BlogHer Business '09!
Written by 5 Minutes for Mom co-founder: Janice Croze