This post may contain affiliate links. Read my disclosure policy here.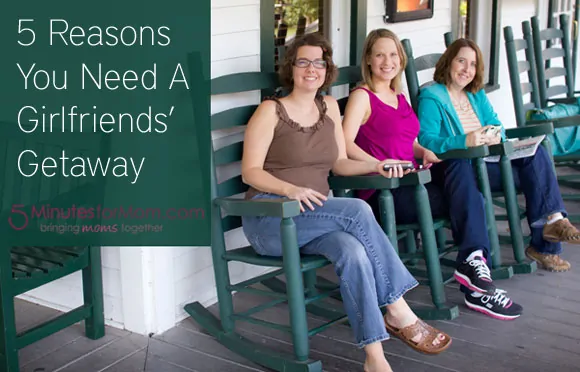 Are you a Mom? Is time for yourself so low on your priority list, you dream of an uninterrupted 5 minute shower?
Well Girlfriend, you need to getaway with friends who understand. Sadly, most moms wouldn't even consider the idea of taking a trip without their kids or spouses (except perhaps for blogging conferences), but you should.
Trust me, you need to get away.
Why Should You Go On A Trip With Your Girlfriends?
You Need A Break
If you're a mom, you deserve a break. Let go of your guilt and show your children the value of taking time for yourself and your friendships.
Friendships Matter
Once you're married with children, it can be easy to sacrifice your friendships as you try to meet the needs of your spouse and children. But women need to laugh and cry with girlfriends.
Your Other Relationships Need You To Refuel
Your marriage needs you to go away. By taking time for yourself, you will have more to give to your other relationships. Your children will be happier when you come home rested and revived.
Learn From Other Women
You'll grow in so many ways as you share and learn from each others' stories and experiences.
See A New Place
Life moves fast and you want to check something off that bucket list.
Where Should You Go?
Instead of hitting an obvious spot like Vegas, think about what's really important to your group of friends — adventure, relaxation, good food or shopping — and find an affordable American treasure like Sevierville, Tennessee.
Recently I was blessed with the opportunity to join three blogging friends — Jill from BabyRabies.com, Zina from LetsLassoTheMoon.com and Melissa from ConsumerQueen.com — on a Girlfriends' Getaway in Sevierville, Tennessee.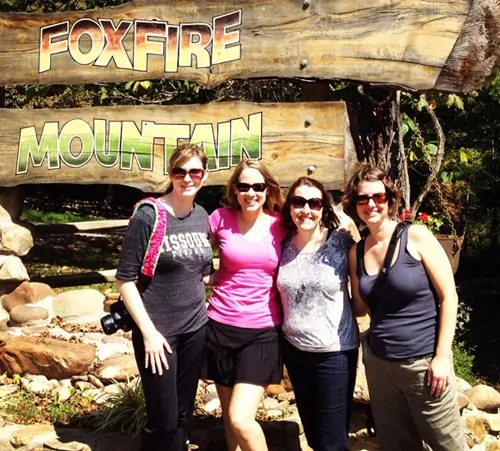 I had such a relaxing and rejuvenating trip and I will absolutely go back. It is the ideal place not only for family vacations but it's brilliant for retreats for moms to take with friends.
As bloggers we often meet up with our blogging friends from all over the country at conferences. While those reunions are fantastic for getting to see a ton of people in a crazy-busy, party-filled couple of days, you never get outside the hotel and you don't have time to really bond with a few good friends.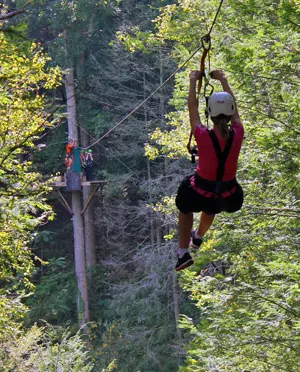 I loved stepping outside of my regular conference travel routine where the only sightseeing I get is the cab ride between the airport and the hotel.
On our retreat to Sevierville, the four of us — who hardly knew each other to start — spent quality time talking, laughing, sharing the joys and struggles of our lives while we were inspired by the breathtaking scenery and challenged ourselves by ziplining through trees high in the Smoky Mountains.
We flew in a helicopter, rode horses, shopped, enjoyed authentic Southern treats like fried green tomatoes, went up in a state-of-the-art hot air balloon, took photos in the Great Smoky Mountains National Park and more. There's so much to do in Sevierville, I can't wait to visit again.
Come back here to 5 Minutes for Mom tomorrow and you can taste the adventure as I share more photos and stories from our trip.
Photo Credits:
Top photo taken by Jill from BabyRabies.com
Middle photo a quick shot on my iPhone
Bottom photo taken by FoxFire Mountain staff
Disclosure: My trip and activities were paid for by the Sevierville Chamber of Commerce. All opinions are my own.
Written by Susan Carraretto, co-founder of 5 Minutes for Mom.
Talk with me: @5minutesformom and Facebook.com/5minutesformom
Pin with me at http://pinterest.com/5minutesformom/