This post may contain affiliate links. Read my disclosure policy here.
Kodak is turning to the blogosphere to find the deserving winners of their unbelievably exciting Father of the Year contest.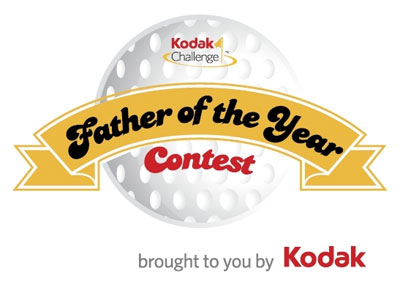 Kodak has always been about using pictures and video to capture moments that strengthen and preserve our relationships. This contest is a way for Kodak to join us in celebration of fathers and the importance of family relationships.
And they have made it GOOD! You haven't seen a contest like this before…
Here's the deal:
Write in and tell us (in 300 words or less) how your relationship with your father has shaped your life and why he deserves the Father of the Year award.
Kodak and 5minutesforMom will select 10 entries as Finalists and award each a Kodak Zi6 pocket video camera!
Those Finalists will then submit a short video bringing their story to life using the Zi6.
One of these top 10 entries will be selected to win the Grand Prize — a trip for two to the Children's Miracle Network Golf Classic in Orlando Florida!
Yes, you read that right… here at 5 Minutes for Mom, thanks to Kodak, we will be awarding:
One Kodak Zi6 Pocket Video Camera to each of 10 Finalists.
One Grand Prize valued at $2,220 USD to one winner selected from the final video entries submitted by those 10 finalists. The grand prize package includes: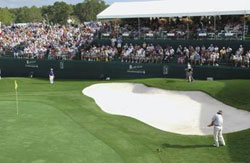 Accommodations for the winner plus a guest (one room) for the duration of the Children's Miracle Classic
Two tickets for each day of the Children's Miracle Network Classic tournament
Roundtrip airfare for two to Orlando, FL
Round of golf for two at a Disney Golf course
Kodak golf-related product package
We are so excited to share this fantastic contest with you — our loyal readers of 5 Minutes for Mom. The only other site partnering with Kodak to run another edition of this contest is Wired.com's Geek Dad. Geek Dad will be simultaneously running their own version of this same contest. But they will be selecting and awarding their own winners and handing out their own prizes.
The only entries competing for the prizes listed above — 10 Kodak Zi6 Pocket Video Cameras and 1 Trip for Two to the Children's Miracle Network Golf Classic in Orlando Florida — are those submitted here at 5 Minutes for Mom.
Who Can Enter?
This contest is for US residents only, but we've heard that a Canadian version may be run soon on another site. We will let you know if we find out more about a Canadian Kodak contest.
Entrants under 18 years of age must have parental permission prior to entry.
Only one entry per household.
For example, if you are a mother and a wife, you could choose to enter a submission recommending your own father OR your child could write an entry about his/her dad (possibly your husband) — but NOT both because only one entry is allowed per household.
Yes, you are allowed to assist your child in creating a submission recommending his/her father. But remember, when it comes to the video portion, that child should be involved in the video too.
So let's talk more about how YOU can win!
There are two rounds in this contest.
ROUND ONE:
You leave a comment on this post with 200-300 words describing why your father deserves the "Kodak Father of the Year Award." Official entry period for round 1 will end at 12:01 AM EST on 6/21/2009.
ROUND TWO:
A panel of Kodak representatives and 5MinutesForMom.com editors will select 10 finalists from the pool of initial entrants.
If you are one of those 10 finalists, you will need to film a two to three minute video bringing your initial Father of the Year Award entry to life. Kodak will give you one (1) Zi6 Pocket Video Camera — the delivery is planned to be on 6/22/2009. You will need to submit your final entry to be posted on 5 Minutes for Mom by 7/31/2009.
SELECTION OF WINNERS:
All eligible entrants will be judged by a panel of Kodak representatives and 5MinutesForMom.com editors. Winners will be announced on 8/14/2009.
As you can imagine, judging the entries will be difficult and subjective. Please recognize the spirit of fun in the contest, and do not get upset if you disagree with the judges decisions. Remember that the selection of winners is in the sole discretion of the sponsor (Kodak), whose decisions are final and binding.
Key Dates:
5/17: Contest starts and entries open for Round one
6/21: Round one ends
7/31: Round two ends
8/14: Final winners announced
More about the Video Cameras
How cool is it that Kodak is giving the 10 Finalists each their own Kodak Zi6 Pocket Video Camera to shoot their final entry and then keep the camera forever!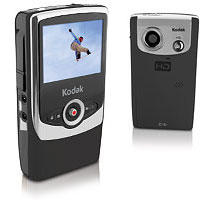 These little HD cameras are perfect for tossing in your back pocket to make sure you don't miss anything. As parents, we can't schedule our kids' cutest moments so we need to be prepared. With the Zi6 on hand, you'll be able to catch those adorable moments, upload them right away to YouTube and boast about your kids to everyone you know all over the planet.
Kodak sent me a camera so that I could test it out and let you know what I thought.
I didn't know much about the Kodak Zi6 before I received it. But I soon discovered one of the best features of this HD pocket size camera — that sets it apart from other brands of pocket video cameras — is that you are not limited in the amount of video you can shoot.
There is an expandable SD/SDHC card slot that can hold up to 32 GB. So if you fill up one memory card, you can simply slide in another card and keep shooting. If the batteries run out, just slip in two new or recharged AA batteries.
Although this ended up being my favorite feature, it did catch me off guard. I pulled the brand new camera from it's box and headed out to the aquarium with my kids without realizing I needed to bring a memory card with me. Since the camera only has 128 MB of onboard memory, I couldn't shoot much without a memory expansion card. Oh well, my kids fussed most of that trip anyway so I didn't miss much and now I know to always be prepared with a memory card.
And I even (accidentally) tested sturdiness of the camera. Yes, I dropped it on the tile floor in the aquarium. The batteries fell out, but no damage was done. Yay!
So, even if you're not one of the 10 winners, you'll want to pick up one of these Kodak Zi6 cameras. These cameras were made for moms!
Go For It!
Okay, it's time for you to start thinking… and writing.
How did your relationship with your father shape your life and why does he deserve the Father of the Year award? Or talk to your kids… maybe they think their Dad should win. Then get them writing.
Remember…
Only one entry per household is allowed.
Your entry has to be short — 300 words or less.
You submit it as a comment on this post.
You can read the Official Rules here.
Don't be in too much of a rush to submit your comment as you can only enter once and will not be able to edit your entry after it is submitted.
Have fun! We can't wait to start reading…
UPDATE: Entries are now closed and we will announce the ten finalists after we have contacted them. Thank you so much!