This post may contain affiliate links. Read my disclosure policy here.
My four year old daughter, Olivia, is a riot. She loves to laugh and finds fun in every little nook and cranny of life. She is tough enough to take on her ten year old brother in a light saber battle and tender enough for tea parties and princess dresses.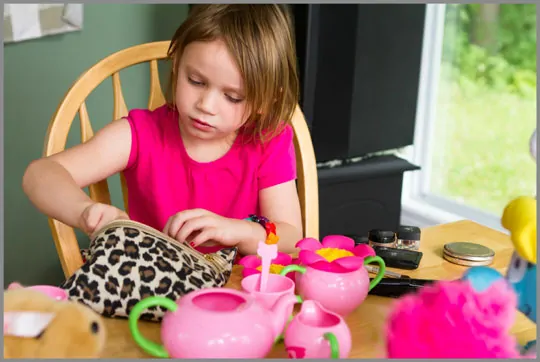 Yes, my sweet girl loves all things pink and sparkly. And that includes lip gloss and eye shadow.
Olivia loves to play with my makeup and has lots of "play makeup" too. But I am careful to ensure that the makeup she's using is safe… sadly much of the girls' makeup sold to younger kids is such poor quality that it has harmful chemicals. If you want to use safer makeup for your girls and yourself, you can see our Beautycounter reviews. It's more expensive to buy natural makeup and skincare, but you can start teacher your daughter that makeup quality is more important than quantity. And that lesson applies to how much she applies to her face. Even when she's playing, you can start showing her how to apply makeup in small amounts instead of wasting it.
Whether she is making up Mommy, her cousins, or herself, applying makeup is one of her favorite forms of play. I have even kept her busy giving her little make-overs while we spend long hours at the hockey rink for her brother. Not much makes my very active little girl sit still for long like the soft brush of glittery shadow on her eyelid.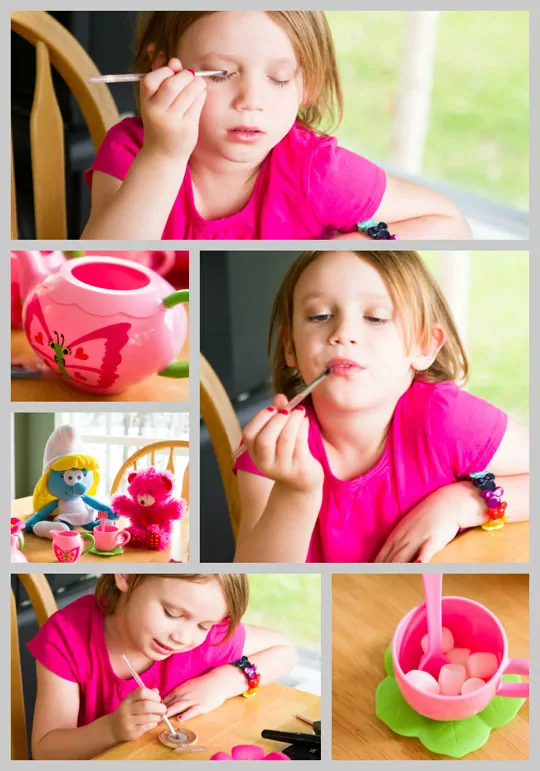 For me, I am okay with Olivia playing with makeup. I see it as part of her role playing as a "Mommy" just like when she puts on heels, or ties an apron around her waist, or holds a bottle for her baby dolls.
This isn't Toddlers and Tiaras. I am not applying coats of makeup and fake hair to make my daughter look like a miniature (over made-up) adult.
But I wondered what other parents do about their little girls playing with makeup. What do they think?
So, I asked my good friend Ciaran Blumenfeld, aka Momfluential, how she handled makeup with her girls. (Her oldest is now fifteen.)
Me: What do you think about little girls playing with makeup?.

Ciaran: I think it's totally normal and fun for them – just like trying on mommy's clothes and heels..

Me: How do you transition between the four year old playing with makeup and the older child who isn't quite old enough to actually wear makeup?

Ciaran: Playtime is playtime – kids don't wear princess costumes to school. It's usually not an issue if the makeup has been experimented with as a part of dress up & playtime and not as "what we wear to go out in public."

Me: So how old were your daughters when they started wearing makeup as makeup?

Ciaran: My girls started to use tinted lip balm at 11 or so. By 12 they asked to wear mascara for a photo or special occasion. My policy was to let them, as long as they were applying the makeup tastefully, as a subtle enhancement and not trying to look older. By 15 the eyeliner got a little thicker than I was comfortable with but we're still negotiating about that. I don't feel like I can dictate as much now that my oldest is in highschool. I'll make her take it off if it is offensive to me, but fortunately she's learned to not offend me!
What About You?
What do you think? Do you let your little girls play with makeup?
At what age do you let them start wearing makeup as makeup?
If you liked this post, we would love it if you gave it a Stumble, Tweet, Pin, or Facebook Like. Thanks so much! We really appreciate your support of 5 Minutes for Mom.
Written by Janice Croze, co-founder of 5 Minutes for Mom.
We want to get to know you better — Tweet with us: @5minutesformom, find us on Facebook: Facebook.com/5minutesformom, or join our newsletter list.