This post may contain affiliate links. Read my disclosure policy here.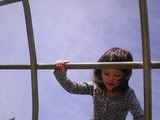 Moms know how important a local park is to a neighborhood.
We've all created memories of our children running, playing, enjoying spring and summer months. Kaboom's goal is to ensure a play space within walking distance of every child.
My family understands the importance of a recreational area to play and relax at. We have to commute 3 miles to be at a school and an outside playground. This is why I've joined the 5 Minutes for Mom Kaboom Team .
My name is Kristin, your Ordinary Mom and park lover. Your go-to-gal when it comes to this team. I'll be sharing the play spaces we have near, and all the fun our family is having visiting them.
I am the 5 Minutes for Mom Kaboom Team's head cheerleader and biggest supporter!
For the next 67 days you can look to our team for newly added playspaces, and for the team members who submit the most spaces you'll be featured here! I hope to show off some great parks, and family posts so make sure you sign the linky. Every play space uploaded our team will generate $1 for the chairty First Book.
Every head cheerleader has a squad. Let me introduce our squad:
Christine at From Dates To Diapers and Beyond
Shannon from For The Mommas
Casey from A Couch With a View
Chele from Saved not Stupid
Andrea from Mommas Review
Erin from Mrs. Cox's Slice of Heaven
Lizzy from Lizzy Dear's Life
You can check out each of these moms for great posts about local parks in the area, tweets on twitter and general info about the kaboom Team!
Join the 5 Minutes for Mom Kaboom Team and add your local play spaces now. Remember team members who submit the most spaces will be featured here.
Also you can create a play-inspired post on your blog and show it off by signing the Mr. Linky below or sign it over on our Kaboom Team Page. Pledge your support of the 5 Minutes for Mom Kaboom Team and visit the other team members posts.
It's a simple, free way to help support two fabulous charities.
Written by Kristin, your Ordinary Mom