This post may contain affiliate links. Read my disclosure policy here.
This post is the third in a 3-part series called Beauty in 5 – 10 – 15, meant to help busy moms find a little time for personal attention every day.
I have loved being able to share quick makeup and hair tips with 5 Minutes for Mom readers in this "Beauty in 5 – 10 – 15" series. As a matter of fact, I loved it so much that I decided to keep you all looking fabulous with regular 5 Minutes for Mom posts. Although I will have more in store for you, right now I want to share my last post in this series – 15 Minutes to Fabulous. This hair and makeup look is sultry, sexy and super simple to do.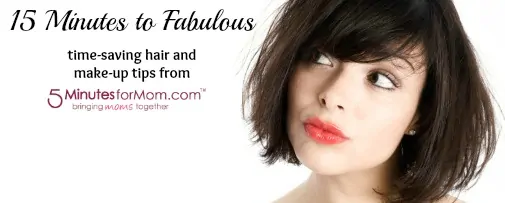 The 15 Minute Face
Step 1: Face Primer
Rub this face perfecting serum all over your clean, lightly moisturized face including under your eyes and on your eyelids. A good primer creates the perfect canvas to apply your makeup.
Step 2: Foundation
A liquid or cream foundation is ideal to create a smooth, even looking skin. Apply your choice of foundation with a brush or sponge for a flawless finish or with clean fingertips for a more natural look.
Step 3: Concealer
Pick a creamy concealer and apply it under the eyes, around the nose and around any other problem spots with a concealer brush for the best coverage.
Step 4: Powder
Apply a mattifying powder with a large fluffy brush (or a Kabuki brush for additional coverage) all over your face, neck and decollate.
Step 6: Blush
Use a powder-based blush for a matte finish or a creamy-based blush for a dewy finish. It is important to apply your blush before your eye makeup because sometimes a bit of rouge on the cheek gives you just enough color so that you don't have to pile on the eye makeup.
Step 6: Sultry Eye
I prefer a sultry eye over a smoky eye because it is both easier to do and much more wearable. To get this look, apply a medium shade all over your lid up to the brow bone. You can use any medium shade you'd like but I prefer a shimmery taupe, brown or gray. Next, apply a light color just under the arch of your brow. Use a kohl liner to line around your upper and lower lid and then slightly smudge it with your fingertips or a Q-tip.
Step 7: Mascara
Apply a couple coats of glossy black mascara to both the top and bottom lashes. If you noticed that you have a few extra minutes, curl your lashes prior to mascara to really open them up.
Step 8: Lips
Line your lips with a nude colored liner and then fill in with a lip color (using that trusty lip brush againO that gives you just a hint of color. A nude lip lets your eyes really stand out.
This makeup look is perfect for a night out when you have that extra time to spend on yourself. Save it for a special date night or cocktails with the girls.
The 15 Minute Hairstyle
This 15 minute hairstyle is red-carpet worthy but you won't have to spend a ton of time (see a pattern here) to achieve it. The look is reminiscent of the sexy beach waves of Victoria's Secret models; paired with the sultry makeup look, you will look stunningly sexy after finishing this 15 minute look.
Step 1: Prep
Good hair products can make quite the difference, so prep your hair with a leave-in conditioner and comb through with a wide-tooth comb. Then, spray in a salt-spray or beach-spray for added texture and piecey-ness to your waves.
Step 2: Dry
I am hoping you all have a diffuser attachment for your blowdryer. The diffuser attachment is the odd looking thing that has little fingers inside a little bowl – it helps to create curl while blow drying your hair. If you do, use this to assist in your blow dry (and blow dry upside down for added volume). If you don't have a diffuser attachment, use your blow dryer on the low heat, slow speed mode and scrunch while you dry. Dry until hair is about 75% dry and then stop.
Step 3: Curl
Heat up your curling iron and wrap small sections of hair around your face around the iron, leaving the ends out. This will create a natural looking curl. Only twist a few pieces around your face and maybe even a few in the crown area; leave the rest as is. Spray a shine spray all over and then leave your hair alone.
This super simple but sultry and stylish look is the perfect thing for any night out. You will look fabulous; trust me on this on this one.