This post may contain affiliate links. Read my disclosure policy here.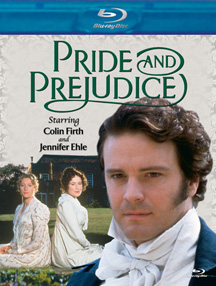 Jane Austen's much loved Pride and Prejudice has finally made it's way to Blu-ray! And just in time for Mother's Day!
But this isn't just another release of classic 1813 novel! A&E Home Video has digitally remastered the Emmy Award-Winning 1996 adaptation of Pride and Prejudice featuring the lovable Colin Firth as Mr. Darcy and Tony-winner Jennifer Ehle as Elizabeth Bennet.
Firth and Ehle, with the help of an amazing cast, bring to life the wit, romance, and intelligence of this Jane Austen classic as viewers are transported to Georgian England. Digitally remastered for the most optimal viewing experience, you are certain to fall in love all over again with the dashing Mr. Darcy and the independent and determined Elizabeth Bennet.
The Pride and Prejudice: Blu-Ray Edition not only offers you an amazing viewing experience but it also comes with some very special features: take a walking tour of the shooting locations with Adrian Lukis and Lucy Briers, listen to interviews with key cast members, watch a short video documenting the restoration process, and much more.

Pride and Prejudice on Blu-ray: Uncovering the Technical Restoration Process from A&E Home Video on Vimeo
If you have always been a Jane Austen fan or if this is your first time entering the world of Elizabeth Bennet and Mr. Darcy, you're sure to love the Pride and Prejudice: Blu-Ray Edition!
A&E Home Video would love to make this Mother's Day extra special for one lucky 5 Minutes for Mom reader by giving away a Pride and Prejudice: Blu-Ray Edition AND a Blu-Ray player!!! That's right, one winner will be receiving their very own copy of this much loved DVD and a their very own Blu-Ray player — a package worth more than $300!!!
To enter this giveaway:
Leave a comment on this post. This giveaway is open to US and Canadian shipping addresses.
Either link back to our Mother's Day Giveaway 2009 post and include a "Mother's Day 2009 Giveaway" button in that post or on your sidebar or link to this post.
As always, non bloggers are welcome to participate. We understand you can't link, but please spread the word to your friends!
Additional entries can be earned by Subscribing to our Feed, Signing up for our Newsletter, or spreading the word via Facebook, Twitter, email, etc.
And, for a second chance to win this great prize package, head over to the A&E Home Video Facebook page. To enter, just leave a note on their "wall"!
Please visit our Mother's Day Giveaway 2009 post and our site's Terms and Conditions of Use for a complete list of our contest and giveaway rules.