This post may contain affiliate links. Read my disclosure policy here.


I am not exaggerating at all when I say that having dinner slow-cooking away in my Crock-Pot ® at 4:00 in the afternoon makes me SO happy. That time of the afternoon is so busy, and thinking about defrosting, chopping, and pan-frying dinner is sometimes enough to just do me in. It makes being a mom SO much easier.
With a little bit of planning, getting a meal into the Crock-Pot ® is easy. Using the slow-cooker is also often cheaper, since slow-cooking tougher (and less expensive) cuts of meat makes them tender and delicious. It's often healthier, too (if you can avoid recipes using that canned cream-of-whatever concoction) because everything cooks in its own juices.
A friend of mine who has a large family just recently received a Crock-Pot ® from a friend for her seventeenth wedding anniversary. The friend couldn't believe that Mary had never owned one. And now Mary is a convert. She can't believe that she lived all these years without one.
Are you like Mary? Uninitiated to the joys of slow cooking?
Or perhaps you are like I was a few months ago. I was thrilled to be able to review the Crock-Pot® Programmable Slow Cooker with Touch Screen Technology (formerly known as the eLume) because after fifteen years, my old one was begging to be replaced.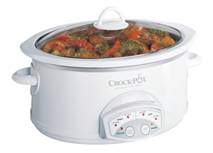 The model that we are featuring today, the Crock-Pot ® Smart-Pot® Slow Cooker features
A large 5.5 quart size (which I appreciate after using my 4 quart model for years, since slow cooked meals also freeze beautifully for a second go-round later in the month)
A nice clean white color scheme
Dishwasher-safe crock for easy cleaning (because what's the use in saving time in the kitchen if clean-up is a pain?)
A programmable timer which automatically shifts to warm when done (perfect if you are away from home for longer than the ideal cooking time)
Are you motivated to put that slow cooker to good use? Check out the recipes at Crock-pot.com, and enter to win a Crock-Pot ® Smart-Pot® Slow Cooker right here, right now (retail value $34.99).
Please see our site's Terms and Conditions of Use for a complete list of our contest and giveaway rules.
Here's how to enter:
See our Mother's Day Giveaway 2009 post to read more about
participating in our Mother's Day Giveaway.
Either link back to our Mother's Day Giveaway 2009 post and include a "Mother's Day 2009 Giveaway" button in that post or on your sidebar or link to the individual giveaways you choose to enter.
Please leave a comment below to enter. This particular giveaway is open to US shipping addresses only.
You may earn additional entries for the following:
1. Subscribe to our Feed
2. Sign up for our Newsletter
If you are already subscribed and are on our newsletter list, you qualify for these two additional entries. Go ahead and leave your additional comments below.
As always, non bloggers are welcome to participate! We understand you can't link – but please spread the word to your friends.
We will announce our winner on Mother's Day, May 10th