This post may contain affiliate links. Read my disclosure policy here.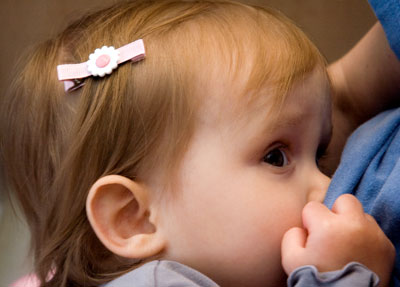 I was over at Metropolitan Mama reading a great post she just wrote about the basic supplies for breastfeeding and even though I'm not looking to stock up on nursing supplies, I read every word.
I'm so sad that my time of nursing is almost over.
Sophia is 18 months and I'm sadly starting to slowly, very slowly wean her because of upcoming trips (such as BlogHer). I nursed Julia until she was 25 months. I don't plan to have any more babies and nursing is going to be one of the things I miss the most.
Ironically, I never thought I would have liked nursing and the reason I chose to nurse Julia is because it was healthy for her. But I soon realized how much we both loved the bonding time and I was so thankful we live in a time when society is supporting breastfeeding.
My mother nursed all of her four children, but in those days she was going against the crowd and had to learn from a book. She had no support from anyone in person. I can't even imagine!
Nursing is priceless and I'm so thankful that I knew to endure the pain and troubles of the first few weeks to get to the wonderful, simple beauty of breastfeeding.
Let's all continue to share with other moms the joys of nursing, while also telling of the reality of the early challenges with nursing a newborn. (Janice and I often tell first time mothers that we too were in agony in the early days of nursing. But HOLD ON! The joys of nursing an older infant more than make up for the brutal beginnings!)
A few months ago Janice wrote a beautiful post about weaning Olivia called A Time To Wean. If you missed it, read it now.

So tell us your nursing stories. We'd love to hear about your nursing challenges and blessings.