This post may contain affiliate links. Read my disclosure policy here.
Okay Ladies, Susan here… reporting for tackle duty.
I haven't tackled anything here at Tackle It Tuesday in a loooooong time. And if you looked around my house, you'd agree I need to get in Tackle High Gear.
And actually, I've had another kick in the pants to get cleaning too… I'm going to be part of a different kind of bloggy cleaning project… but you'll hear more about that in a couple weeks.
So I've gone around my mess of a house and taken a ton of before shots and I'm getting ready for a whole lotta tackling as I head up the Tackle Team here at 5 Minutes for Mom this spring.
In case you don't know this about me yet… I HATE cleaning. I HATE organizing. And I basically would choose to do almost anything instead of clean up a mess.
Add to my extreme hatred of cleaning, my sincerely busy work-at-home lifestyle and you have a recipe for a homemaking disaster.
So… here it goes… join me as a share the shocking mess that is my home.
I'm starting with a tackle that I've been procrastinating on for months: Improving my laundry system.
It's a rather simple tackle, but an important one.
I live in a small townhouse and since my two little girls are cosleepers, they haven't really required rooms of their own. And so what should be their bedrooms have turned into spare rooms housing laundry and stuff that doesn't fit anywhere else in our tiny home.
The Mommy-Guilt over this particular aspect of my poor homemaking is killing me. Seriously, what kind of mother lets her child's should-be bedroom spill over with dirty laundry???
So, I'm starting by putting a three compartment laundry hamper in the closet so that I am not constantly dumping out and sorting the laundry on the should-be bedroom floor.
The Should-Be Bedroom
Here's a peek at the should-be bedroom for Julia today. Now, please keep in mind, cleaning up this mess and turning this room into a bedroom for Julia is going to take several tackles… so please be patient.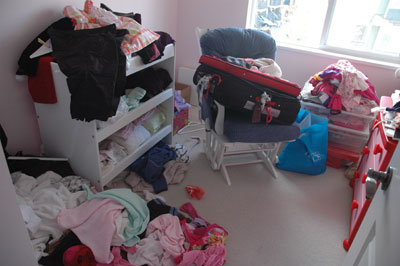 Tackling the laundry system.
I used to sort out piles on the floor.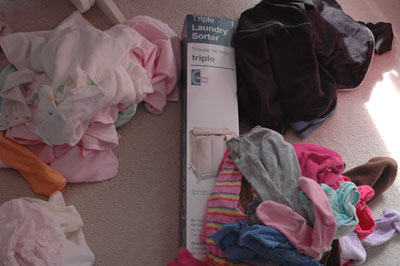 And here's my new fancy three compartment laundry hamper where I can now sort out whites, darks and in-betweens.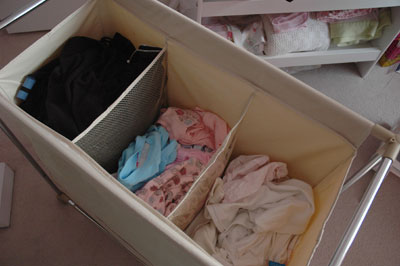 It fits perfectly into the closet!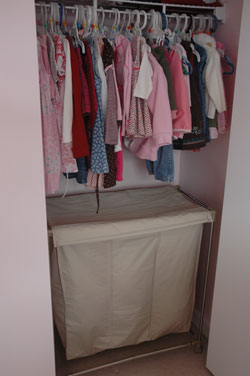 Done. One small step towards easing my Mommy Guilt.
Join me next week as I tackle more of my Mommy Guilt.
Each week on Tuesday, we are posting before and after pictures of a project or trouble area that we tackled this week.
Find out more about Tackle It Tuesday here.