This post may contain affiliate links. Read my disclosure policy here.
Kelly Curtis has been written her Positively Speaking column here at 5 Minutes for Mom for two-and-half years! I know that I always appreciate her inspiring and common-sense parenting advise. So when I found out that she had published a book of such wisdom — Empowering Youth: How to Encourage Young Leaders to Do Great Things — I looked forward to getting my hands on it.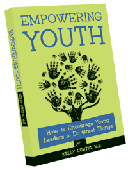 This book is not full of self-esteem mumbo-jumbo, that new philosophy with a focus on a largely inflated and empty esteem. No, in this book Kelly Curtis uses the four empowerment assets which "relate to the key development need youth have to be valued and valuable" (page 4).
Instead of bemoaning the irresponsible attitudes and actions of today's young people, Curtis encourages us to "Be the Who" in a youth's life by using our interactions to train them for the roles that we want them to assume in the future.
The book is filled with practical examples as well as experiential research and results. The Activities suggested seek to open dialogue between youth and adults with the result of changing each of their attitudes from "me to we."
The last chapter gives ways of "Ensuring a Safe World for Young People," especially useful to anyone working in a community group that targets kids.
If you interact with young people in any way — as a teacher, church volunteer, aunt, grandparent, or even (or especially?) a parent — I recommend that you read Empowering Youth: How to Encourage Young Leaders to Do Great Things.
Do you think you might have a book in you? Check out Kelly's Becoming an Author series on her Pass the Torch blog.
Find out more about her book at the Empowering Youth page at Search Institute Press, including a peek inside and sample activities.
I don't have a giveaway winner to announce this week, because last week's giveaway for a great Welcome Little One book and gift package is still open.

We also have several giveaways open at 5 Minutes for Books, and we are doing a giveaway-a-day from April 15 – 24.
If you'd like to win a copy of Empowering Youth (U.S. shipping addresses only), leave a comment below. We'll announce the winner in next week's column.
Contributing editor Jennifer Donovan manages 5 Minutes for Books and blogs at Snapshot.