This post may contain affiliate links. Read my disclosure policy here.
The UBP 09 is brought to you in part by
ScottsMiracle-Gro GroGood Campaign.
The UBP 09 is rocking the Blogosphere AND Twitter. The Twitter hashtag #ubp09 was a trending topic on Friday night!
Now join us for more twitter action tonight as we join Resourceful Mommy at a Sitewarming Party.
Friday, March 20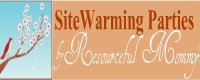 UBP Sitewarming Party — Twitter/Facebook
Friday at 9 p.m. EST on Twitter
SiteWarming Parties are run by Resourceful Mommy. Make sure you join the SiteWarming Parties Facebook Group.
If you're in Orlando

Orlando Tweet Up
You'll want to be at this tweetup… It's starting NOW.
Thanks too Olive Garden for hosting us and thanks to Stride Rite for donating a door prize (the winner is @CheekySweetie) and thank you gifts to our Twitter helpers @modernmami and @alotofnothing

6:30 pm Eastern – at Olive Garden in Mall of Millenia, Orlando.
Since this is a dinner party at the Olive Garden, we had to reserve a fixed number of seats. If you want in, quick contact us on twitter @5minutesformom.
Sponsored by Olive Garden
Party With Us Now
Click over to the Ultimate Blog Party 2009 Party Post AND click over to Twitter and follow @5minutesformom.
The Twitter Sitewarming party starts at 9 p.m. EST.
There will be PRIZES…
At tonight's site warming party on Twitter, we'll be giving away: