This post may contain affiliate links. Read my disclosure policy here.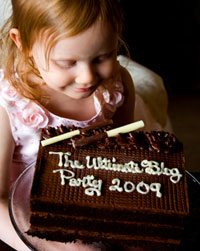 Welcome to the Party!
The Ultimate Blog Party is about building online friendships.
It's simple to join the fun and lots of ways you can get involved — from simply reading this post, to publishing your own party post on your blog and signing one of the Mr. Linky link lists near the end of this post.
So come on in and enjoy the party. We are Susan and Janice, the twin bloggers behind 5 Minutes for Mom. Since 2006, we've been blogging here and running two online toy stores — a pedal car store and a rocking horse store.
We each have two young children. Janice has a seven year old boy Jackson and a one and a half year old toddler Olivia. I have two little girls, Julia who is almost four and my toddler Sophia is two weeks younger than Janice's girl Olivia.
We love our online life and the best part is our online friendships.
5 Minutes for Mom is really for everyone… not just moms.

We want to give a HUGE welcome to all women (and men too) whether or not you have children.

We use the term "Mom" to include everyone who loves children and is interested in the types of things that generally interest moms.

We especially want to include moms-to-be and women struggling to become moms.

In our recent poll of whether the Ultimate Blog Party should be for women only, the votes were quite split. It looks like the general consensus is we want to be welcoming but remember that the focus of the party is for bloggers to build genuine online friends and increase their readership in a fun, organic way.

So, we want YOU to party with us, whether you're a mom, grandma, a dad or a single gal. 🙂

We reserve the right to remove any links from the list that are spammy, offensive or don't fit the nature of our party.
How to party with us:
(Simplified version. Details here.)
Read and comment on THIS post to be entered in the draw for PRIZES.
If you have a blog, write a party post on your site, include a UBP 09 BUTTON, and tell us which prizes you want if you win.
Add your blog url AND/OR your facebook link AND/OR your twitter link to the appropriate Mr. Linky below.
Visit tons of blogs, facebook pages and follow new twitter friends from the Mr. Linkies. (To be eligible for prizes, we ask that you visit and comment on at least 20 blogs.)
Scroll down for two slideshows, a video and all the Links to Friends!
Thank you to our Title Sponsor

Help feed the estimated 1 in 8 Americans suffering from hunger with ScottsMiracle-Gro GroGood campaign to plant a garden for the greater good!

Take the GroGood pledge. Eat well. Share the harvest. Grow some good.
Cupcakes Anyone?
Mom, It's Your Turn To Party
Thank you to our Event Sponsor

Discover the magic of ARM & HAMMER® Baking Soda. Not just for baking and deodorizing, Arm & hammer has countless household and personal care uses.


The best part, it's safe to use around our food, pets and kids!


Come On In…
We have so much stuff happening this week!!! A whole WEEK of fun!
As well as our traditional Mr. Linky style partying, we have two Twitter parties (a SiteWarming and a #GNO,) one Tweet Up in Orlando, and we've got LIVE STREAMING entertainment from three UBP In Real Life Parties (#ubpirl.)
Thank you to our Post Sponsor

OxiClean® Max Force™ Laundry Stain Remover is Stain Fighting Made Easy!


From grass stains to your toddler's tomato sauce covered shirts. Fight back and save those garments that you at first thought you'd have to throw away.



Time to Link Up and Start Blog Hopping
Pull up a chair, have a cupcake, a glass of wine and enjoy the blogosphere. And thanks to my gracious neighbor who brought over fabulous Yellow Tail Wine for our bash.
Whatever you like to eat or drink, just be merry and enjoy the party.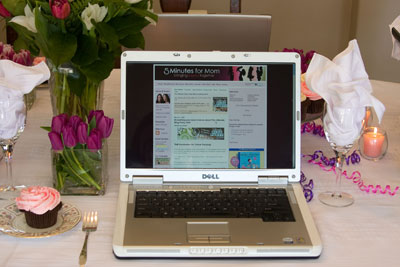 This year we have MULTIPLE Mr. Linkies.
Find ONE blog category that best suits you and link up. 🙂
You can ALSO add your facebook profile and your twitter profile to the bottom two linkies.
1. Family Friendly Blog
2. Not So Family Friendly Blog
3. Mompreneur (Includes Store Blogs and Business Blogs)
4. Dad Blogger
5. Facebook
6. Twitter
Thank you for partying with us! Keep blog hopping and making friends.
We've closed comments on this post as the entry deadline for prizes was Friday Mar, 27th, 2009.