This post may contain affiliate links. Read my disclosure policy here.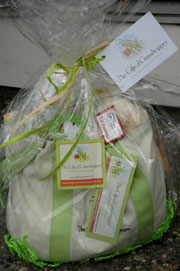 Can you tell me what the gift is?
It's better than flowers,
More inspiring than clothes,
Smarter than toys and
Loved by all kids?
— It's a Gifted Grasshopper Bag Bursting with Books!
The Gifted Grasshopper Bags of Books are the smart solution to your gift-giving dilemma. They are carefully selected collections of books for babies and kids up to the 3rd grade and are perfect for birthday or Christmas presents.
Jen and Laura, the brilliant moms behind the bags, sent us a sample of their ABC signature tote for us to give to little Julia.
I loved the embroidered canvas tote with its elegant wrapping and I immediately starting thinking of all the perfect occasions for sending these sophisticated gifts. These gorgeous gift bags would be ideal for:
A new baby gift sent to the hospital to congratulate a business colleague, client or friend. The Baby Bag gift set would be a brilliant alternative to sending the new mom and baby yet another pot of flowers.
A birthday gift for a nephew or niece who lives out of state. Kids love to get packages delivered in the mail and they'll be thrilled with all the great stuff packed in these bags.
A Christmas gift for the children of your friends or colleagues. Simply select the age and let the experts worry about choosing the very best titles.
As I imagined all the gift bags I could send, Janice snapped photos and Julia dug into her loot.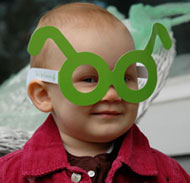 She reached down in the bag, pulled out each book, the stuffed toy and then found the funniest part… grasshopper glasses!

After having some fun with the glasses, she settled down to take a good look at her new books.