This post may contain affiliate links. Read my disclosure policy here.
I get a little emotional talking about this two-wheel trailer bike designed for special needs riders – The Caboose Trailer Bike.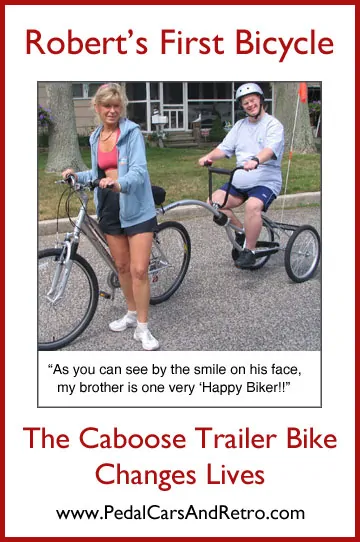 UPDATE: Sadly this product is no longer available.
It's one of those products that most of us don't need. When I read the emails from customers – like Robert's sister – whose lives have been changed because someone they love can now experience the thrill of riding a bike, I'm humbled by what I take for granted.
The Caboose is a stable, two wheel trailer bike that attaches to a regular bicycle. It is designed especially for children and adults who are not otherwise able to ride a bicycle.
These days I'm especially emotional about the bikes because supply is running out and we don't know when — or even if — they will come back in stock.
Our store has been the exclusive retailer for these special needs trailer bikes for the last few years. We've seen hundreds of lives changed because of the bikes, but the manufacturer is running out of stock and we're not sure when they'll make more.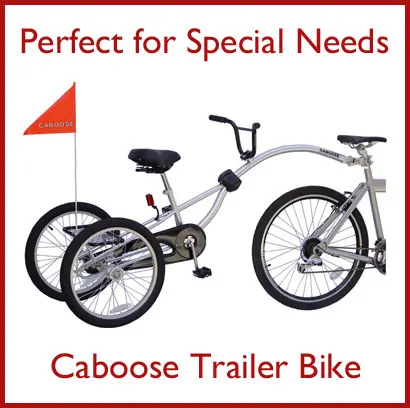 The Caboose lets kids and adults who have special needs finally experience the joy of riding a bike. We've heard from customers who have purchased the bike for family members who cannot ride a typical bicycle because of Down syndrome, Autism, Cerebral Palsy, Blindness or a host of other reasons.
The message is clear – The Caboose Trailer Bike changes lives.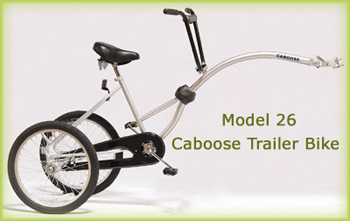 The Caboose bike comes in two sizes: one for 5 to 10 year old children and another that fits children over 10 years old up to adults aged 95 or older. (The bike is perfect for elderly riders.)
These bikes are unique in many ways – especially in their low price. Most other special needs adapted bicycles are hugely expensive and out of most families' budgets.