This post may contain affiliate links. Read my disclosure policy here.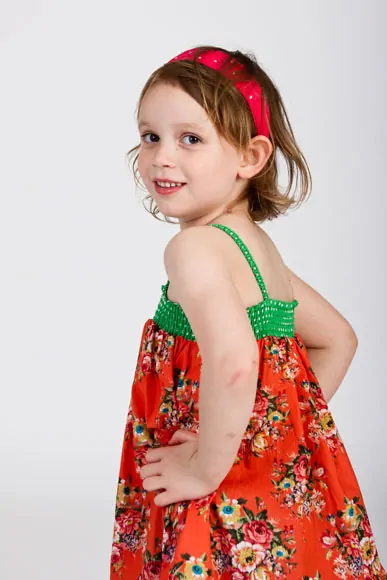 Miss Liv with a Dash of Sass
When we were at Disney Social Media Moms Celebration, my Olivia made instant friends (in the airport actually!) with a little girl named Cassidy from Hong Kong. Cassidy's mom, Maggie Tong, was just as sweet and friendly as her daughter and insisted on sending Olivia some clothes from her online store, Cotton Candy Kids.
When the box of clothes arrived, I was overwhelmed with Maggie's generosity and the incredibly quality of the gorgeous girls' clothes. Last week, I did a couple of photo shoots with Olivia modeling some of the clothes. (Olivia was wearing my favorite of all the items — a beautiful black dress — in my Tackle it Tuesday photo yesterday.)
I will show you more of the clothes soon, but for today's Wordless Wednesday, I just had to share this shot of Olivia. She was demonstrating to her cousin Julia, how to do a "sassy" pose.

Thanks Maggie and Cassidy — the clothes are gorgeous and we had so much fun with you both!!!
Mom Bloggers (and Dad Bloggers too!) post a photo on your site, link up and find others… Wordless Wednesday is tons of fun. (And I know it says "wordless" but I just can't bear to not write anything! If I had created it, I probably would have named it something different! LOL So feel to link up your word-full or word-less Wednesday photos!)
Leave the URL to your photo (clearly mine are never truly "wordless") and then visit others!
Here is a fun thumbnail linky:

And here is a basic linky if you prefer your linkies the good old fashioned way!

Thanks to Uisce for creating Wordless Wednesday.

Written by Janice, co-founder of this Mom Blog 5 Minutes for Mom
Have you ever seen our pedal car store? That is Susan's oldest girl Julia a couple years ago on the home page in the
pedal car
. Isn't she so cute?
If you like this post, we would love it if you gave it a Stumble, Tweet, Pin, or Facebook Like. Thanks so much! We really appreciate your support of 5 Minutes for Mom.