This post may contain affiliate links. Read my disclosure policy here.
Do you worry about what you don't see going on with your children in cyber space?
It may be easy to tell who their friends are when you see them face to face, but what about who they are talking to online.
My guys are still pretty young for that sort of thing but I have to tell you just thinking about it scares me.  The boys have a laptop we have set up for them, but at this point it has only certain things they can access.  Some games to help them learn, some for fun… I don't have to worry yet about who they talk to because they are only just now learning to spell and start reading.  They don't have access to anything on the internet except the few sites we loaded for them.
A few years from now?  Who knows what they will be trying to do on the computer.
Chit Chat for Facebook is a really cool application that runs on both Windows desktops and Blackberry devices.  They have joined with United Parents to offer parents security options to protect children using the Chit Chat application on Windows computers.  United Parents Child Protection Service is a leading provider of a solution for parents who want to protect their children online while respecting their privacy.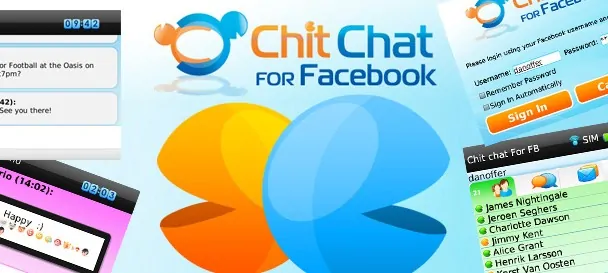 What they have created can analyze behavioral parameters of your child's online chats, identifying and flagging potential predators, cyber bullies, even self inflicted threats. Since its launch, the system has identified issues ranging from suicide related discussions to sexual conversations with strangers.  Think of it like a "digital fingerprint".  Certain phrases and grammar used can identify someone regardless of the screen name being used or computer signed into.  If a user like this messages your child while they are on Chit Chat, the system alerts the parents and they are then able to decide what to do.  Amazing!
The key to the community approach is that when more people use the service, more digital profiles can be created – which means more predators and bullies can be identified.  Also, it is important to note that with Chit Char for Facebook, children don't have to worry that their parents are reading their private conversations.  It does however allow the parents to talk to their children about potentially dangerous communications and online safety.
The combination of Chit Chat for Facebook and United Parents Child Protection Services offers the following features:
Child's Summary Dashboard – A continuously updated analysis of the child's online behavior including time online, demographic information of people communicating with child, social networks and instant messaging services used, and top subjects discussed.
Alerts – Alerting the parent of the child if/when a child gets into trouble online.
Digital Graphology™ – Automatic predator tracking and blocking software using "digital fingerprints."
Monthly Reports – Snapshots of child's online behavior that is sent to parents via email.
Here's the best part.  It's FREE!!!
Protecting your child?  Priceless.
Download the app here.
This post is part of a promotional campaign with Chit Chat. All opinions are our own.
Written by 5 Minutes for Mom contributing writer Liza. Liza is a mom of three boys – a five year old and four year old twins. On her personal blog, Cira's Lyrics, she writes about family, chaos and day to day happenings. She also writes reviews at Buy-Her where she focuses on fashion, beauty products, and more. Connect with Liza on twitter at @Liza_Rae.