This post may contain affiliate links. Read my disclosure policy here.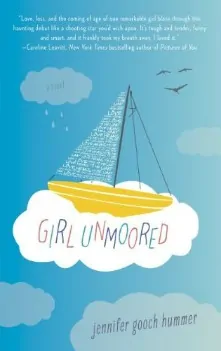 In Jennifer Gooch Hummer's debut novel Girl Unmoored, a vulnerable middle schooler with an unusual name is about to discover that she is much stronger than anyone gives her credit for. As narrator, Apron Bramhall (yes, her name is actually Apron), delivers an earnest telling of her story that will undoubtedly touch the hearts of adult readers.
Remember when you were in seventh grade and you were trying so hard to make sense of the world around you? That's life for Apron, but matters have been even more complicated since her mother's death, and her father's subsequent relationship with her mother's former nurse. Too bad that Apron's dad is oblivious to the way that Margie (or M, as Apron can only bear to call her) treats her, because Apron really could use someone in her corner right about now, especially since her best friend appears to be outgrowing her. This poor girl is coming unmoored, indeed.
After seeing him on stage playing Jesus in Jesus Christ Superstar and subsequently running into him again in town, Apron begins to develop a friendship with a young man, the nephew of a neighbor, and the owner of a local flower shop. Soon enough she begins to realize that Mike's friend Chad is more than a friend, and Apron is confronted with a reality that she's only ever heard adults whisper derisively about. The mocking that she hears among her peers has always felt wrong, but what does Apron know about gay people? Her heart tells her that Mike and Chad are two caring people, the types of people she so desperately needs in her life right now, regardless of the hate that she hears expressed toward them.
Set in Maine in the 1980s, Girl Unmoored accurately depicts a time when hostility toward homosexuality went largely unchecked, and AIDS was making national headlines though so very little was yet understood about the disease. Apron's story is told with a heartfelt honest voice, a child on the verge of adolescence with an innocent and nonjudgmental perspective who simply wants to find goodness and love in the world. Apron unknowingly possesses a wisdom beyond her years, and an innate kindness that the reader keeps hoping will be recognized and somehow rewarded.
We're happy to offer one copy of Girl Unmoored for today's giveaway. Please leave a comment here to be entered, U.S. mailing addresses only. We will announce the winner on 4/30.
The winners of I've Had it Up to Here with Teenagers are #8 Tammy Gordon, #25 Angela E., and #43 Jeni Monroe.