This post may contain affiliate links. Read my disclosure policy here.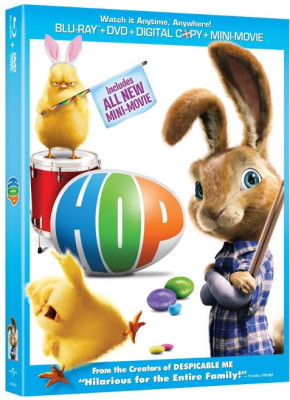 Last year, we were introduced to the Easter Bunny in a younger, more British-accented form than ever before in the movie HOP. With Russell Brand lending his voice for the animated (and absolutely adorable) E.B. and James Marsden playing Fred O'Hare, a young slacker in need of a little inspiration, HOP is being released on DVD and Blu-ray just in time for Easter. Will this fun family film make its way into your children's Easter baskets?
When I first saw HOP before its release last year, I enjoyed the visual appeal of the movie, which blends CGI-animation and live action film, and I couldn't help but fall under the spell of the cute, and mildly rebellious teenaged E.B., who just wants to find his own way in the world which doesn't necessarily follow in his father's Easter Bunny footprints. His love of music brings him to Hollywood, where his path crosses with Fred O'Hare's, and nothing is the same again for either of them.
I couldn't believe my great fortune when I got to take part in group interviews with some of the stars and makers of the film last year. James Marsden proved to be a down-to-earth guy who enjoyed chatting with this group of mom and dad bloggers about his own family, and Russell Brand… well, he certainly showed off his charm and had our entire group laughing the entire time. (Click links to see my original, gushing and enthusiastic posts!)
I watched this movie with my own children in mind, and when I saw it again with them after its theatrical release, I especially like watching their reactions to the movie. My then-three year old son adored E.B., laughing at his "funny voice," (sorry Russell!) and mimicking his drumming with enthusiasm. My then-four year old daughter sat wide-eyed as she watched, and she enjoyed the story a bit more than her little brother. My then-ten year old son instantly declared the flick "so cool," and in the year since, they've been asking about when they'd get to see it again.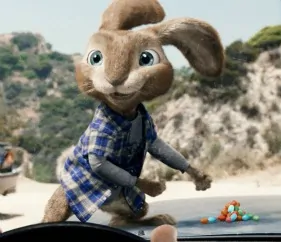 The wait for HOP is now over! We look forward to rocking out with E.B. once again, this time in the comfort of our own living room. We'll enjoy the music, the giggles, and the adventures that E.B. and Fred have as they both get reminded of the important role of family in their lives. Just not sure we'll be passing the jelly beans around as we watch!
If that last statement has you scratching your head, you've got to watch the trailer to figure out the joke. (And remember, this is just a movie… you can still enjoy your sweet treats!)
Disclosure: This post was sponsored.