This post may contain affiliate links. Read my disclosure policy here.
I am all about getting my nails done.  In fact, I was just in the nail salon yesterday!
While the place I go to has some nail techs that are able to do awesome designs and not just a straight color, they aren't all able to — and it can get time consuming too.  Yesterday I was there for over an hour and a half. There are times though, that I just don't even have time to get to the nail salon.
Jamberry Nail Shields has a solution for you.

Jamberry Nail Shields can be easily applied at home.  So many different looks can be acheived by mixing and matching, giving you that high-end salon look in the convenience of your own home.
To apply, all you need to do is peel off the nail shield and warm with a blow-dryer 10-15 seconds (a tip I received to help make them adhere even better is to use a space heater to warm them up).
When warm, press the shield onto your nail.  Then apply firm pressure around edges to adhere the shield to the nail. Use a rubber cuticle pusher to seal the shield around your cuticle.  Trim the top with scissors and file off the remaining shield using a downward motion to remove excess.
How easy is that?  This method certainly takes less time than waiting on those wet nails to dry!  And with so many choices, Jamberry is up on the latest trends and designs.  When you are ready for a new look,  you can remove the nail shields by using a hair dryer to heat them for about 15 seconds, then slowly peel from the corner of your nail.
I'm quite excited to give Jamberry a try! In fact, I am loving this cool black design: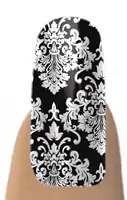 Each sheet of nails runs around $15, and is enough shields to complete 2-3 SETS of fingers AND toes!
Aside from the website, you can follow up with Jamberry on Facebook.