This post may contain affiliate links. Read my disclosure policy here.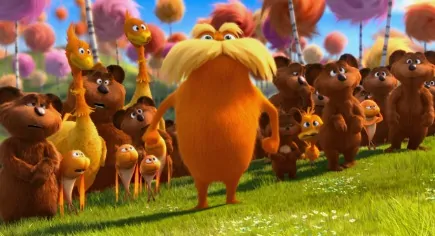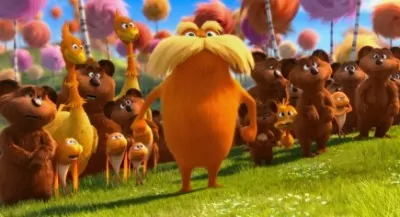 You can picture the title character from Dr. Seuss' The Lorax, right? I know the text that describes him by heart, after countless read alouds of my favorite Seuss classic. "He was shortish. And oldish. And brownish. And mossy. And he spoke with a voice that was sharpish and bossy."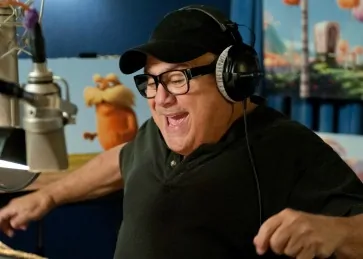 The new animated film that opens on March 2 depicts The Lorax perhaps a little more orange than the original, but Dr. Seuss' fluffy, elaborately-mustachioed creature who speaks for the trees comes to life in this flick, largely due to the perfectly cast actor providing his voice, none other than Danny DeVito. He definitely pulls off the sharpish and bossy voice, and he also captures the endearing and sensitive qualities of this beloved character who looks out for the welfare of the creatures who live off the land among the silky Truffula trees.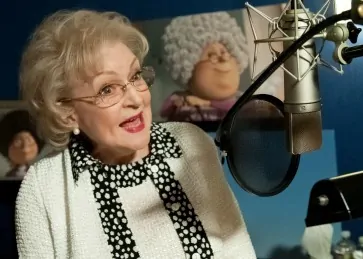 The film version expands on the storyline of the picture book, but in my opinion, does it quite seamlessly. (For more on my thoughts, check out my recent Books on Screen post on 5 Minutes for Books, and kidlit purists take heart!) With the new parts of the story come new characters, and one of them is a feisty grandma who helps the young boy in his quest to find out what happened to the Truffula trees. No one should underestimate Grammy Norma, and with the voice of Betty White behind her, she is a character who stands out among a fabulous cast.
Connecting with the environmental message
During our recent parenting blogger roundtable with these two incredible and charming actors, both Danny DeVito and Betty White spoke of their personal feelings about the message of the movie. DeVito joked that he may not be as "environmentally wacky" as his dear friend Ed Begley, but he does find it important to do his part. From his electric car to the personalized reusable water bottles he gives to everyone who works in his home, he emphasized the little things we can all do. He also spoke of the message of sustainability that is at the heart of the story of The Lorax.
We don't use these in my house. [picks up plastic disposable water bottle] You see these? They're not in my house. And the other thing we don't have in my house is napkins. We have cloth napkins in my house. We just started about a year ago.
The movie is a mirror in a way to what's happening all over the world, in the rainforests and in our country. The more we can protect parks and trees… and it's not an "anti logging" message at all because the main thing is what the Once-ler didn't do and how he redeemed himself was saving that seed.
Betty White, who is as darling, kind, and beautiful in person as you can imagine, also spoke passionately on the topic and her favorite part of the entire experience.
Overall, the beautiful colors and the celebrating the environment and the caring about the environment, which is one of my big, big, big things, and the fact of looking for trees and wanting to find trees. Dr. Seuss has a way of doing it, you could get into it. I hope everybody else loves it as much as those of us involved in it.
They know how to charm a group
I can't help but take a moment to say how overwhelmingly delighted our entire group of bloggers was after the interviews with Danny DeVito and Betty White. DeVito had us all cracking up when he pulled out his smartphone to show us the latest #Trollfoot picture he'd tweeted from the previous night's Super Bowl game. (Intrigued? Follow him @DannyDeVito and find out more.) It was apparent that he was having as good a time chatting as we were!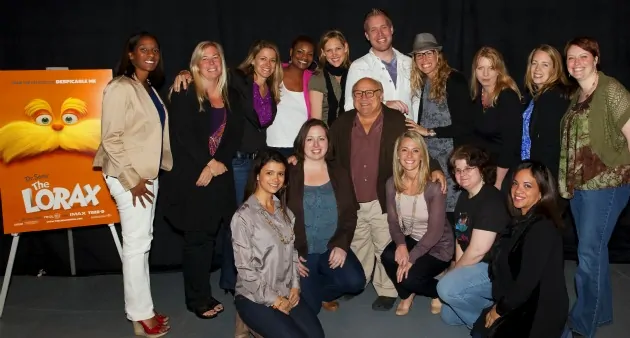 And then there was Betty White. Having grown up watching her on television, and always joking that that she looked a bit like my own lovely grandmother, I was blown away when she entered the room and sat down a mere two chairs away. I stumbled a bit over the first question I asked her, but she was nothing but sweet and funny, and there were smiles on every single person's face as she spoke.
After the interview segment was over, our group stood together for a photo, and I decided that I would never forgive myself if I let this opportunity go by. As the group dispersed, I stood in front of Ms. Betty White and asked, "Would it be terribly inappropriate if I asked you for a hug?" The initial concern on her face at the beginning of my question disappeared, and she laughed and pulled me into an embrace that I will never forget. I hugged Betty White back, and then I thanked her, turned away, and I began to cry. Oh yes, I am that dorky. Just look at the smile on my face in the group shot!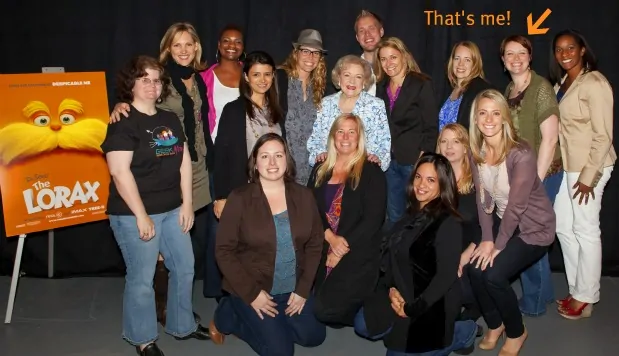 Alrighty, all personal gushing aside, this is a fun movie that I know my own children are going to adore. For a peek into the actors' perspectives on the movie The Lorax check out the clip below. Grab your tickets and head to the theaters starting Friday, March 2. We'll be there for sure!
Read my review of The Lorax movie at 5 Minutes for Books. Be sure to giggle along as I share the fun conversation our group had with Ed Helms and Rob Riggle, too.
Disclosure: Universal Studios paid my expenses to attend the press junket for The Lorax, but any opinions about the experience or the movie are completely my own.